Venezia Bulk Transport Inc.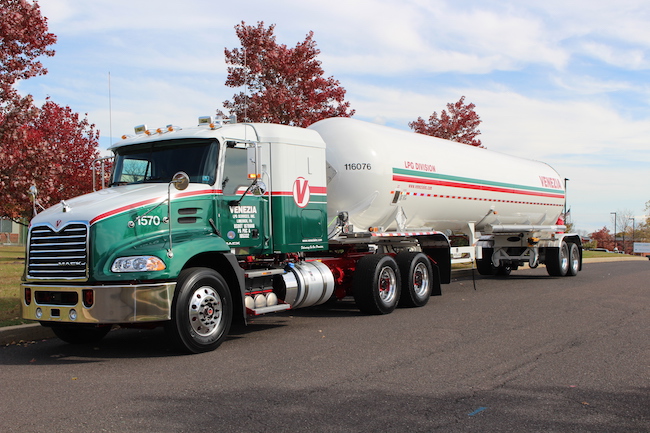 Venezia Bulk Transport utilizes technology throughout its operations to maintain customer satisfaction and streamline its processes.
By Bianca Herron
Venezia Bulk Transport Inc. was founded as a specialized niche bulk carrier by a father and son duo – Joseph and Frank Venezia – with one principle in mind: that a trucking company should work hard to provide reliable service to its customers.
Fifty years later, the Limerick, Pa.-based company has more than 600 employees, over 500 trucks and 1,200 trailers, and services Canada and 48 states. It has multiple locations in nine states: Pennsylvania, New Jersey, Ohio, West Virginia, Virginia, Indiana, South Carolina, Maryland and Florida.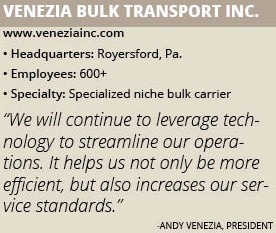 "We are a family business started by my father, Joseph, and oldest brother, Frank Venezia," President Andy Venezia says. "My brother John and I joined the company not long after. This year, we are very proud to be celebrating our 50-year anniversary, and as a family business it's even more exciting."
Valuing Customers
Venezia says the company's emphasis on quality and customer service set it apart from its competition. Venezia Bulk Transport's customers range from Fortune 500 companies such as ExxonMobil and Shell to mom-and-pop users of bulk products such as cement.
"Our communication with our customers is very transparent," Director of Maintenance J.P. Venezia explains. "We have customers who require special requirements as well. For example, many of them have specific delivery windows and procedures.
According to Andy Venezia, the company's drivers and dispatchers are keys to the company's success. "As a specialized niche bulk carrier, we work with customers that require focused attention to detail and high-quality customer service," he says. "One of our keys to success is our diversity."
Venezia operates several different divisions, each with its own requirements and specialized handling procedures. Venezia's Liquid division includes products such as, petroleum lubricants, LPG, admixtures and asphalt. The dry bulk division includes products such as cement, lime, sand and plastic resin. The food grade division includes products such as flour, sugar, salt, malt and starch. Finally, its specialized rail transfer division includes both industrial and food grade products.
Key Advantages
Venezia says Venezia Bulk Transport's more than 600 employees are uniquely committed to the company. "That is important and critical for us because it means they are engaged," he says. "From there, we continue to foster that commitment and engagement."
Venezia Bulk Transport does that by cultivating a family-like culture. "This is very important to us," J.P. Venezia says. "We have an open-door policy that impacts upper-level management all the way down to the bottom of our organization. So everyone is able to talk to anyone. We all have cell phones and our doors are open for anything at any time."
Feedback and loyalty also play critical roles in the company's operations. "We expect a lot from our employees, including their commitment, and in return we give them respect and an atmosphere that they can be proud of," Andy Venezia says.
That approach extends to the company's many suppliers, too. "When we form a partnership with a vendor or supplier, we're partners with them for life," J.P. Venezia says. "It's a two-way street as we work with them and they work with us. We ask them to treat us fair and we'll do the same in return."
Staying Connected
Technology dramatically impacts Venezia Bulk Transport's operations in areas such as truck tracking, billing and back office support. "It has increased our efficiencies and it keeps raising the bar," Andy Venezia says. "We will continue to leverage technology to streamline our operations. It helps us not only be more efficient, but also increases our service standards."
Additionally, all of its trucks have satellite mobile communication with GPS tracking. "We have inward- and outward-facing cameras for safety recording, technology that prevents rollovers and monitors distances, road signs, speeds and tire pressure," J.P. Venezia says. The engines are also monitored and reports are sent back for engine performance."
The company says it leaves "nothing to chance" by integrating technology throughout its operations, especially when it comes to safety. "Safety is one of our cornerstone pillars," Andy Venezia says. "In this business it is paramount. We have all this equipment on the road and with the general public we have a commitment to have zero accidents."
For Venezia Bulk Transport, it is not good enough to comply with standards for safety because the company believes it needs to exceed them, Venezia notes.
"We want to have a zero goal, which is why all of our drivers sign a safety contract," he explains. "All drivers that meet that criteria get a gold ring, which is somewhat like a college class ring. For each year of safe service, we add a diamond to that ring. Our drivers take a lot of pride in showing off those rings and how many diamonds they have.
"In addition, we also give our employees a safety incentive bonus that is paid out annually if they meet those standards," Venezia continues. "Everyone's on board to that commitment and we have been lauded for it."
Ultimately, Venezia says he's most proud that his family has been able to continue to prosper and grow in such a "tight and very competitive market." "I'm proud that we have been able to employ and have the great quality of people we do to service our customers," he says. "It definitely makes me proud when I see the quality of people and the quality of service we're providing.
"Our vision is to continue to grow through opportunities that make sense geographically or product offerings that we currently have," he concludes. "It's important that our company stays profitable, but it's more important to us to maintain a profitable bottom line for long-term growth."