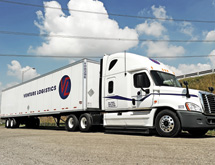 "Just in time" is the name of the game in trucking nowadays, and not just in the automotive industry that comprises approximately 65 percent of Venture Logistics' business. "We found out over the years that everybody has become just in time," President and CEO Doug Williams declares. "It doesn't matter what industry you're in. Everybody expects it to be there on a scheduled basis, not like the old days when just the automotive people wanted that."
Williams is able to deliver that level of service to his customers through a full use of technology. His tractors and trailers are equipped with GPS systems and communication capabilities that allow drivers to receive communications with their dispatches.
Venture Logistics has incorporated electronic logs into its truck operating system. These technological systems also are required for the 25 percent of Venture's shipments that are transported by its owner/operator fleet.
Williams is bullish on electronic logs, which the company began switching over to more than a year ago. "We've been quite pleased – it's worked out well for us," Williams says of the logs. "There was a little bit of a learning period in the beginning, but for the last year that all of our drivers have had it now, it's second nature to them," he insists. "It's just a part of the system, and they've gone along with it. It's almost like they've had it since the beginning. It's not an impediment at all. It's a help to our company and the industry."
The company's average length of haul is in the range of 400 miles. Because of that, Williams says it has not lost productivity implementing electronic logs as companies with longer routes might have.
"We have not had productivity erode at all," Williams insists. "Some people worried in the beginning that it would restrict the drivers more and they wouldn't be able to do as much as they had in the past. But we have quite a few dedicated routes, and most of our drivers are home several nights a week, so that was never really an issue."
Achieving Fulfillment
In 2010, Venture Logistics leased a 500,000-square-foot distribution center in its hometown of Indianapolis. Celebrating its 20th anniversary, Venture Logistics has branched into additional services from its original business of trucking.
"I started a warehousing and distribution division here in Indianapolis," Williams recalls. "It enhances what we were already doing with our current business. We also have a warehouse and distribution facility in Lafayette, Ind., and a smaller one in Elk Grove Village, Ill."
All three distribution centers are in leased facilities. Venture Logistics also does third-party fulfillment out of the distribution centers for companies that do not have enough volume to establish their own facilities. "We can do economies of scale, bring many customers together and do it more economically," Williams explains.
Venture Logistics offers services nationwide including freight consolidation, but the company has its area of focus in several specific regions. "We try to focus mostly on what we call the I-65 corridor, from Chicago down to Nashville and into Atlanta and Charlotte," Williams says. "That's our main focus – from the Midwest to the Southeast and back."
The company also has a facility in Laredo, Texas. "We do a lot of work between Laredo and the Midwest and back," Williams says. "Our tractors don't actually go into Mexico. We have partner carriers that we utilize between the U.S. and Mexico, and our trailers cross the border with our partner carriers." Much of this work is for the automotive industry and some for retailers. Venture Logistics has been sending shipments into Mexico for nearly 14 years.
Natural Gas Fleet
Venture Logistics' current fleet consists of 400 late-model tractors along with more than 1,000 53-foot air-ride trailers. To offset rising diesel fuel costs, a shipper partner of Williams wants Venture to purchase a fleet of natural gas tractors and within the next year make them part of a dedicated operation.
Williams is researching the benefits of liquid natural gas and condensed natural gas for truck fuel – he could get a 650-mile range on a tank of liquid natural gas compared with 400 miles with condensed natural gas – but the new vehicles he is buying currently are using condensed natural gas. Nevertheless, he anticipates a 30 percent to 40 percent equivalent savings with condensed natural gas compared with current diesel fuel prices, which he calculates would pay back the cost of the trucks in two to three years.
To overcome the shortage of qualified truck drivers, Venture Logistics is running its own internal driver training course in conjunction with local driving and technical schools. "We basically take people that have never driven trucks that want to get into the trade, and we help them to do that," Williams says. "We have a six-week program set up to do the training for these people. We're trying to reach out to groups that have never really thought about truck driving as a profession in the past."
Venture Logistics offers its employees many incentives – such as a drawing for a motorcycle for drivers who meet certain performance criteria – and free dinners and vacation packages, along with awards for safety and keeping trucks clean.
For the future, Williams would like to expand into the southwestern United States and do more business in Laredo, where he estimates approximately 70 percent of all inbound freight from Mexico enters the United States. For the company's 20th anniversary, Williams would like to see more of what he has been doing for the past 20 years.
"We just continue to do what we've always done," he says. "We try to grow each year and improve our overall service for our customers and employees."