VSP Technologies and Trelleborg offer a turnkey shipping solution for chemical transport.
By Kat Zeman, Senior Editor at Knighthouse Media
Transporting chemicals and hazardous materials requires special procedures that must comply with strict federal, state and local regulations. Failure to comply puts companies at risk of endangering public health, lawsuits, fines, loss of product and public relations nightmares. Planning chemical transport not only requires choosing the right sealing materials, but ensuring that the people who secure bulk transport equipment are properly trained.
Offering a turnkey solution that tackles both issues, VSP Technologies and its alliance partner Trelleborg hold a unique position in the market. Through a strategic partnership, the two companies offer RideTight®, a Six Sigma-based comprehensive fluid sealing management program for bulk transport equipment.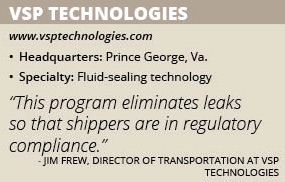 "This program eliminates leaks and ensures that shippers are in regulatory compliance," says Jim Frew, director of transportation at VSP Technologies.
The program is designed specifically for bulk transport equipment to ensure the safe transport of hazardous materials but can be used by any company transporting chemicals.
"But the emphasis isn't only on the sealing materials we provide," says John Sherman, segment manager of chemical transportation at Trelleborg. "It's also on the engineering and process management services that go along with those."
Both companies supply training for RideTight® – along with sealing components. Trelleborg, a world leader in engineered polymer solutions that seal, damp and protect critical applications for demanding environments, supplies valve repair kits.
VSP Technologies, an industry leader in engineered gasket materials, bolted flange joint assembly and training solutions, supplies the gaskets.
An Evolving Process
Although the RideTight® program was originally developed through the lens of the tank car industry, the same principles and best practices for regulatory compliance apply to tank containers and cargo tanks.
"It's been a constantly evolving process," Frew says. "We have expanded the breadth and impact of the program based on the needs of our customers and changing regulatory environment."
The program was developed by VSP Technologies, which owns the trademark. During the past 15 years, it has become a preferred solution for many shippers, leasing companies and fleet management companies in North America. AllTranstek, a fleet management company, has partnered with VSP Technologies since the inception of RideTight®.
One of the key benefits of RideTight® is the training on best practices provided to repair shops and loading/unloading racks which ensure the use and optimal installation of gasket and O-ring materials.
"We're providing quality assurance, training and education," Sherman says, adding that the program has trained thousands of industry professionals since its inception.
"Another important part of our program focuses on helping the customer determine the sealing materials they need and that they are chemically and mechanically compatible," adds Sherman.
Key Benefits
Due to the widespread use of the program by many repair shops throughout North America, it's likely a shipper is already using VSP Technologies and Trelleborg products, but without RideTight® technical service program benefits.
With increasing government regulations and NAR (non-accidental release) fines, technical training is becoming more important. "The leading cause of manway gasket leaks is due to using the wrong type of gasket or people not knowing how to assemble it due to lack of training," Frew says. The RideTight® program offers many key benefits. They include:
*Compliance with FRA rules and regulations.
*100 percent quality assurance, documentation and traceability with all components.
*detailed assembly and torque specifications for gaskets.
*Comprehensive support, selection and supply of all gaskets and O-ring valve repair kits.
*In-depth chemical and mechanical compatibility of sealing materials by specific commodity.
*Premium gasket and valve repair kit packaging.
*Root cause failure analysis reporting services for OTMA's.
*Best practices flange assembly training and support
*In-house quality control lab for material identification and analysis.
Planning chemical transport with a company that specializes in hazardous material transportation can save time, stress, and money and ensure the safe and prompt delivery of chemical shipments. VSP Technologies and Trelleborg have both been industry leaders in their respective fields and the RideTight® program is truly one of a kind.
Aside from the RideTight® program, VSP Technologies owns patents on CycleTight® and CargoTight™ Manway Gaskets; both developed specifically for chemical bulk transport equipment.
CycleTight® is a semi-metallic expanded PTFE gasket designed for use in general purpose tank car manway lids. Patented construction allows the CycleTight® gasket to fit securely into the manway cover to provide low assembly torque and support multiple reuses across a broad range of chemical services.
The CargoTight™ Manway Gasket combines CycleTight® technology, extensive engineering and testing, and also supports multiple reuses, to produce the premiere tank container and cargo tank manway gasket.