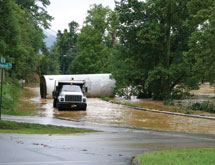 As the second-costliest storm in U.S. history behind Katrina, Hurricane Sandy was also one of the biggest events of 2012. The images of cities and towns washed away by the powerful hurricane were unavoidable in the storm's wake, and the effects are still being felt in early 2013 as residents of the Northeast and Mid-Atlantic states continue to rebuild.
Hurricane Sandy toppled buildings, washed out roads and knocked out power up and down the East Coast. The impact to many businesses was devastating, and the transportation and logistics industry did not escape unscathed. However, industry professionals have said that although Hurricane Sandy definitely made its presence felt, the repercussions of the storm on the industry have not been as severe as many would think.
In fact, with the help of modern technology and substantial planning, the transportation and logistics sector was able to navigate the effects of Hurricane Sandy with only moderate disruption. That's no small feat considering how the storm shut down much of the Eastern Seaboard and caused more than $63 billion in damages.
"I think the expectation that we had with clients that we work with was that early on there could have been a much larger disruption of over-the-road trucking and availability of service," says Ed Sands, global logistics lead at Pennsylvania-based procurement solutions provider Procurian. "That didn't pan out much at all, really."
Immediate Impact
Sands says the most substantial impact was on imported goods because of the disruption of ocean freight. "Clearly, those customers who had freight on the water had much more significant impact," he says.
Although over-the-road trucking didn't suffer as great of a direct impact as ocean freight from Hurricane Sandy, that portion of the industry still felt the effects of the storm on fuel distribution. Purolator International President John Costanzo says the storm's biggest challenge was felt in the fuel supply chain. Tanker ships carrying fuel were directed out to sea to prevent them from being smashed into the shore by the storm, and by the time it was safe for them to return many fuel transfer stations on the coast had been severely damaged.
Furthermore, power outages and road closings throughout New England made it difficult to replenish fuel stations in the immediate aftermath of Hurricane Sandy. In New York and New Jersey, for example, many small fuel stations didn't have backup generators to keep pumps operating through power outages. "That wreaked havoc not only on the local population, but on distributor companies," Costanzo says.
Beyond the fuel situation, Costanzo says Sandy's other indirect effect was the damage it did to local business communities. For example, he says, the Jersey Shore area was substantially affected by the storm and many retailers were forced to close down, putting pressure on the supply chain. "Some of these communities have a tremendous amount of business," Costanzo says.
Being Prepared
The transportation and logistics industry is built around planning, and as such it's no surprise that its emphasis on detail and technology were the two most important buffers it had against Hurricane Sandy. As Costanzo explains, being prepared for any contingency is first and foremost what the transportation and logistics sector is all about. "I think our industry, as opposed to many industries, is well prepared for these types of emergencies," he says. "It's kind of what we do."
Sands says modern weather forecasting technology made it very easy for Procurian and its clients to put themselves in a position to cope with the storm. "This was telegraphed over a week in advance with pretty amazing accuracy, so there was plenty of time for companies that were smart in trusting the forecasts," Sands says.
Costanzo and Sands say that the most important aspect of being prepared in the transportation and logistics field, regardless of circumstance, is ensuring everyone along the supply chain is on the same page. "We have contingency plans for things, not necessarily a storm, but if something hits we have good connectivity with all our partners," Costanzo says.
Sands says recent developments in technology, such as RFID and GPS, have not only made it easier for logistics firms to keep track of product during regular operation, but also keep things moving during emergencies. "I think having the right technology and supply chain visibility to a granule product SKU level and knowing where it was in your pipeline was clearly a benefit for companies that have that," Sands says. "Companies that did not have that level of granularity clearly struggled."
Weather Forecast
Costanzo says that for all the good the transportation and logistics sector did in preparing for and reacting to Hurricane Sandy, there still are areas where the industry can do better. "Just in general, I think we all learned from these things and there are definitely lessons we can take away from this," he says.
In particular, Costanzo says Purolator will work more closely with state and local governments to develop contingency plans for future emergencies. The company helped power utilities move generators to get polling centers up and running in time for the presidential election.
Better preparation might be all the more necessary if storms like Hurricane Sandy and 2011's Hurricane Irene continue to hit the East Coast. "We've never been hit with a storm this heavy, but we've been hit by two like it in the last year-and-a-half," Costanzo says.
Nevertheless, Costanzo and Sands say the qualities that make transportation and logistics firms successful will be the saving graces that help them lessen the impact of such storms on the economy. "I think the logistics industry probably fared better than most because we need to be operating 24 hours a day," Costanzo says.