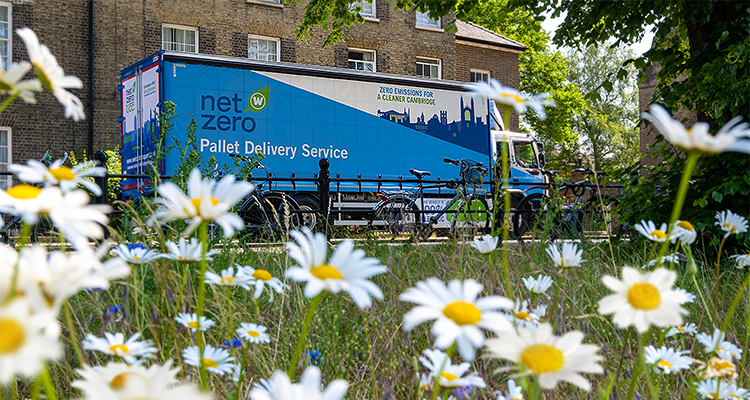 Welch's Transport's eight decades of expertise have qualified it for pole position in electrification
As a fourth generation, family-owned SME Hauler, Welch's Transport (Welch's) is a household name across central and eastern counties in the UK. Chris Welch, Commercial and Operations Director of Transport, and his younger brother have both followed in their great-grandfather's footsteps, Gordon Welch, who founded the organization in 1934.
The business was founded during a turbulent period that saw the nation's hauling industry nationalized then denationalized, presenting Gordon with the opportunity to take Cambridgeshire, Hertfordshire, Bedfordshire, and a bit of Essex, from the UK Government.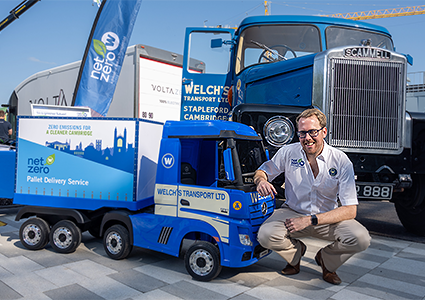 "That area has been our mainstay ever since," begins Chris, "at our size within the SME level, that's typically how things work, everyone sticks to their own patches. Over the last eight decades, we've grown and shrunk across the UK and today have settled at three main transport depots, with a fleet of 80 vehicles, 165 employees, and around £16 million in turnover.
"We're the longest standing member of the Transport Association, having superseded its original founders, and helped to establish Palletways before we moved to Palletline around 15 years ago, as well as being a part of the Hazchem network. My old man has just stepped down as the chairman of Palletline's board after a six-year stint, as he's slowing down a little now, but he's still very much steering the helm as the Managing Director.
"At our peak, we were pushing around ten depots nationwide," he continues, "and upheld contracts as large as British Home Stores. In their case, we ran all of their warehousing and managed their distribution across a fleet of 200 lorries. However, over the last few decades we've steadily consolidated our operations closer to our home counties. As far back as my grandfather's reign, you didn't have emails or the mobile technology that we rely on today, so when something went wrong at two am up in Edinburgh say, you had to drive up yourself to sort things out!
Comprehensive capabilities
"In doing so, however, we've been able to diversify our offering to a certain degree. Welch's now has its own crane hire and specialist movement divisions for moving abnormal loads, a Renault franchised truck and van center, and an e-commerce 3PL line. Overall, it's a nicely diverse package, which gives us the capability to move almost anything for anyone."
Welch's fleet comprises 80 vehicles of varying size and capability. Within it, there is a number of larger units that support its specialist movement division and around 35 44-ton taught liners, with the remaining balance being made up of its collection of 26 and 18 ton radial network vehicles for local groupage, and a single 19 ton EV lorry. The organization's two primary networks, Palletline and Hazchem, generally provide around 40 percent of its business, but in terms of clear volume, it moves around 2500 pallets a day and possesses 100,000 square feet of warehousing.
Community commitment
Chris cites the company's family ownership to be a valuable factor, especially in this day and age. "I think it's key," he states, "as an SME in any industry, it's the way in which your history, ethos, and family essence influence your foundations and operations. For us, it's the USP that enables us to battle the bigger boys and resonates the most with our clientele. It's always a joy to meet potential customers who open with 'Oh, so you're Jim's boy!' or 'My dad drove for you when I was younger.'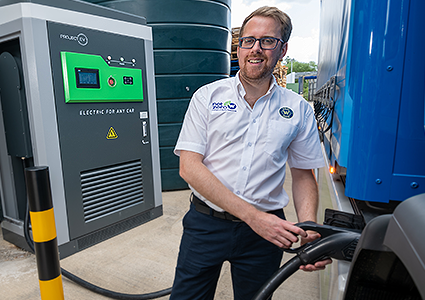 "Ultimately though, it's not just me and my dad running the operation, and if you want to keep that family feel and personal touch, you need to be able to remember the names of 165 employees, and their wider families! I don't want to stretch things so far that we lose that personable nature. We are a local business that employs local people and provides them with a comfortable standard of living, and we obviously do a lot of corporate responsibility work within our surrounding communities and schools, for which I'm an ambassador for Form the Future.
"Without spreading ourselves too thin," he adds, "one of my aspirations is to buy a nice 100,000-square-foot depot warehouse in the next five-to-ten years, from which we could distribute stock to save ourselves from picking up smaller orders around the countryside all day. This also ties in with what I want to do from an EV point-of-view."
In a self-proclaimed 'not bitter' manner, Chris informs Transportation and Logistics International that Welch's was originally in line to be the first SME to receive a 19 ton EV, however, due to a logistical error, it was in fact the third. Unfazed, he set his sights on a far larger industry first, and has taken a leap towards establishing the business' transition towards a fully electrified fleet.
"Earlier this year, we installed the first public accessible HGV supercharger in the country," he explains. "Obviously companies such as Carlsberg and Warburtons who were super early adopters already have their own in place, but you can't just rock up and buy some electricity from them. This ties in with one of the fundamentals of being a part of the Transport Association. Each member is required to make its bunkered fuel available to fellow associates for a few pence above cost, which has traditionally allowed SMEs such as ourselves to compete in the wider market.
Charging ahead
"This is the key principle that needs to be applied to EV charging, which I've whole-heartedly been shouting about. That's exactly why I've installed a supercharger under the same premise; that any member of the TA or the local community that drives an EV van, rigid, and soon, arctic, can come by and charge it. Additionally, we have a seven kilowatt charger and a 22 kilowatt unit on site to support our company car fleet, which we've been steadily transitioning over the years."
Alongside this, Welch's has been working to further develop its overall EV infrastructure on site, to facilitate the future requirements of its fleet, once it's fully electrified.
"The Energy Saving Trust came by last year," Chris says, "and conducted a feasibility study on our head office site, where we started our EV journey. Firstly, they took a 30 minute energy feed, which we had the foresight to bump up with a substation back in 2015, which they combined with the output of our growing solar estate from the last eight years. They were then able to compare this information with the data from our telematics system and convert the MPG that we've relied on in the past into the new kWh, and ultimately map our journey to electrification.
"The overall outcome was that we could convert almost 15 percent of our fleet today without hampering our service anywhere else. So, we approached Fleete and Zenobe with the data and technological recommendations required to take us where we need to be over the next few decades, and put it to them to establish what we need to do in our facility to eventually have a 22 kilowatt charging point for every rigid on site."
Fleete's vision is to implement broader growth of EV charging infrastructure across the entire UK. One of its key offerings is an overriding single piece of management software, which will be able to run equipment developed by multiple manufacturers. Besides providing the operator with key information such as charging times, it will also allow for the automated control of different charging points.
"As we're looking to partner with Fleete on the software front, Zenobe is looking to be our partner for the hardware side," Chris concludes. "The business already has a decade of experience in installing superchargers across different infrastructures, such as bus depots. It's all part of our mission looking forwards. We want to continue to demonstrate how electrification of the industry is fully applicable now. We've started an urban consolidation center in our head office in Cambridge, from which EVs are currently the most applicable for last mile delivery. Our idea is that you consolidate everything outside of an urban area, we collect it all, and then move it onwards using EV vehicles. Ideally rigids, for the economies of scale. That's why we invented the cart, right? because you can't deliver anywhere near as much if you're just riding a horse."