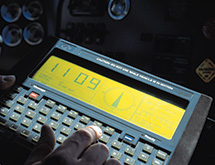 As most transport organizations know, the Federal Motor Carrier Safety Administration (FMCSA) will soon publish its final directive for the use of electronic logging devices, also known as the ELD mandate. Basically, an ELD is an electronic version of the paper logbook many over-the-road truck drivers currently use to record a driver's record of duty status (RODS) and compliance with hours of service (HOS) requirements. Once the mandate is finalized, motor carrier fleets will have until 2017 to install certified ELDs. Fleets already using electronic logging technology of some kind will have until late 2019 to ensure all new specifications are incorporated into their existing technology solutions.
Many truck fleets have already implemented automatic onboard recording devices (AOBRDs) and commercial fleet management systems (FMS) to automate routing processes. These systems are designed to capture and record various data, such as time on the road, current location, a driver's duty status and much more. For example, some systems provide graphic mapping displays and efficient routing applications so drivers can avoid delays caused by construction zones and heavy traffic situations. And, some systems are set up to monitor and record driver behavior so management can be sure its drivers are following company safety directives regarding speeding, idling and hard braking, for example.
For transportation and logistics companies that have not yet implemented an automated communications and logging technology solution and mobile wireless printing, there's a strong case for why it can be a smart business decision to do so, even before the ELD mandate deadlines kick in.
Role of Onboard Computing
With today's advances in mobile wireless technology, the transportation and logistics industry has been going through a period of mainstream adoption of onboard computing systems integrating over-the-road operations with back-office processing and reporting.
In fact, the FMCSA now permits smartphones, tablets and rugged handhelds to be used as the onboard network-enabled computing device in truck cabs, provided the system as a whole meets the new ELD requirements or can be adapted to do so before the FMCSA deadlines.
One thing we do know is that the ELD must be hardwired and synchronized with the truck's engine to ensure all drive segments are recorded. Additional requirements will be spelled out in detail when the final FMCSA directive is issued. This gives trucking companies flexibility to choose the ELD device that best suits the needs of the organization and its drivers.
Under previous FMCSA rules, not all commercial trucks were subject to HOS tracking requirements. Now all professional (CDL) truck drivers and commercial motor carriers required to keep a record of duty status will also be required to have a device that tracks and records HOS electronically. To ensure compliance, these drivers must also be prepared to present this log information upon request by a law enforcement officer. That's where mobile onboard mobile printers can provide value, efficiency and convenience.
Using a mobile computing device (PC, tablet or smartphone) and compact, reliable in-cab printer, drivers can quickly print out a certified, standardized HOS report for law enforcement upon request. In addition to e-logs, they can also print a wide array of other documents that may be needed over the course of the journey, including permits, delivery receipts, new or repeat customer orders, reports and regulatory forms.
Here's what to look for in selecting the printing component of an onboard recording and logging system. Printers should be compact in size, yet rugged enough to withstand the rigors of day-to-day, over-the-road travel. They should be fast and easy for drivers to learn and use so that they can print clear, legible documents for future ELD compliance, as well as other required documents, with minimal effort.
Finally, they should be highly reliable over a long service life, without a lot of maintenance and upkeep. To protect the investment, they should also be compatible with major operating platforms such as iOS, Android, Windows and Windows Mobile.
Case in Point
Englander Transportation Inc. specializes in refrigerated transportation of freight from Virginia and North Carolina to the West Coast, where it picks up mixed produce loads for markets back in Virginia, Maryland and the Washington, D.C., metro area. With two qualified drivers aboard, each truck makes the complete coast-to-coast turn every five or six days, giving drivers a welcome break of two days or so between runs.
When the Englander's management team decided to replace a manual logging and communications system with an automated onboard fleet management system to increase productivity, efficiency and safety, they selected the Omnitracs Mobile Computing Platform (MCP), an award-winning mobile information solution designed to help carriers reduce costs, increase retention and stay compliant.
In implementing the system, Englander equipped each of its 22 truck cabs with a laptop computer, screen and location-based software, which enables bi-directional, real-time communication between the drivers who are in transit and Englander Transportation's Virginia headquarters.
Completing the setup, a mobile printer is mounted in each cab so drivers can print full-page documents, anytime and anywhere. The new system saves time and labor by automating the way drivers keep trip logs, hours of service tracking, pre-trip checks and print out any documents required along the way. The PocketJet full-page thermal printers fulfilled all of Englander's requirements. They are lightweight, compact and easily mountable in a truck cab's limited space. Print quality for text, graphics and even photos is excellent. And, with thermal printing technology, there are no inks, toners or ribbons required. The only consumable is the premium thermal paper, available in cut sheets, as fanfold paper or on rolls.
According to Englander Transportation's IT director, the modernization project proved to be a huge success, quickly delivering benefits for both the company and its drivers. In fact, the firm's CEO estimated they would see a return on the investment in the first year of operation.
Preparation Makes Sense
No one knows exactly what will be in the ELD rules coming out soon. Nor do we know exactly what the electronic logging devices will look like or how much they will cost to purchase and install.
However, it's not too early to plan and this could be a wise business strategy. Rather than waiting for specifics on a single element focused solely on record of duty status and hours of service, transportation fleets of every size can experience the kinds of immediate benefits Englander Transportation realized in implementing its fleet management system. In doing so prior to the 2017 and 2019 implementation deadlines, you can begin building return on investment immediately and get drivers accustomed to using an automated logging and communications system designed to increase operational efficiency, as well as driver safety and productivity.
Some benefits users of comprehensive fleet management technology have reported include decreased fuel costs, reduced truck downtime, better safety rates and simplified regulatory compliance, whether with the ELD mandate or other government and industry regulations, such as driver vehicle inspection reports. And having a rugged and reliable mobile printer on hand to print required documents also makes good business sense, easing stress on drivers and making compliance faster and easier in the highly regulated transportation and logistics industry.