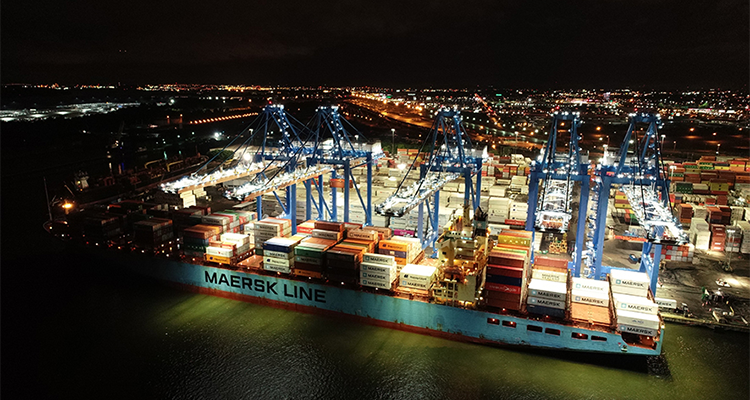 With a focus on efficiency, Holt Logistics Corporation is embracing innovative technology 
As it prepares to celebrate its 100-year anniversary in 2026, Holt Logistics Corporation (Holt Logistics) is continuing to experience phenomenal success, remaining under family ownership. Offering end-to-end supply chain and logistics solutions, the business operates on both sides of the Delaware River, in the states of Pennsylvania and New Jersey, with a specific focus on the Port of Philadelphia.
"The business was founded by our great-grandfather, Leo Holt, in 1926," narrates Christian Holt, Sales and Marketing Director. "He purchased a single truck and began transporting basically anything he could get his hands on. Today, the business is owned by the third generation, and the fourth generation – myself and my three brothers; Tom, Eric, and Phillip – are all involved."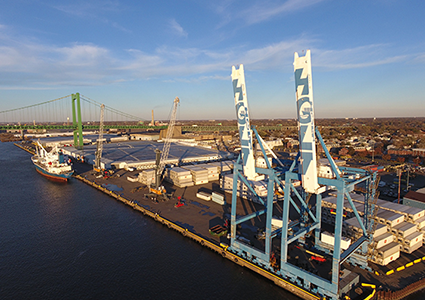 Eric Holt, Chief Operating Officer, adds: "To summarize our business journey succinctly, we went from a single truck to terminal operations, into warehousing, and today, we are partly a trucking business, but also operate multiple ports with on-dock and off-dock warehousing. That's what makes us unique; we are a single-source provider of end-to-end services, or, in other words, a one-stop-shop for any logistical needs."
Indeed, Holt Logistics is a full-service provider, boasting numerous capabilities. Its affiliated companies operate four marine terminals along the Delaware River between the ports of Philadelphia and Southern New Jersey, all of which offer on-dock warehousing, direct rail access, and access to real-time logistical insights.
Aside from its port and terminal operations, Holt Logistics offers extensive trucking services for both private customers and contract carriers, as well as boasting over 3.5 million square feet of refrigerated and dry warehousing space.
"Our warehouse on the Gloucester Marine Terminal features one of the largest solar arrays in North America; we have over 33,000 solar panels on our rooftop that generate over 11 megawatts of clean, renewable energy every year," Christian explains. "We completed the installation in 2011 and continued our sustainability efforts by pursuing the electrification of berths, cranes, and other equipment on the terminals."
Returning to the business, he details: "We have everything you can think of to conduct a successful and efficient operation; forklifts, jockey trucks, reach stackers, a handful of Liebherr harbor cranes, and seven super-post Panamax cranes to handle vessels of over 14,000 TEUs. This equipment enables us to deliver best-in-class lead times, such as completing a double move in less than 45 minutes.
"We do anything and everything relating to logistics; loading and unloading of ships or railcars, warehousing, trucking, and we even have certain quality and expediting services," Christian elaborates. "If we're not familiar with a technology or skill required, then we learn it! While some companies complete only parts of the journey, such as warehousing or offloading, we take products from their starting point, usually a ship or terminal, all the way through to the final destination, perhaps a food store or outside warehouse.
Speed to market
We pride ourselves on our vertically integrated structure because it provides us with visibility throughout our entire supply chain, which helps us improve the speed of getting products to market," he goes on. "However, while we are determined to get cargoes to their final destination on schedule, or even ahead of time, we must do so without impacting the quality of the product."
Quality is particularly significant to Holt Logistics, as it specializes in the global transportation of perishable goods, like frozen or refrigerated foods. "Our primary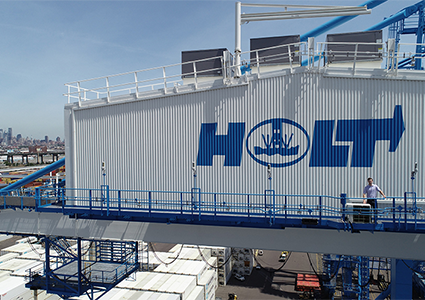 markets are South America, Europe, South Africa, Morocco, and Japan, but we welcome all cargoes and industries," says Christian. "For example, we look after cherries, grapes, blueberries, and bananas from South America; citrus fruits from South Africa and Morocco; steel from Japan; and everything from furniture to electrical appliances and cars from Asia and Europe."
The company's focus on quality has led to a recent investment in an on-dock inspection warehouse on the Packer Avenue Marine Terminal in Philadelphia. "With the help of the US Customs and Border Protection (CBP), we designed a state-of-the-art warehouse to inspect fruit and vegetables as they come off the ship," Christian explains. "The on-dock warehouse is highly efficient and productive, as it enables produce to be inspected on-site, meaning quicker clearance and faster speed to market."
However, this is just one example of how Holt Logistics is embracing technology in the business. "Digitalization and automation are at the forefront of current and upcoming investments," states Eric. "We're implementing automatic retrieval systems in our warehouses, and working with US Customs, the US Coastguard, and our customers behind the scenes to add a layer of transparency to our services."
He continues: "Our aim is to provide customers with valuable inventory data, enabling them to see where their product is, for example, or why it's not moving. On the trucking side of the business, we've implemented a new transport management system to provide full visibility of trucks, giving customers the necessary tools to manage their logistics. We've also invested in our own chassis fleet, which are all equipped with GPS tracking to facilitate real-time transparency."
Long-term growth
Moving forwards, Christian proposes: "Simply put, our future will see us continue to focus on increasing our footprint throughout the tri-state area. We're also looking to bring a reliable, long-term delivery service from Asia, direct to Philadelphia, so we're hoping to find a new partner to facilitate this service."
Eric adds: "There's room for us to grow; through public and private funding, we are making investments on both sides of the river. As a result, we aim to double our tonnage capabilities on both sides of the river and potentially develop or repurpose some of our surrounding acreage."
"However," Christian concludes, "as a family-owned-and-operated business, we invest for long-term growth. So, we are currently investing for the next 30-to-50 years, when our grandkids will hopefully be running the business!"