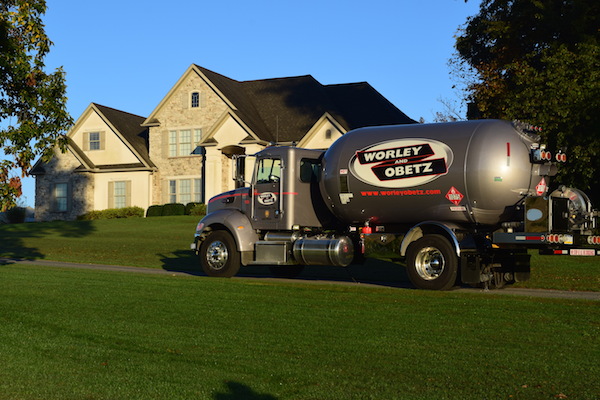 Family owned Worley & Obetz promotes efficient products to clients.
By Alan Dorich
Worley & Obetz Inc. has not rested on its laurels for the past 70 years, but instead has focused on leading its market, Fleet Manager Ashley Leaman says. "Dedication to customer service and being at that the forefront of alternative fuels and energy has gotten us to where we are today," he declares.
Based in Manheim, Pa., the company sells full line of energy products and services including propane, Ultra-Bioheat?, electricity, natural gas, HVAC service and installation, along with its commercial offerings that include bulk fuel transport, on-site fleet fueling and fleet card programs. Robert Obetz Sr. co-founded the firm with his father-in-law in 1946 with a single heating oil delivery truck and only a few employees.
"As the word of their services spread, they continued to grow and add more trucks and additional services to meet the needs of their customers," Leaman says, noting that the company has grown its staff to 184 team members.
Worley & Obetz also has expanded its fleet. "I have 38 tractor trailers, 50 home delivery trucks, 25 service vans and various support vehicles," he says, noting that it plans to grow further. "We're adding two propane bobtails this year and three tractors and trailers for the commercial business."
Passion for Fuel
Worley & Obetz has been a leader in bio-fuels for more than a decade, Leaman says. "We were blending biodiesel with heating oil and on road diesel as early as 2001," he says, noting that the company met state mandates even before they were created.
This not only reflects Worley & Obetz's commitment to the environment, but demonstrates its passion to make a difference, Director of Marketing Laura Inthavongsa says. This past season, she adds, the company also introduced Ultra-Bioheat fuel, which is ultra-low sulfur heating oil blended with biodiesel.
"This is the best fuel option on the market for customers as it reduces air emissions, burns cleaner than natural gas, improves system performance and is a domestic product, all proven by NORA studies," she says.
Worley & Obetz has also been offering propane autogas since 2004. This fuel is a liquefied petroleum gas (LPG), which is yet another alternative fuel Worley & Obetz has been passionate about offering its customers. Propane autogas has substantial emissions reductions compared to gasoline and diesel, is affordable and has a high energy density.
Perhaps the best feature of all is that it is American-made. "Overall, we're really focused on trying to educate the community and the public that these products are available and they have access to them," she says.
Worley & Obetz also is dedicated to offering 100 percent North American-made fuels, Inthavongsa says. "We are proud to be one of the only U.S. companies to provide AMERIgreen 100 percent American fuels," she says.
"Our team is committed to America's quest for energy independence and by purchasing domestic fuel, we reduce our foreign oil imports, keep more jobs in the United States and increase our energy security," Inthavongsa continues. "We felt a responsibility to our customers and local communities.
"Whether it's Ultra-Bioheat for your home heat or gasoline for your vehicle, every gallon truly makes a difference," she says.
Staffing Up
Worley & Obetz is coping with the challenge of finding qualified drivers to drive its trucks. "We have partnered with the Lancaster County Career and Technology Center, a local truck driving school," Leaman says.
"We have hired some candidates from them," he says. "We also have an employee referral bonus program that we reward our team members for referring their friends to come work with them."
Thanks to these efforts, Worley & Obetz has hired drivers for trucks that are stationed at new locations to better meet the needs of their customers. "We've hired drivers within closer proximity to those trucks," he adds, noting that these drivers make deliveries whenever necessary.
Worley & Obetz's technology investments include GPS tracking systems on its vehicles, Leaman says. If the company needs to make an emergency delivery, it can use its system to find the closest delivery vehicle, he explains.
"We'll be adding more," Leaman predicts, noting that the system also allows Worley & Obetz to tell its customers where their deliveries are. "[When they make] a simple phone call to the dispatch, we can pinpoint where the truck is and tell them the current status."
Inthavongsa says the company will continue investing in new technologies. "We're going to continue to focus on offering convenience for our customers," she says. "For our retail customers this even includes the capability to schedule a delivery, place a service call and have all the online access of viewing their transaction and paying their bill online," she says.
A Top Team
Leaman is a longtime veteran of the transportation industry. After driving tractor-trailers for another firm for five years, he joined Worley & Obetz as a retail delivery driver in 2007. As his career grew with Worley & Obetz, Ashley managed its retail delivery division and went on to be responsible for dispatching its commercial fleet.
"Last year, I was asked to be the fleet manager because of the diverse knowledge I have of the fleet and the company," he recalls, noting that he is proud of the team attitude of its employees. This has been nurtured by its family atmosphere.
"We have a business to run, but running the business does not take away from the importance of valuing our employees," he says. "Everybody feels like they are a team member and they're not just a number."
This year marks Worley & Obetz's 70th anniversary, Inthavongsa says. "This family owned business still operates today with the same team values while offering quality products along with exceptional customer service."
Thanks to the loyalty and trust of its customers, Worley & Obetz continues its commitment to providing customers with a wide array of energy products and services to residential and commercial customers that will continue to make a difference for future generations to come, Inthavognsa says.
"Our unwavering commitment and vision through the years is a testament to our future," shares Jeffrey B. Lyons, president/CEO of Worley & Obetz. "We have been leading the way as Central Pennsylvania's local total energy provider, offering bioheating oil in 2001, propane offerings in 2002, propane autogas in 2004 and E85 ethanol in 2006. Today, we are proving our commitment to customers by providing an even cleaner fuel option such as Ultra-Bioheat as well as offering additional energy options such as electricity and natural gas services."
www.worleyobetz.com
2015 sales: $520 million+
Headquarters: Manheim, Pa.
Employees: 184
Specialty: Propane, Ultra-Bioheat, electricity, natural gas, HVAC service and installation. Commercial offerings include bulk fuel transport, on-site fleet fueling and fleet card programs