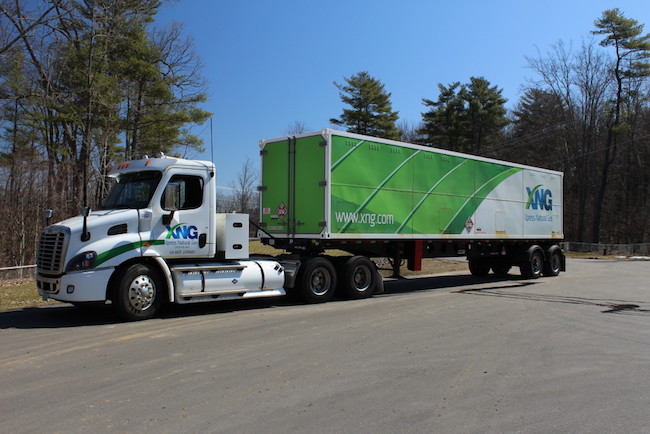 Xpress Natural Gas provides compressed natural gas service where pipelines don't reach, and it continues to expand.
By Chris Petersen
Compressed natural gas (CNG) is on the rise in the United States as an alternative to traditional energy sources such as oil or propane, but although it offers economic and environmental advantages over those traditional fuels, CNG lacks the nationwide infrastructure to make it feasible for many businesses. However, Xpress Natural Gas (XNG) is in the business of creating access to CNG for customers in regions of the country without a CNG infrastructure to deliver it to their facilities. By creating a "virtual pipeline" consisting of compression stations and its fleet of tanker trailers, XNG makes it possible for its customers to reap the benefits of natural gas without having to wait for infrastructure to catch up to it.
XNG has been serving customers since 2011, when it was founded to provide liquid natural gas distribution services to large-scale industrial customers in New England. Soon, the company added CNG as an alternative and over time it became XNG's primary focus. Many of its customers wanted to find an alternative to using heating oil or biomass as fuel sources, but lacked the necessary infrastructure in their areas to take advantage of CNG.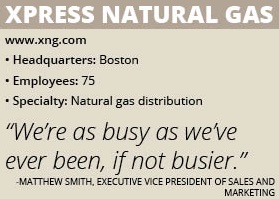 The "virtual pipeline" provided by XNG fills this gap for customers and gives them the opportunity to choose CNG for their fuel needs, and Executive Vice President of Sales and Marketing Matthew Smith says the benefits for customers are numerous. "We provide a lower-cost fuel alternative for customers who aren't on a pipeline, and we offer a substantially cleaner fuel alternative," he says.
Smith says XNG is focused on developing new ways to better serve its existing customers and bring in new business, and some of the most recent developments at the company show real promise in that regard. With the addition of new equipment, new facilities and new initiatives, XNG is building on its successes to expand its virtual CNG pipeline and bring the benefits of CNG to an even greater number of customers across the country.
Expanding Westward
Although the company's original focus was on the Northeast, Smith says XNG has been hard at work on expanding its services, and recently the company took a major step forward to becoming a national player in CNG distribution. "The biggest recent announcement is the opening of our first station on the West Coast," Smith says.
The new terminal, built on the Williams Pipeline in Washington, will provide XNG with the opportunity to serve customers in the Pacific Northwest for the first time and give it a toehold in the Western United States. Smith says the company already has a contract with a local paper company to provide it with CNG services.
XNG's business model provides customers with continuous CNG supply through its network of terminals and tanker trucks. The company sources natural gas from interstate pipelines, compresses it at its terminals and transports it directly to customers' facilities through its fleet of tanker trucks. Once they arrive, the tanker trailers are connected directly to customers' facilities to offload the gas through equipment custom-built by XNG. Smith says what sets XNG apart from other distributors is the fact that its equipment and processes provide a high degree of redundancy, giving customers the confidence that their CNG service will be as reliable as if they were connected directly to the pipeline.
New Improvements
Although XNG already offers customers with a high degree of confidence through its equipment and network of facilities, Smith says the company continues to look for ways to improve its services. One of the biggest recent developments has been the addition of more large-capacity tanker trailers from manufacturers like Hexagon. Smith says the company expects to begin using these high-capacity trailers in states with larger load allowances in the immediate future. "Those would be perfect for states like Maine, Washington and much of the Northwest," Smith says.
Another way in which XNG is working to expand its services is by looking for opportunities for working with utilities to provide CNG for power generation. For example, the company recently started working with Liberty Utilities to provide CNG service to the community of Keene, N.H. Smith says the company also worked with Con Ed to provide CNG support for a project on Roosevelt Island in New York City this summer.
Cutting Costs
CNG continues to provide significant cost and environmental advantages over traditional fuels, but Smith says the last year or so has seen the advantages in terms of cost shrink a little. "I think that the biggest challenge our company has faced in the last 12 to 18 months is a decline in the cost of competitive fuels, and we've responded by driving down the cost of transportation," he says.
The company's new higher-capacity tanker trailers are one way XNG is driving down the costs of transportation for its customers, but the company also has added CNG-fueled trucks to its fleet in an effort to cut down on the overall cost of transportation. "That combination has allowed us to continue to compete on cost even in a lower-cost fuel market," Smith says.
Recently, the price of oil has increased, and Smith says concerns about the long-term volatility in oil prices have made more businesses curious about CNG because of its relative stability. "We're as busy as we've ever been, if not busier," Smith says.
New Opportunities
Although CNG is seen by a growing number of people as a viable alternative to oil and other traditional fuels, concerns about the environmental impact of pipelines have slowed or stalled the development of CNG infrastructure across the country. In this environment, Smith says, XNG sees trucked CNG as an increasingly popular solution, especially in rural areas. In the near future, XNG believes getting involved with utilities will mean greater involvement in residential applications for trucked CNG, and the opportunities for XNG will only increase.
"I think the applications for truckable gas will continue to expand as the ability to extend pipelines to these types of applications are no longer cost-effective," Smith says. "I expect that we are going to expand aggressively to include a range of new applications."