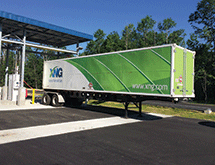 The United States has been trying to reduce its dependence on foreign oil for decades. Many have heralded natural gas as the future of American energy. Unfortunately, for businesses in relatively remote areas, such as parts of New England, a lack of crucial natural gas infrastructure has made it difficult for potential consumers to make the switch to the cleaner, less-expensive alternative. That's where Boston-based Xpress Natural Gas (XNG) comes in, providing customers with the compressed natural gas infrastructure they need to keep up with the energy revolution.
The company has been serving customers since 2011, when it started offering liquid natural gas distribution to large-scale industrial customers in the New England area. XNG eventually offered compressed natural gas (CNG) as an alternative, and today CNG has become its primary product. According to Chief Technology Officer Doug Hanson, those customers primarily used expensive heating oil or biomass for their energy needs. Many of them wanted to make the switch to natural gas, but pipelines didn't reach their locations. XNG stepped in, filled that gap, and made it possible for them to take advantage of natural gas.
XNG's primary service is supplying customers with a continuous, seamless supply of CNG through its network of compression stations and tanker trailers. The company sources natural gas from interstate pipelines, compresses it, and then transports it directly to customers with its fleet of 45 high-capacity, specialized trailers. The trailers are then connected to the customers' facilities through equipment custom-built by XNG. Because the trailers are not only the means of delivery but also the storage vessel, there is no need for expensive and unsightly storage tanks at the customer's site.
From manufacturing plants to hospitals and universities, XNG has worked with a wide variety of customers to make the switch to cheaper, cleaner, and safer natural gas. In addition to its traditional Northeast market, XNG is actively pursuing business in other promising areas of the U.S. and Canada. Vice President of Operations David Atwood says the company is poised for significant growth in the near future, and word is spreading about how XNG can help customers quickly and easily make the switch to natural gas.
Standing Apart
Although there are a few significant CNG distributors in the Northeast and maritime Canada, Atwood says they don't bring the same level of service and technical expertise that XNG does. XNG is constantly upgrading its equipment and systems programming and has come up with unique, proprietary solutions to issues that other competitors are still struggling to overcome. Atwood says, "We're constantly refining our systems and our business processes."
Once the company completes its third compression station, in upstate New York, at the end of the year, it will operate more stations than any of its competitors. The company's fleet of 45 trailers is also nearly twice the size of its next largest competitor's. This gives it the ability to supply high volumes of gas to geographically dispersed customers. "XNG is quickly emerging as the dominant provider of CNG in the marketplace," Atwood says.
Hanson says XNG also excels at working with the customer to convert their operations to natural gas. XNG's engineers have the experience to keep the project on track. XNG also provides customers with expert assistance when it comes to using and financing their new CNG infrastructure.
Educating Customers
Although CNG is becoming more mainstream by the day, customers and the public are still largely unfamiliar with natural gas. Hanson says overcoming the misconceptions about natural gas is the biggest challenge for XNG today. "People get very nervous when you talk about compressing and transporting natural gas," Atwood says. "But, when you show them how natural gas is safer than other fuels, and show them the many safety features of our equipment, they quickly become our biggest supporters."
XNG provides free training for customers and for emergency personnel. "Sometimes what they have in mind is completely different from the reality of transporting and handling CNG, so a lot of it is education," Hanson says. XNG has recently gone one step farther and offered free training to any community that its trucks travel through. This could quickly result in hundreds of additional New England firefighters and police officers that are trained to handle a natural gas emergency.