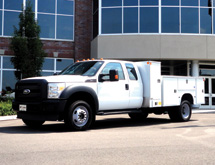 Quality, profit and fun. They're only three words, but according to the owner and president of Zoresco Equipment Co., those three words mean a lot.
"Each one of those elements must serve the customer, our suppliers and our employees," explains Vic Tedesco. "We've built a group of highly educated and skilled employees along with a dedicated senior management team who take all three elements seriously. We look for employees that have a high energy level and desire to be a part of a unique team focused on those three things. These are words that we live by every day."
These words to live by are also the key to Zoresco's success. The company is celebrating the past 32 years that have seen it transform from a truck and equipment broker operation to a full-service designer and manufacturer of transportation and storage solutions. The company got its start selling truck bodies and trailers, offering both stock and custom-made solutions for commercial users. Over the years, the company has expanded its services, customer base and regional reach. In fact, it recently purchased a 21-acre site in Oakwood Village, Ohio. The company moved from its Brooklyn, Ohio, campus into the 90,000-square-foot, six-building campus in September.
"We have expanded greatly our product line to encompass all truck equipment, truck accessories and truck bodies, as well as the ability to convert trucks to operate on CNG," Tedesco explains. "We also offer tag-a-long trailers that pull behind all size trucks. In addition, Zoresco rents and sells storage containers and custom modified containers. On top of that, we've expanded our customer base. Initially, we served truck dealers. Today, we work not only with truck dealers, but with end-users. Anyone that operates a truck, we serve. Utility companies, contractors, landscapers, government. We've diversified our customer base and went from one location in western Pennsylvania to now having six locations serving Pennsylvania, Ohio, West Virginia, Kentucky and Indiana."
The company is also an authorized upfitter and a member of OEM bailment pools for Ford Motor Co., General Motors Corp, and Ram trucks. The trucks come directly from the OEMs, and then Zoresco upfits them and sells them to dealers. Tedesco says that "you have to have quite a bit of capability and capacity to do that."
Custom at the Core
"It's one thing to sell a commercial product and service it; it's another to provide hands-on evaluation of the customer's needs and help that company design the best application for their needs, and that's what we're good at," Tedesco says. "Many of the fleets we work with today don't have the same resources as 10 years ago. We help fill that void. Our knowledge of how trucks interact with other pieces of equipment allows us to provide the right application for our customers' operation in the field."
The ability to provide one-on-one solutions is a valuable skill in today's world of consolidation. Tedesco says the trend of private equity firms purchasing customer and competitor companies then consolidating those customer and competitor companies' operations is increasing. For these large firms, turning to a diversified company such as Zoresco that handles transportation, storage and CNG conversions can be a time- and cost-saving decision.
"Having a diversified product line backed by superior operations means we're better able to serve end-users," Tedesco explains. "A landscaper can come to us and we can provide a truck body, tagalong trailer and or rent or sell storage containers. Our goal is not to be the biggest, rather the best in the industry serving a wide regional area."