Fore Transportation
---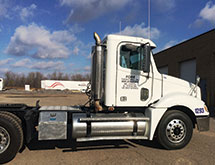 Anyone can promise to do anything, but keeping that promise is what separates the successful from the unsuccessful. Illinois-based Fore Transportation has made this the core of its philosophy, and President and CEO Jim Apa says every employee within the company understands that maintaining the company's integrity is the most important thing they can do. "We live and die by the commitments we make," Apa says. "We take it that if we promise something and we don't do it, we're liars."
That attitude has served the company well, and over the last 30 years Fore Transportation has grown into one of the Chicago area's leading intermodal carriers. Founded by Apa's father, Michael Apa Sr., Fore Transportation is run by Jim Apa and his brothers, Billy and Michael Jr. The family connection helps strengthen the bond between the company and its customers, Jim Apa says, because it ensures that the core values of the company remain consistent. Beyond those core values, Fore Transportation also brings a number of significant advantages to its customers as it strives to be the best in the intermodal industry.
Even though industry issues such as driver turnover and government regulations threaten to impact Fore Transportation's ability to live up to its promises, Apa says the company remains committed to keeping true to its word. By adopting new technology and being good to its drivers, Fore Transportation has been able to avoid the problems that have befallen many other carriers in the intermodal sector, and the company has the pieces in place to maintain its strong position.
Good Location
One of the strongest advantages Fore Transportation has as an intermodal carrier is its main location in a 30-acre facility in Harvey, Ill., directly across the street from a Canadian National (CN) railroad yard. This gives the company direct access to containers being imported and exported to and from Canada and the Midwestern United States. Apa says the company's secured storage yard is utilized by 20 truck lines, and also by the CN railroad as an auxiliary yard. Fore Transportation also has a full maintenance facility at this location.
From this facility, Fore Transportation offers a full range of transportation services, including refrigerated trailers for produce and frozen foods. Apa says the company is fully bonded, and has the capability to handle overweight as well as certain hazmat shipments.
Apa says the company's proximity to the CN will prove to be even more beneficial in the near future, as more shippers will choose to avoid ports on the West Coast due to the recent strike. These shippers will choose to either route their shipments through the Panama Canal or Vancouver, which will put much of their cargo on the CN.
Forging Ahead
One of the biggest challenges facing the entire trucking industry today is driver turnover, and Apa says this can be traced back to the fact that the average salary for a driver is low when compared to the average salary in most similar careers. To attract and retain the best talent in the industry, Fore Transportation offers wages that are up to 50 percent higher than the industry average, making it one of the highest-paying container drayage companies in the Chicago area.
Although many carriers would shy away from offering those types of wages out of concern for their bottom line, Apa says Fore Transportation doesn't look at it that way. He says keeping its best drivers around and keeping them satisfied is how the company ensures that it does everything it can to keep its promises to its customers. "Those extra wages don't cost us money, they pay us dividends," Apa says, adding that the company also maintains consistency by promoting from within whenever possible.
The other substantial challenge facing the company is regulation, particularly in terms of hours of service for drivers. "It costs the end-user money because it costs them more money to get their goods to them," Apa says, adding that Fore Transportation has had to raise its rates in recent years in response.
To get back some of that lost efficiency and ensure its drivers are in full compliance, Fore Transportation has embraced new technology including electronic logbooks. "We're on the cutting-edge of technology," Apa says. "Our competition is still using paper logs and manual cartage tickets to get receipts, and it puts them behind."
---