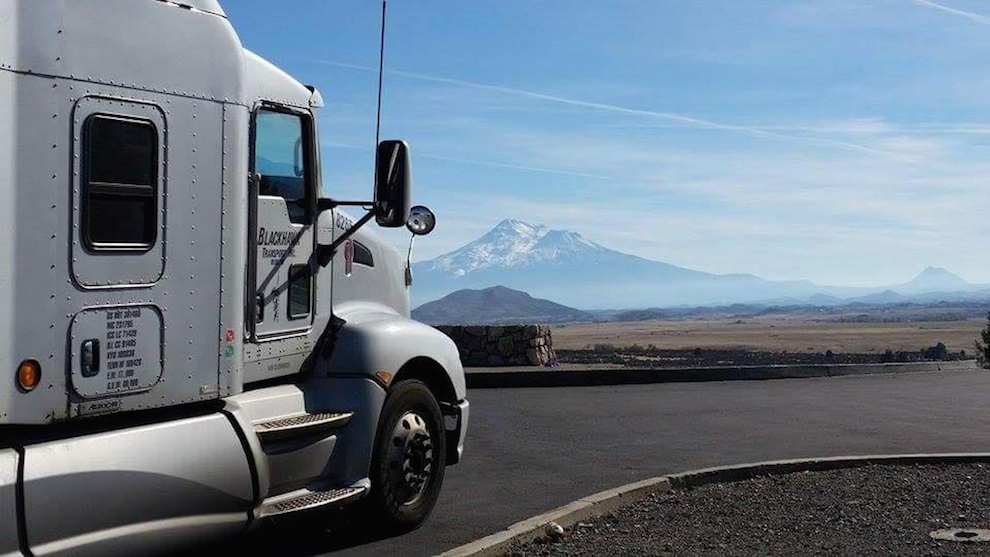 Blackhawk Transport launches a new equipment leasing service to complement its dedicated contract solutions.
By Janice Hoppe
Blackhawk Transport has grown almost 400 percent over the past three years and Mike Holloway, president and CEO, credits the company's success to its dedicated private fleet replacement model. "To have that kind of growth is because of our ability to hire and retain drivers, and we have a competitive advantage to buy new equipment at a lower interest rate than most," he says. "When you add those two things together, that's why we have been able to do well in the dedicated environment with a wide variety of services and equipment."
The Beloit, Wis.-based company is an asset-based dedicated contract solutions, market-to-market regional and service-sensitive long-haul trucking provider. It specializes in replacing private fleets and eliminating capital costs for its customers. Although it offers many of the same services as its logistics competitors throughout the United States, Holloway says the difference is in the ownership.
"A key component is our ownership group," he adds. "Because of who they are, the cost of capital is much less than our competition. Being able to have low cost-of-capital allows us to join any market with any customer that makes sense."
Diane Hendricks, chairman of Hendricks Holding Co. (HHC), co-founded Blackhawk Transport, a subsidiary of HHC in 1990 with only one R model Mac and three Raven flatbed trailers. Today, Blackhawk Transport runs a mix of company-owned and owner/operator trucks, and its fleet is a mix of specialized equipment available throughout the United States and Canada.
Leasing Solutions
Blackhawk Transport offers customers a variety of equipment choices through its Dedicated Contract Solutions, including lightweight van equipment, end-dumps, refrigerated trailers, straight trucks, water tankers and pneumatics trucks. The company has a fleet of more than 1,200 trailers. It also offers compressed and liquid natural gas-powered fleets.
In May 2015, Blackhawk Transport launched a new entity under its Blackhawk Logistics LLC umbrella called BH Lease Services LLC., which provides customers with long-term leases for equipment. BH Lease Services focuses on providing specialized tractor and trailer equipment to customers with private fleets who are not yet able or not interested in transitioning to Blackhawk Transport's Dedicated Contract Solutions platform.
"We are very fortunate to have current partners where we have identified a good solution to complement our other services by providing low-cost, long-term equipment leases, which we have started with a few of our current clients," Holloway says. "One of which is the crude oil industry and the other is in the special metals industry."
BH Lease Services uses its buying power and the low cost of capital of the overall Blackhawk entity to be able to provide private fleets with lower cost options for long-term financing needs for customers with specialty equipment needs.
Dedicated Jobs
About 484 of Blackhawk Transport's 541 employees are drivers. The company attracts and retains employees because of its attractive benefits package and the ability for drivers to pick their job preferences. "We have local and regional set runs, so we can offer a better quality of life complemented with new equipment and our benefits program," Holloway says. "We know we have a better driver benefits program than most."
Blackhawk Transport is seeing an influx of drivers in the industry as a result of the suffering oil industry nationwide, Holloway says. "That has created an increase of drivers who were oil field-related coming to our industry," he adds. "It is still a difficult environment, but we have been able to add more drivers and retain them at a much better success rate than the larger companies. We rely on great people, new/late model equipment, a premium healthcare plan and our dedicated routes that is the key to all that."
Today, Blackhawk Transport operates 38 locations throughout the United States and Holloway says its employees are key to its continued growth. "Everyone plays a crucial role when expanding to the degree we are," he says. "It is very unique to grow at these rates and service the customers safely. That's what we have been doing."
www.blackhawktransport.com
Revenue: $96 million
Headquarters: Beloit, Wis.
Employees: 451
Specialty: Freight management, warehousing and transportation services