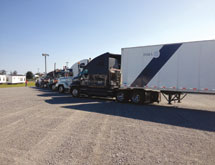 One hears origin stories of companies all the time where an entrepreneur sat in his garage, created a gadget or machine, and the success of that device became the foundation of a business that today is very strong. In a similar vein, TDS Transport Inc. also started small, but the work it was doing was very large – in size and importance. TDS began in 2005, when founder Tom Schmidt was using his one truck to pull RVs and travel trailers for the Federal Emergency Management Agency (FEMA). According to Tom's brother, Jeff Schmidt, who is director of TDS Management Services, explains "a lot of blood, sweat and tears" were shed to get the operation from one truck to where it is today, but it has all been worth it.
"My brother started out as a driver for another company and he built contacts through that work," Jeff Schmidt says. "He was at the right spot at the right time to start this company, and he founded it on his reputation for service. He got into pulling RVs for FEMA after Hurricane Katrina, and his name and ability to perform grew with him. Now we probably move as many mobile homes for FEMA as anyone else does, it's likely that we're No. 1 in that, and we're very proud of everything we do."
Working with FEMA is not the only line of work for TDS, however. The company's niche is transporting oversized loads across the country, as well as over-the-road (OTR) and on-demand transportation services. The company frequently serves the oil and steel industries, and is doing more flatbed work with the transportation of oil pipe, steel bars, industrial fans and air conditioning units, generators, tractors and various farm equipment.
Based in Staunton, Ill., TDS has a fleet of 40 OTR trucks and works with a network of other companies that, combined, have 150 large and 400 smaller trucks that TDS can use to meet its customers' needs. The company has a DOT-compliant office in Indianapolis, as well as regional offices in New York and Pennsylvania, and it continues to grow. According to Schmidt, TDS is building a new office in Staunton, allowing it to expand and have space for 12 more people. The company currently has 10 employees and three mechanics, as well as about 50 drivers. He attributes this growth to the level of service TDS provides.
"We are in the service industry, so service is important to us," he says. "We work the same for all of our customers and we take pride in our performance. If we tell someone that we will do something, we do it, but if we don't think we can, we tell them because we don't want to mislead anyone. Once we say we'll do it, we will do it.
"We have an incredible network and we've worked hard to earn the reputation that we have," he adds. "If someone works for us, we pay them immediately. We also deliver on time in any way possible."
Branching Out
TDS credits its ability to ensure on-time deliveries to its network of transportation companies around the country. Schmidt explains it was a challenge to put it together, but again, the company's reputation helped secure all of its strong partners.
"My brother Tom really did all of it," Schmidt says. "He has the personality that warms up anybody who's with him, but he's also very business-minded. By always operating with integrity, he created devotion and loyalty to him. When he started the company and the network, he first turned to people he was already working with, and it slowly grew through word of mouth. Tom was still out there driving with all of the rest of the drivers. Along the way, he started buying more trucks. Especially if he knew people without a job – he would buy a truck and put them in it."
TDS formed its network because it alone is not large enough to handle all of the jobs that come in, but the network is not the only way in which the company enhanced its services. The company also created TDS Logistics and TDS Management Services. TDS Logistics, which is run by Tom Schmidt's son, Tommy, brokers the jobs that TDS Transport isn't large enough to handle on its own – it finds other companies that can pick up loads and make the deliveries on behalf of TDS.
Focusing on markets where its performance will provide a competitive advantage to customers, TDS Logistics caters to the manufacturing, retail, commodities, freight-forwarding, and less-than-truckload sectors with cutting-edge tracking and cargo security technology.
"Our current expansion is because TDS Logistics is growing so well," Jeff Schmidt says. "That business is doing very well, and we will continue to grow it."
Under the direction of Jeff Schmidt, TDS Management Services strives to streamline all of its jobs to ensure a high level of efficiency. This part of the company oversees the purchasing, sales and installations of travel trailers, park models and mobile homes, as well as manages complex construction projects.
"We were hauling so many FEMA homes and homes for manufacturers that people started asking if we could buy and sell mobile homes," Schmidt says. "We are serving Indian tribes, military and companies that are working on the oil booms in Montana and Texas. When construction companies have travel to locations far away from their home office, we can help them set up."
He notes that the newest TDS business is TDS Truck Service, which is just getting started. In this operation, TDS plans to beef up its team of mechanics.
Part of the Family
The company's business is growing fast, and TDS is in the process of buying 10 to 20 more trucks for its fleet. The challenge, Schmidt explains, is finding drivers who can deliver the level of services for which TDS is known. "We are thinking about building a CDL training facility where we can help people get their licenses and then give them a job," he says. "We expect to buy 25 to 30 trucks this year, so we need the manpower to drive them. This is the kind of controlled growth that we like to have, but we still need the right people on our team."
TDS looks for drivers with experience, he says, but more importantly, it wants drivers to demonstrate care and loyalty to the job and the company.
"Their performance is a reflection on us as a company, so we treat them all like they are part of the family," Schmidt says. "We allow them to take ownership of their work, because then they really perform. They pick up on time and deliver on time, and when customers have questions we give them answers. All of our people work together to do a great deal of preparation to avoid problems on our jobs."
The key way in which TDS ensures on-time shipments and deliveries is by maintaining a high level of communication between it and its drivers. The company employs a GPS tracking system that monitors all of its drivers as well as the other operators working with it. This way, if a truck is ever down, TDS can quickly send another to pick up the load and make the delivery on time.
Safety, of course, also is a main concern of the company, and plays a large role in its ability to maintain on-time deliveries as well as its strong reputation.
"All of our drivers go through extensive safety training," Schmidt stresses. "We have a DOT-compliant office in Indianapolis and we constantly preach safety. It is extremely important to be aware of the DOT rules. Safety is No. 1 – we have to do that first, everything else is after that."
He notes, however, that it is of ongoing importance to find new drivers who maintain the same values of TDS in terms of safety and service.
"We continue to grow nationwide and need more people," he says. "Some drivers are out for six weeks at a time, and with FEMA, they can be out for two months at a time. We have a dedicated workforce, but as we continue to grow and buy new trucks, the challenge is to find good drivers.
"We've been getting info about drivers from schools and training facilities, and we're building relationships with those schools," he continues. "We also network through word of mouth – our employees know what we want and give good references to us. When we are looking at new people, we do background checks and follow all of the DOT requirements. We let them know what we do and what our plans are."
Growth in the entire TDS organization is coming from a number of areas, although the oil market holds much focus right now. Schmidt explains the company is doing "more and more work" with the oil industry in Texas, North Dakota, Montana, Pennsylvania and Ohio. The company has been delivering materials for companies working out there, as well as mobile homes, offices and shower houses for the industry's workers.
"We're going to a lot of remote locations, and we're growing in those areas through word of mouth," he says. "TDS Transport is working there, but this is also where TDS Management comes into play. We transport, set up and install the mobile homes that are necessary for these companies to work in these areas."
Some of these areas are new for TDS, but Schmidt believes the company's reputation is providing it entry into new geographic areas and will enable its continued growth going forward.
"We are a good company to work with," he says. "Employees like working with us and being part of our company, and customers appreciate our overall atmosphere and attitude. If employees are happy, that positivity permeates and rubs off on our customers. Customers like being around us – we want customers to hear the smile in our voices and then follow that up with positive performances. We can do that because of our employees. We would not be who we are without our employees – we appreciate and need our employees, because they help our reputation continue to grow."