V&S Midwest Carriers Corp.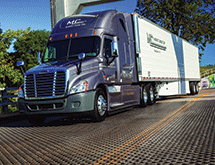 Founded in 1986 by President Dave Van Handel and Marge Van Handel, V&S Midwest Carriers Corp. has seen a great deal of change since its earliest days with just one truck. Although continuous change is a fact of life, Vice President Eric Van Handel says the company's office and driver staff are the reason why the Kaukauna, Wis.-based company can provide high-quality truckload, dedicated and brokerage services to clients around the country.
V&S serves a vast array of customers and industries, ranging from quality Wisconsin cheese and foodservice customers to paper manufacturers and retailers. Most of its customers' freight is extremely time sensitive.
"One of our customers told me once that we sell paper, and it is really not that much different than the other guy's paper," Eric Van Handel says. "At the end of the day, what we really sell is service. When their customers call on Friday for a paper order, they have to have that paper in San Francisco on Monday morning. It's so important to their company that we are there. And if a road closes out west because of winter weather, they need to be notified ASAP. They really need communication and service. I think that is our strongest suit."
Driven by Drivers
Although V&S delivers loads to almost every state in the union, much of its freight is focused to destinations east of the Mississippi and Texas, with smaller volumes in California and the Northwest. For years, the company has followed the model of sending trucks out of Wisconsin early in the week and bringing all of them back by the end of the week.
"It's a great model for us for many reasons, most notably driver retention," Eric Van Handel says. "Our drivers understand that most of our headhaul freight is home, so we need them back here as soon as possible. We are definitely not all things to all of our customers; there is usually a reason our trucks are ending up in a specific destination."
Among the most significant trends the company has dealt with in the last few years is the driver shortage, which has become a major topic in the industry. V&S has needed to adjust the way it markets itself to drivers because of the lack of experienced, qualified drivers available.
"For almost 30 years, we recruited by word-of-mouth referrals from our drivers; we have always felt that was our best advertisement," Eric Van Handel says. "We spent minimal amounts of money on driver marketing in the past because it honestly wasn't needed, but that is definitely changing."
Through the company's pay, benefits and culture, V&S believes it can offer an experience for the drivers they cannot get anywhere else. Although it is getting harder for the company's drivers to convince other drivers that the grass is greener at V&S because the industry has been littered with false hopes and promises, the company believes that drivers will see the difference once they enter orientation.
Regular Investments
Eric Van Handel says his parents had a great vision for how they were going to manage the company when they started it. That vision included continuous reinvestment. Since 1986, the company has always had great equipment, and that will always be a staple of the company.
"Our uniquely spec'd tractors, skirts, trailer tails and driver fuel bonus program have pushed us into the upper echelon in terms top fuel mileage companies in the country," Eric Van Handel says. "We are very proud of our fuel mileage success. Over the last 10 years, I have been extremely happy with the role technology plays and will continue to play in our company."
Recently, the company's IT manager headed outside of the office to work with another trucking company, sharing and swapping ideas on ways to improve operational efficiencies. Eric Van Handel says V&S will do almost anything to gain more knowledge.
"We are committed to spending the money and the time to make positive change," he says. "We are operating in a real-time environment now. We know where we are on any given day of any week in terms of our key metrics thanks to satellites, TMS software, workflow software and more. That is powerful information, especially when visible to your entire operating staff. The decisions they make become so much more precise and profitable."
The focus of V&S is to put all of its energies into what it is doing so it can become one of the best truckload carriers in the country. The company is also committed to hiring the best driving professionals. In the years to come, the company's biggest priority is taking care of the drivers it has while it continues to evolve its operations.
"The great thing about our company is that change and becoming better is getting to be a natural thing," Eric Van Handel says. "Everyone understands that we are in this together and for the right reasons. At the end of the day, we feel great about our people and that the company's best interest is in their heart."