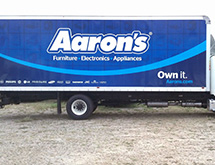 As a leader in sales and lease ownership of furniture, consumer electronics, home appliances and accessories, maintaining an efficient, safe and reliable fleet is a key way for Aaron's Inc. to meet its customers' demands. To continue providing a high level of customer service, Aaron's fleet department recently implemented a number of changes, ranging from its fleet maintenance management company and technology to developing new driver requirements and training.
"Aaron's core business is retail, so delivery is necessary to take care of our customers," Senior Manager of Fleet Operations Lewis Allen says. "We are making things right, better and reducing our risk out there to keep our good name."
Each of Aaron's 1,980 stores operates at least one 14-foot Isuzu truck, but could have three or more based on its customer count. The company also operates 450 Ford Transit Connect vans throughout the country for field visits from the stores to its customers.
Aaron's operates 17 Fulfillment Centers across the country with long- and short-haul drivers running 28-foot straight trucks, tractors and 53-foot dry van trailers. "Depending on where the Fulfillment Center is located, we may have a different set of vehicles for that facility," Allen says. "The center could have more tractor and trailer combos versus straight trucks and vice versa."
Fleet Maintenance
As the senior manager of fleet operations for Aaron's, Allen is responsible for acquiring and disposing of trucks that – at the store level – have a 54-month lifecycle. Aaron's fleet department would recycle trucks by delivering the new truck to the store and taking the old one to one of its two remarketing facilities. "One facility was in north Georgia and the other was in Fort Worth, Texas," Allen says. "Depending on whether the truck was east or west of the Mississippi River would determine which facility it went to. Aaron's would refurbish and sell the trucks wholesale to dealers."
That process changed in October when Aaron's partnered with Alpharetta, Ga.-based LeasePlan, a high-touch service provider for vehicle leasing and fleet management. LeasePlan now handles all the maintenance, acquisition and disposition of Aaron's fleet. "The fleet management piece isn't new to us," Allen explains. "We had been working with Element for three years and as part of a new RFP process Aaron's started last year LeasePlan won the business this go around."
LeasePlan will be maintaining Aaron's trucks throughout their lifecycles, which means the trucks should be mechanically sound and not require a lot of work before selling at auction. Because of this, Aaron's closed its remarketing facilities on Oct. 9 and is in the process of selling its Georgia facility. "With the remarketing facilities, we wanted to make sure we had a good reputation with deals and we will still have that now," Allen explains. "It's not only our name on the trucks, but LeasePlan's reputation as well. We want to make sure we get top dollar for them and don't have to pay anything out. We were averaging about $5,000 per truck on a sale."
Aaron's now has access to more than 50,000 vendors throughout the United States thanks to LeasePlan that it can send its trucks to for maintenance. "Prior to working with Element three years ago, we had mobile maintenance as part of the fleet that would go to the stores and do lube, oil and filter on the trucks," Allen says. "The problem was, if the brakes or tires needed maintenance, the truck would have to be taken to a shop. It defeated the purpose. Now if the trucks need service it can be done in one facility. We found it to be one of the key things to do."
Its partnership with LeasePlan has also made leasing trucks for Aaron's more efficient. In the past, the company would receive bids from banks every month to lease its trucks. "The lease was for 48 months at a 35 percent residual. We would buy it from the bank and have the title put in our name," Allen explains. "We would run the trucks for another six months for the 54-month lifecycle. LeasePlan's program will help us to streamline the process and make it easier for us to manage."
Fueling the Fleet
Over the last couple of years, Aaron's has been considering alternative fuel options for its fleet to improve its fuel economy. "For years, the company has been in the mindset that we need to have all diesel trucks," Allen explains. "It's great and they last longer, but when you have to have service on that vehicle 50 to 60 miles away because that's the closest diesel mechanic there is no logic in that. We started making some changes in terms of buying gas versus diesel where it makes sense. Just about anyone can work on an Isuzu gas truck."
The company still operates a mix of gas and diesel Isuzu trucks, but its 28-foot straight trucks and tractor trailers are all diesels. "Our gas trucks are cheaper, but diesel will last longer and has a better warranty," Allen notes. "We've looked at propane trucks, but couldn't get it right and gave up on that for now. Also, due to today's gas and diesel prices, propane is not a viable option for return on investment. If prices start to skyrocket again, we'll start looking at propane again."
Aaron's fleet department also experimented with diesel/propane injection on a 28-foot Freightliner truck that injects propane into the exhaust system, heating up the diesel so it will burn cleaner and be more efficient. "We couldn't get it calibrated right and putting both diesel and propane in the truck, we weren't seeing a return," Allen adds. "That pilot was over pretty quick."
Integrating Technology
Aaron's recently equipped all store trucks with Azuga's next-generation GPS functionality. The San Jose, Calif.-based company offers innovative connected-vehicle solutions and has more than 30 years of experience in the automotive electronics industry. "We selected Azuga for its competitive functionality spanning GPS tracking, rewards-driven driver behavior solutions and engine diagnostics," Allen says. "It tracks the vehicle and monitors idling, speed, fuel economy, hard braking and acceleration."
Regional store managers now monitor the data from the GPS, but Allen says the fleet department will be getting more involved in the future so it can pull the hard data. Allen and his team will review driving habits and change behavior that could lead to accidents.
Aaron's fleet department will also be installing electronic on-board recorders in its 28-foot straight trucks and tractors driven by its Fulfillment Center drivers. "Our goal is to utilize J.J. Keller for our electronic log devices in the straight trucks," Allen notes. "Right now, it is all paper logs and going through a scanned and audited process to ensure drivers are compliant."
The new electronic on-board recorders will leave little to no room for driver error. For example, drivers are required to take a 30-minute break in their first eight hours of on-duty driving. The electronic logging will notify a driver that their 30 minute break is near. This will allow the driver time to prepare. "Electronic On-Board Recorders takes a lot off the driver and pulls diagnostics from the truck," Allen explains. "Drivers can't get in there and fudge it. The technology will also help us look at idling, speed, hard breaking and the fuel economy."
Aaron's fleet department is looking into automatic transmissions for its heavier duty trucks and Allen says the department will be working with its truck manufacturer to come up with the right fit for the fleet. "All the literature that I have read points to better fuel economy and that it's easier for the driver to operate," he adds.
Allen is also looking into high-visibility seatbelts. "I get upset if I see one of my trucks and the driver doesn't have a seatbelt on," he says. "It's the law and company policy."
Managing Safety
Beginning in January 2016, the fleet department will offer the next level in a more robust driver training program. Aaron's has a total of 7,895 drivers at both the store level and fulfillment centers. "That is a challenge to make sure we have the right people driving," Allen says. "If we have eight associates in one store, seven of them could drive the truck and that is a challenge. My department will oversee accidents and all the training. One opportunity I have is to start building a more robust driver training program and by doing that, the goal is to ensure better trained drivers – whoever gets behind the wheel will understand their responsibility."
Aaron's trucks are moving billboards for the company, so the fleet department will be responsible for ensuring all drivers are focused on driving to maintain a positive reputation. "We want to make sure they are not on their phone, looking down or doing something they shouldn't be doing," Allen adds. "We have to try and instill that safety mindset in all of them."
One of the ways the fleet department will oversee driver behavior in the store trucks is through in-cab cameras. "It's not there to watch the driver; it's there to record an event," Allen explains. "In an accident, the camera will loop back so many seconds and then go forward so many seconds. Once I start getting into this more, my goal is to reduce accidents, reduce our risk and premiums, and have better-trained drivers out there."
Retaining Drivers
Aaron's fleet department will be working closely with the associate resources department to come up with a solution to reduce its overall driver turnover. One of the ways the fleet department will begin to put an emphasis on its drivers is through a new training program. Aaron's has a web-based training program now, but Allen says that is not enough. "We need to take a more hands-on approach," he adds.
The professional drivers at Aaron's Fulfillment Centers are required to have more qualifications and the turnover rate is a lot lower. "We do treat them a little differently compared to a store driver," Allen says. "It's a smaller number of drivers and easier to manage because I don't know who is driving that truck in the stores. On the fulfillment side, each driver has their own truck; we normally do not slip-seat the Fulfillment Centers."
Moving forward, Aaron's fleet department will continue to look at its mix of vehicles in the stores and Fulfillment Centers to ensure each has what it needs. It will also continue to ensure the right people are being put behind the wheel. "The biggest challenge is the trucks are moving billboards," Allen says. "We want to do things right, better and reduce our risk."