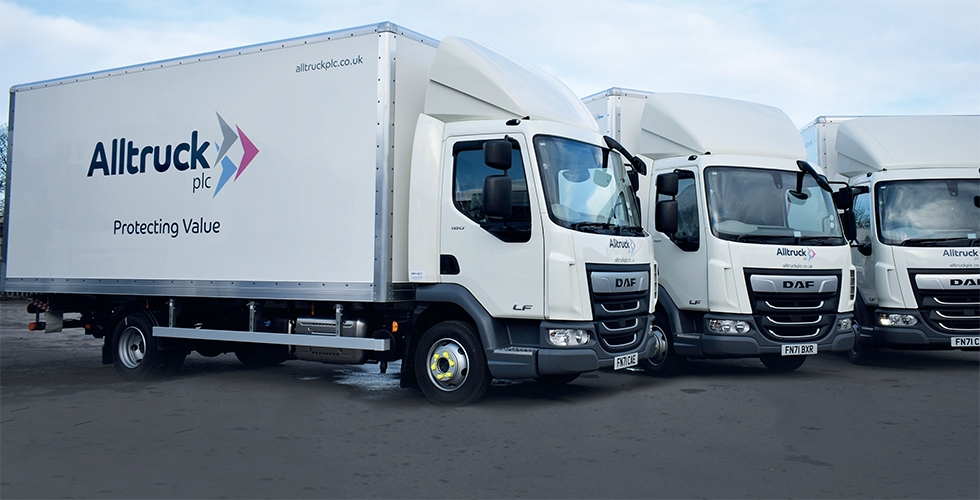 Driving for a better future
Since 1990, Alltruck has been focused on providing the best commercial trucking services to customers across the UK, from its operational hubs in Leicester, Loughborough and Nottingham. The company provides contract hire and rental vehicle services to over 250 companies, with a diverse fleet offering that includes tractor units, rigids, vans and trailers. Known for its 'can-do' company culture, Alltruck invests heavily in its people. Over the last 18 months, the company has weathered the storm of Covid-19 successfully, as a trusted partner to four major NHS trusts. Now seeking to build a better future for the commercial trucking industry, Alltruck has made major investments in alternative fuels, electric vehicles, and sustainability communications, through its net-zero platform, 'Alltruck Zero'.
Alltruck's success is sustained by its strong foundations, and decades of industry experience. As Managing Director, Paul Robinson reveals: "The business was formed back in early 1990; our core services are the provision and management of commercial vehicles. We focus on fleet management, truck rental contract hire, and contract hire with drivers. The key markets that we focus on now are logistics companies, own-account operators, and NHS ambulance trusts."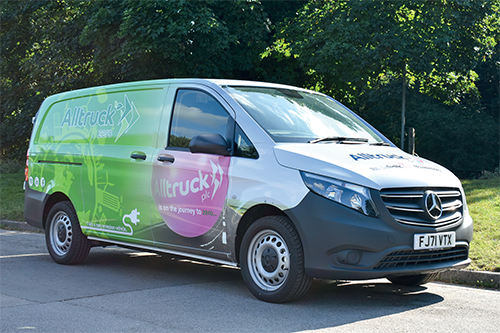 Over the last 30 years, the company has been built into an expansive operation that delivers reliable services on a national scale. "Our fleet size numbers approximately 2000 assets, and we operate across the whole of the UK," says Paul.
Ever since its founding, Alltruck has been dedicated to providing high quality service that distinguishes it from the competition. "I would put our success down to realizing that the customers can obtain a commercial vehicle from a plethora of Alltruck's competitors. We don't make the vehicles, but we do have our own body shop. We are a service-orientated business, and as a consequence we invest a lot in our culture, which is centred around providing people with an environment where they can flourish.
"As part of that culture, we empower people throughout the entire business, all the way through to the teams that interface directly with clients. We want them to feel empowered enough to make decisions in real time, without having to refer back to tiers and tiers of management. The same goes for all of our sales teams, vehicle technicians and back room office staff.
"Our core values, although they have been expanded over the decades, go back to what we originally coined when we completed management buyout from the Bank of Scotland in 2000, which is being 'progressive, passionate & proactive, and commitment to caring for customers and colleagues', we coined this the 3P's & 3C's" Paul affirms.
Maintaining such a strong sense of community within the business became one of the company's strongest assets, as it adapted operations to survive under the uncertain conditions of a global pandemic. "For us, the company represents a high-trust environment. Throughout the Covid-19 lockdowns, that level of trust definitely became an important part of our culture," discusses Paul.
"In early 2020, we were ready for the lockdown before the restrictions in the UK were actually announced. The employees that could work from home were all kitted out with the necessary hardware, which enabled them to do their jobs, and, most importantly, the board made the commitment that we would do everything in our power to ensure all our staff got through the pandemic.
"We resolved to protect them to the best of our ability, which we have done. There have been no redundancies, and we have had stringent measures at the locations as well as our head office. We have introduced flexible hybrid working, to ensure our employees and staff are safe, and we communicate constantly to make sure everyone is kept informed. We wanted to make sure people felt safe in their jobs, because there was enough else to worry about," he adds.
This dedication to protecting not only the jobs, but the peace of mind and wellbeing of its people, has ensured Alltruck's renewed success in 2021, as Paul confirms: "Our results are much better this year, which is a great accomplishment, even though outcomes haven't been our primary concern. We have mostly been focused on ensuring that we do our best for our customers and our staff. That being said, our results for 2021 are predicted to be amongst the strongest in Alltruck's history."
With its hard-earned success, Alltruck has made investments in a new fleet of vehicles, set to future-proof the company as it heads into 2022. The new supply of vehicles proved challenging initially, due to supply-chain disruptions, however, as Paul demonstrates, Alltruck's resolve and dedication has ensured that the new fleet will be up and running soon. "It was important that we secured orders from the manufacturers for 2022, and I am proud to say that we have now managed to secure over 300 new commercial vehicles."
These new vehicles will significantly expand Alltruck's fleet, and help the company meet the ever-increasing demand for its services. "We need the extra vehicles in order to keep up with the amount of new business we are receiving. The trucks will also help us to ensure that our rental fleet remains very modern, and of a low age profile," summarizes Paul.
The company has also made significant investments in other aspects of its operation, in order to support future growth, and increase the efficiency of remote working. "A lot of our investment right now is around our IT infrastructure," reveals Paul. "We want to try and ensure that our staff have got the right tools to do their job seamlessly, regardless of if they are working from home, or an office environment."
Highlighting just how committed it isto future-thinking, Alltruck also makes major investments into its graduate scheme, as Paul states: "Over the last year or so, our graduate management program has been faced with some challenges, especially regarding how we compensate for the fact that a lot of the graduate learning is now done remotely. We want to invest further in that, and hopefully offer more experience and one to ones with people on our team."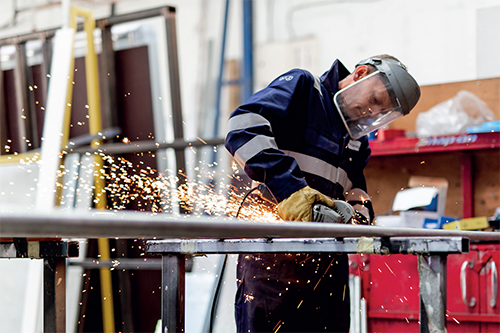 He continues, "obviously in this climate you have to be extremely flexible. In order to keep the company nimble and adaptable, we are always seeking out new people as well as nurturing the talent within the company."
Hoping to secure the future of industry through sustainable practice, as well as investment in people, Alltruck continues to build the 'Alltruck Zero' platform. This division of Alltruck is dedicated to sourcing alternative fuels, and other low and zero emission alternatives, that will ensure a sustainable future for the trucking industry.
"For our 'journey to net zero' initiative, we initially took a three-pronged approach; everyone thinks the route to net zero in the automotive sector is through commercial vehicles, and although we have entered into that sector in terms of investing into building our electric van fleet, heavy commercial vehicles are still a little way off as yet.
"The other phase is educating not only ourselves about what the future trends are likely to be, but also ensuring our customers are kept up-to-date on what the future of logistics and transport is going to look like. I think we will definitely go through a transitional period before reaching the end goal. There is a solution to the problem of carbon emissions, but it is going to take time, because there are so many options that need investigating.
"Those options include looking at alternatives to white diesel. One promising alternative is Hydrotreated Vegetable Oil (HVO), which is a fuel made out of renewable bio-materials, which can be sustainably regrown when stock is needed. HVO can help reduce carbon emissions by up to 90 percent.
"A number of our clients have bought into this as part of their green initiative, off the back of the 'Alltruck Zero' platform. Alltruck is proud to have made a commitment to replace one million litres of fossil fuels a year with more sustainable alternatives, both through our own vehicles, and a number of our key clients," details Paul.
As Alltruck steps confidently into 2022, Paul and his team remain dedicated to the company's original core values. "In 2022, we will continue to have a focus on protecting our workforce, because that is paramount to our company culture. We continuously strive to create an environment where people can flourish; we want Alltruck to help them gain the skills they need, in order to be really successful in this industry.
"We also want to reduce stress levels, because, more so now than ever before, stresses outside the workplace are coming into the workplace, which is a challenge for us as leaders as well as for our workforce. At the end of the day commercial vehicles will be needed throughout this pandemic, as they are any other time, to ensure that goods and services are delivered for people to consume. It's our job to play the long game and ensure that what we have here is part of that infrastructure, which is why we make continuous investments in fleets, sustainability, and people," he asserts.
Wherever the future of the trucking industry does go, there is no doubt that Alltruck will be leading the way, as it continues to shape a new culture of community, respect and environmental consciousness within the sector. "In the longer term, we want to ensure that we keep our finger on the pulse, especially in terms of alternative low emission fuels. We also want to ensure that we have the necessary strategies around asset management, in order to ensure that these fuel alternatives become viable and sustainable," Paul concludes.
Alltruck
www.alltruckplc.co.uk
Services: Contract hire and rental vehicle services