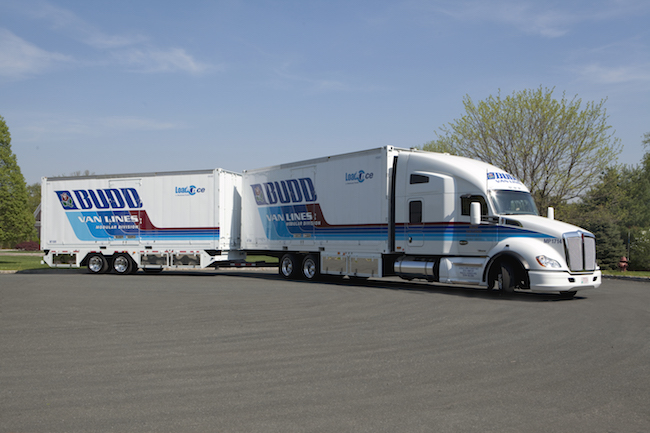 Budd Van Lines serves corporate America through its innovative van line, making relocation easy and seamless.
By Stephanie Crets
You've accepted your dream job, but there's one problem: It's on the other side of the country. But you don't have to worry because Budd Van Lines, the premier independent van line, has you and your family covered. "Moving is one of the most stressful events in life," Vice President of Sales Gary Grund says. "We want to get a family into a new home and settled as easily and quickly as possible so they can focus on their new job."
For more than 40 years, Budd Van Lines has been serving corporate America and moving families from the East Coast to the West Coast and everywhere in between by assigning an entire team to handle the move seamlessly from start to finish. The company moves more than 5,500 corporate transferees per year.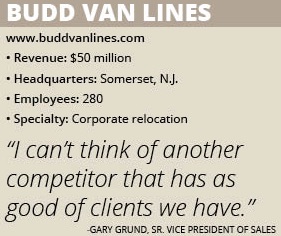 "We are known as an executive carrier and have a niche for handling luxury residences," Grund says. "The biggest difference in our van line is that we do not rely on a network of agents. We're a lot more consistent and reliable because we assign one driver team from start to finish."
Dave W. Budd, Sr. founded Budd Van Lines in 1975 out of his garage with only two trucks. The company soon became successful and known for its high-quality, consistent service and competitive prices, eventually opening several strategic locations throughout the country. Rather than having an office in every city, Budd Van Lines services the entire country through regional offices. For example, its Atlanta office services the entire Southeast and its Neenah, Wis., office serves the Midwest. The company will expand into more areas, such as the Pacific Northwest, with plans to open 12 service centers within the next five to seven years.
Innovative Operations
Budd Van Lines is the only carrier in the country offering the Eco-Crate system and the Load It Once modular moving system. Crating is used to transport valuable artwork and fragile items and is traditionally an expensive means of transportation. Budd Van Lines designed and developed a corrugated crate that is reusable, environmentally friendly and safe and an economic alternative to regular crating. Not only that, but the Eco-Crate is also a safer and more efficient packing container.
"We're using a reusable container to protect those goods and saving clients about 30 percent of the costs," Grund explains. "Our clients were intrigued by the cost savings but they were more intrigued by the environmental savings."
All in all, Budd Van Lines has saved its clients more than $300,000 and saved the environment 200 tons of corrugated carton waste.
The Load-It-Once system is another innovative tool that CEO David Budd Sr. developed and patented. This modular moving system addresses three main industry challenges:
* The current method of storage handling, which involves several steps where multiple people are handling the items, removing them from trailers into storage vaults and replacing them into trailers when it's time to move;
* The driver shortage, especially during peak moving seasons; and
* The need for shuttle trucks, which are often required in neighborhoods where a tractor and 53-foot trailer do not fit, so the need to shuttle goods to a trailer is costly, labor intensive and increases the risk of damage to goods.
Load it Once is a tandem delivery system that incorporates a truck with a custom-designed fixed frame that accommodates two to four modular containers designed to safely transport and store goods. Containers are packed and sealed in front of the customers, delivered to a warehouse and stacked without having to remove or re-handle anything within. When it's time for the items to be delivered to their final destination, the sealed containers are loaded on the truck.
"Load It Once will really change the industry dramatically," Grund says. "We have four currently, but we're ordering another five in the next year-and-a-half. As we convert more of the fleet, we will become a lot more efficient. It will also help us recruit drivers because they can cover more shipments and aren't handling the goods as often. It's helping with the driver shortage and making drivers more efficient and giving them more time to do more moves. Most importantly, Load it Once is providing peace of mind to our customers through the safest moving and storage method in the industry."
Since the Load It Once system was implemented in May 2015, Budd Van Lines has noted an increase in labor productivity of 98 percent. In the past, it took 100-plus hours to off- and on-load two 2,800 pounds of goods, but now it only takes 37 minutes. And thanks to the unique design, the trailer section of these trucks can be easily separated from the front section to allow drivers to disengage the trailers when delivering to neighborhoods that cannot be accessed with the large tractor-trailer. This has saved at least 50 percent in shuttle costs.
The Load It Once design received the 2015 Global Network Supplier Innovation Platinum Award from Cartus Corporation. This is on top of the awards Budd Van Lines already received, including the 2015 Move Management Partner of Year Award by Move Management, the 2015 Supplier Excellence Award presented by Lexicon Relocation and the Nationwide Relocation Manager's Survey #1 Rated Carrier.
"Our mission statements is to be the absolute best moving company in America," Grund says. "We're more focused on customer satisfaction than anything. A lot of van lines diversify into other lines of business, but we focus strictly on corporate relocation and we want to be the best at it, and I like the way that's benefited our customers and drivers.
"We are fortunate to have one of the best client portfolios in relocation ranging from the top relocation management companies to Fortune 100 financial and pharmaceutical firms to midsize corporations nationwide," he adds. "We've been rated top carrier in the country for the last 15 years. What's cool about our awards is that they're not from a parent company; they're from our customers. Our awards are coming from the people we service."