City of Edmonton – Fleet Services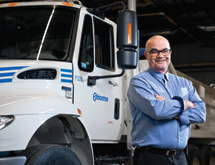 Some might see the City of Edmonton's Fleet Services as a branch that merely repairs vehicles. But instead, the branch is vital to keeping Alberta's capital moving on a daily basis, Director of Fleet Operations Steve Rapanos says.
"We can't have ambulances, police cars, and [other] emergency services [vehicles breaking down]," he says. "[Our people] play a role in making sure this equipment is up and safe."
The branch maintains 4,700 units that also include light- and heavy-duty vehicles and transit buses. In addition, Fleet Services specializes in engineering and planning, systems and services and client and vendor services.
Rapanos praises the branch's "can-do" attitude. "We have the leadership on the shop floor and the willingness of the people," he says. "You not only need good leaders, but you have to have good followers, and we've got both."
Essential Changes
Rapanos joined Fleet Services in 2008, and over the past five years, he has led its reorganization. Although he praises his predecessor's work, Rapanos was given the mandate to improve the branch.
This included implementing a new information system. Previously, "We were using a system that did not give us good visibility of our parts and equipment," Rapanos recalls. "It was cumbersome to use and not fleet-centric."
Since then, the branch has implemented AssetWorks' FleetFocus M5 software, which better measures its work and provides improved visibility.
"That's been essential to everything we've done going ahead," Rapanos says.
Other recent initiatives have included improving driver safety. Bill Horne, the supervisor of the branch's Fleet Safety section, says drivers recently received an updated version of their policies.
Some of the changes included implementation of a process for managing drivers in preventable collisions and a streamlined appeal process for drivers who want to contest the classification and assessment of the accident they were involved in. Additionally, the policies included the implementation of a safety campaign to encourage drivers to practice safe backing procedures.
They also underwent training on cargo securement, trip expectations and maintenance to ensure they were in compliance with National Safety Code regulations. "That was a huge [task] for us," he says. "An excess of 3,000 drivers had to go through that training."
It can be challenging, he notes, to get drivers in the mindset that they need to treat a vehicle with the same amount of care that they would give to a workspace.
"One of my goals is to ultimately change the traffic safety culture," he says, noting that city employees are under continual scrutiny.
If the city's drivers were to drive poorly, "Everyone else will drive like [them]," he says. "If we set a good example for driving, that sets a good example for the public to follow. We can have an impact on the drivers across the city."
The training has led to some improvements, Horne says. "From 2011 to 2012, we had about a 21 percent reduction in collisions," he says, noting that the branch wants to see more annual reductions in collisions in the future.
A Green Fleet
Environmentally beneficial practices are an important part of the branch's work, Rapanos says. Annually, the branch undergoes an internal audit "to ensure we're using environmental practices throughout our shops," he says.
The branch also has formed a committee that regularly examines its practices, including how it manages fuel. This has left a green philosophy "engrained in the culture," he says. "It's intuitive to the work now."
The branch also keeps a close eye on new green technologies, which has led to the addition of an electric transit connect van, and compressed natural gas buses that are part of a pilot program. "Compressed natural gas is a big part of North America's strategy going forward," he says. "We think there's going to continue to be a shift in vehicle technology and fuels."
Aiming to Improve
Rapanos says his branch will keep finding ways to improve. "[We] continue to look at what we do because technology changes quickly," he says. "[We need to] look for opportunities to innovate."
The Fleet Safety portion will continue working under the umbrella of the Fleet Services Branch, Horne says. "One of the cool things is how well we work with the rest of Fleet Services [and] tie into the maintenance program," he says, noting that his section's goal is to ensure "we have safe vehicles on the road."