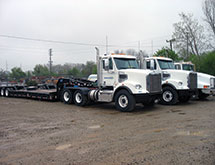 After more than a century, Consumers Energy is one of the largest combination utilities in the United States, but that doesn't mean it has stopped looking for ways to improve. "We're always evaluating the work methods out in the field," Fleet Services Senior Operations Field Leader Glen Hatcher says.
Based in Jackson, Mich., the company provides electrical and natural gas services to clients in its home state. Founder William Foote started Consumers Energy in 1887, and specialized in selling gas.
Today, Consumers Energy provides service to 6.6 million residents in Michigan, in all 68 of its lower-peninsula counties. "[We] provide reliable, cost-effective energy to our customers," Fleet Services Business Relations Manager Kyle Jones states.
"The vision of our company is to be best in class, best in value and proud to wear the colors," he states. "That is truly our mission and our key to being successful for 127 years."
Fueling Savings
Consumers Energy was hit hard by the recent economic downturn, Hatcher says. Because of the cutbacks and layoffs in Michigan's automotive industry, "New business and anticipated growth has been well below past years' expectations," he recalls. "Additionally, a lot of people were leaving the state looking for new work."
Consumers Energy had to refocus and look for areas where it could save, including its fleet. To save on fuel costs, Fleet Services added hybrid bucket trucks and began using alternative fuels, such as compressed natural gas (CNG).
"We've [also] brought on several CNG model vehicles," Jones says, adding that it built a natural gas fueling station. "We're really trying to push [ourselves] into alternative fueled vehicles."
Aiming for Excellence
Consumers Energy is focused on greater efficiency in its work, and has created its Performance Excellence (PEx) group, which reduces or eliminates redundant steps or processes. "It borrows very heavily on the lean principles," Hatcher says.
One area where the company saw frequent bottlenecks was in the scheduling of work, Hatcher says. By reducing the amount of interruptions and making improvements to the scheduling software, Consumers Energy reduced the amount of time that the company's mechanics spend at their computers. "That's what the PEx program is all about," he says.
In the past two years, Hatcher adds, the program has improved the productivity of the company's fleet by 6 percent. "We're measuring that based on the expenses we have incurred in an environment where everything goes up [in cost]," he says.
Putting Safety First
Another area of pride for Consumers Energy is safety. The fleet operations department, which has a fleet size of more than 5,000 vehicles, equipment and trailers, has set the record of working more than 484 days without injury. "We've been able to set unprecedented safety results," Jones declares.
The fleet operations department has managed this achievement with the help of its program titled PREP, which stands for "Pause, Review, Ensure and Proceed." Through this philosophy, the workers are encouraged to always pause and take a moment to review a situation that is potentially hazardous.
After ensuring the threat is eliminated, they should "then proceed," Hatcher says. "It's No. 1 to put safety first and foremost in everything we do. It is possible to work productively and safely."
Thinking Locally
Consumers Energy plans for continued growth, but the firm also wants to invest in its community. "We've made a commitment to Michigan that we're going to spend millions of dollars," Jones says. "[By doing so], we're investing in the customers that are buying our products."
Often, Hatcher says, the company invests its money in Michigan-based companies. "We're the second-leading investor in the state in the last five years," he says. "We're always looking for ways to hire [local] employees and give back that way, as well."