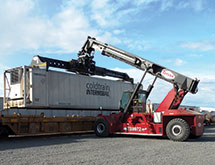 Refrigeration is one of the cornerstone technologies of modern life. Without it, our lives as we know it today would not be possible, and that is certainly true for the producers of fresh fruits and vegetables who depend on interstate commerce to make their living. Cold Train of Overland Park, Kan., is dedicated to making sure growers and producers in the Pacific Northwest have access to refrigerated intermodal services to get their produce from the field to the store without spoiling, and President Steve Lawson says the company expects to continue growing to serve more customers as the transportation world shifts away from over-the-road trucking.
Cold Train was founded in 1998 as a railcar company (Rail Logistics) specializing in shipping industrial products. At one time, Lawson says, the company owned 1,000 railcars, and it drew on its knowledge of freight transport when, in 2004, it purchased a fleet of refrigerated boxcars and refurbished them. The company was working with the Washington State Department of Transportation to create the Washington Produce Rail Car Pool, which leased refrigerated railcars to the state to help Washington-based growers ship their produce to eastern states.
That experience led the company to look for other ways to serve growers and producers in Washington, and in 2009 it determined intermodal service was the best way to do that. Today, Cold Train has a fleet of more than 400 refrigerated domestic intermodal containers. The company has a partnership with the Port of Quincy and BNSF Railway to provide expedited refrigerated intermodal service of fresh and frozen goods from Quincy, Washington to customers up and down the Eastern Seaboard. "Our customer base is a mixture of growers, producers, wholesalers and retailers," Lawson says. "Everything that we do originates and terminates in Washington State."
A Real Alternative
Because there is very little intermodal penetration into the Washington state market, Cold Train competes almost exclusively with over-the-road trucking, Lawson says. As the trucking industry continues to deal with a driver shortage, however, the scales are tipping more toward intermodal as a cost-effective and efficient means of moving produce from west to east.
Lawson says Cold Train offers customers on both ends of the supply chain with complete service that is more efficient and less stressful. "First and foremost, we offer a door-to-door service, coast to coast, with one-third of the drivers and the trucks that would be necessary if we operated over-the-road," he says.
With drivers in short supply throughout the trucking industry, capacity for trucks is at a low point. This creates an opportunity for intermodal that Lawson says Cold Train is primed and ready to take advantage of. "As capacity tightens, we offer an alternative to over-the-road trucking," he says.
Making customers aware of the competitive advantages intermodal services offer vs. over-the-road trucking is one of Cold Train's greatest challenges, Lawson says. But it is one that the company is slowly beginning to overcome as more large-scale retailers look for new and more efficient means of getting products onto their shelves.
Lawson says Cold Train is getting the word out to potential customers about the numerous advantages intermodal offers over more common forms of shipping. For example, over-the-road long-haul truck drivers can spend as many as six to eight hours waiting for their trucks to be unloaded upon reaching their destination, but container trucks can be unloaded much faster due to their modular nature. Additionally, intermodal is more fuel efficient and produces a much smaller carbon footprint.
Looking Ahead
In the near future, Lawson says Cold Train looks forward to building its business with Washington-based growers, shippers and processors even further, and expects to continue focusing its attention on that market. He adds that the company also wants to continue its history of building new refrigerated containers for added capacity.
"I certainly see us continuing to build more equipment," Lawson says.