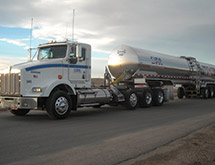 As a leading milk marketing cooperative and dairy food processor serving more than 14,000 members, Dairy Farmers of America is part of an industry-wide initiative to reduce greenhouse gas emissions by making improvements to its fleet.
Dairy Farmers of America transfers milk from its nearly 9,000 members to hundreds of customers and its 33 wholly owned processing facilities, then on to consumers. In all, more than 3,000 truckloads of milk roll through the company's supply chain every day.
Because the cooperative transports such large volumes of milk, Dairy Farmers of America has made it a priority to do so in an environmentally responsible way, explains David Darr, general manager of farm services and vice president of sustainability.
"It is important to us to transport our products while maintaining the integrity of our supply chain," he adds. "We are continuously evaluating our hauling practices and implementing changes to reduce our carbon footprint."
Connected to that commitment, DFA has implemented innovative hauling practices throughout the country. In fall 2013, the cooperative pledged to convert a portion of its diesel fleet in Texas to compressed natural gas (CNG) trucks, and the first CNG-powered trucks began hauling milk in February 2014. CNG is an odorless, colorless, tasteless gasoline alternative made by compressing natural gas – mostly methane – to less than one percent of its volume at standard atmospheric pressure.
Fleet Improvements
Today, 40 trucks hauling Dairy Farmers of America milk are running on CNG, accounting for about seven million miles per year. It is estimated that Dairy Farmers of America's use of CNG in Texas will displace carbon emissions equal to removing 2,400 cars per year from the road. In Colorado, Dairy Farmers of America's company-owned fleet is switching to another alternative fuel — liquid natural gas (LNG). LNG is an eco-friendly diesel alternative with benefits and properties similar to CNG, and is especially beneficial for long distance and heavy payload transportation.
Also in Colorado, the cooperative has switched to quad-axle trucking rigs that can carry about 70,000 pounds of milk per load — an increase from the 50,000 pounds previously carried in each load. The switch has reduced the cooperative's gas purchases by 10 percent, and in some cases, haulers are now able to transport 40 percent more milk, cutting down on trips between farms and processing facilities.
Dairy Farmers of America's commitment to reducing its carbon footprint on the road is driven not only by an increasing customer and consumer interest in sustainable food production, but also by the best interest of the cooperative's farmer member-owners.
The cooperative has taken a cue from its members, who regularly practice sustainability on their farms with anaerobic digesters, solar and wind power, recycling, composting and other conservation efforts, Darr says. "Farmers are the original stewards of the land," he says. "Our commitment to produce a sustainable product starts with our dairy farmer owners and is carried throughout our entire supply chain."