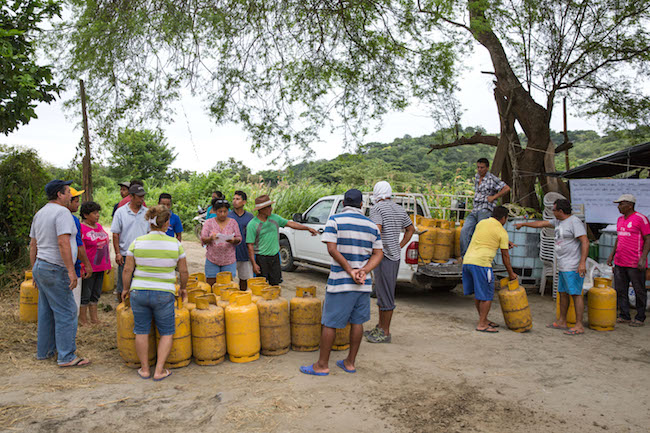 Trucking companies have joined Fuel Relief Fund to provide help after disasters.
By Alan Dorich
When natural disasters occur, people often think of the essentials that one needs to survive, such as food and water. But another very important resource is fuel, which Fuel Relief Fund (FRF) strives to make sure people have.
Riverside, Calif.-based FRF is the only international, nonprofit organization that provides free fuel after major disasters occur around the world, Chairman of the Board Ted Honcharik says. The charitable organization was formed after the Hurricane Katrina disaster in 2005.
"We saw everyone standing in line for fuel," he recalls, noting that several associates in the fuel industry decided to send fuel to Louisiana. This includes Honcharik himself, who carries nearly three decades in the business.
But FRF's members today do not only include fuel veterans. "We have quite a few other trucking companies that support us as well as major oil companies," he says.
Honcharik says fuel often ranks No. 1 as the resource people need in a major natural disaster. This is because "trucks don't deliver food, water, shelter [or] medicine without fuels," he says.
"Hospitals aren't operating if their generators don't have fuel," he says, noting that fuel also helps keeps water treatment plants running. "By putting in a few hundred gallons, you're now providing water to tens of thousands people. It does not take much fuel to do a lot of good."
Problem Solvers
FRF has solved emergency fuel needs for many worldwide. Most recently, it provided assistance after an earthquake in Ecuador. "We gave away more than 15,000 fifteen-gallon propane bottles in three weeks," Honcharik recalls.
This allowed many to cook meals and boil water. "Every family in Ecuador cooks with a propane tank," he says. "We recognized we could touch tens of thousands of people by exchanging their empty [bottles] for a full one."
FRF also recently responded to a hurricane in Haiti, where it delivered gasoline and diesel to many non-profit organizations and orphanages. "We also gave away thousands of gallons of kerosene to communities that were still living in the dark," he recalls.
The organization provided aid locally in 2012, when it went to New York after Hurricane Sandy. "We were giving away free gasoline all along the coastline for all the survivors of that," he recalls.
The need for fuel after a disaster, he notes, is no different in the United States than it would be anywhere else. "We're better prepared, but the fuel doesn't get to the people as rapidly [in other countries], especially when all these fuel stations have been closed or destroyed," he says.
Working Together
FRF's status as the only non-profit in its niche has earned it the attention of organizations such as the United Nations Office of Coordination for Humanitarian Affairs (UNOCHA) and the United Nations World Food Program (WFP). "In doing so, they've asked us to form a partnership with them so they can count on us to be there when a major disaster happens," Honcharik says.
FRF will aid the UNOCHA and WFP by finding the closest source of fuel after these disasters occur. That way, "They can do the major jobs that they do," he says. "It's grown to where we even provided logistical and fuel expertise on things going on in Yemen."
The World Health Organization also asked FRF to assist in writing the logistical guidelines and standards for teams when they respond to emergencies. This will help ensure "that they have all their logistical needs satisfied before they're even deployed," Honcharik says.
Doing More
Honcharik sees a strong future for FRF, which continues training its volunteers so they are more prepared. It also plans to respond to more disasters. "We normally now just respond to major natural disasters, but it seems like things seem to be picking up more than usual," he says.
"There's a lot of things that we could do, even if it's for a couple of weeks," he says, noting that FRF could help people get back on their feet after a disaster, such as small earthquakes.
"We could do a lot more after other disasters as well," he says. For more information, go to www.fuelrelieffund.org.
Effective Deliveries
FRF says it operates with a simple and effective method. "Board members agree within 24 hours to respond, and our team of highly skilled, trained volunteers then immediately deploys to the local area in need," it says.
"They utilize cash reserves earmarked for the deployment, and once on the ground, they liaise with humanitarian aid and government agencies to identify needs, prioritize and coordinate delivery of the fuel to the areas of greatest need," FRF says.
The organization will determine what fuel is needed and for what purpose, and then create a rapid supply chain. FRF works "with local administration and community members to fulfill the delivery in the affected areas," it says.