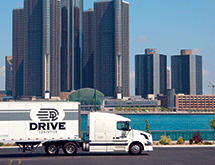 Drive Logistics was built from the ground up. Started in 2004, the company has grown from a small fleet of three trucks to its current fleet size of 130.
"One of the big things for us is we are located near the Windsor/Detroit border," Drive Logistics Vice President Eric Bialkowski says. "So about 90 percent of our business is cross-border."
Drive Logistics has turned trucking across the border into an exact science with finely hones processes. In addition, it possesses all of the necessary and official certifications through programs such as:
•The U.S. Department of Transportation's Federal Motor Carrier Safety Administration's Compliance, Safety, Accountability (CSA) standards;
•C-TPAT, the Customs-Trade Partnership Against Terrorism of the U.S. Customs and Border Protection;
•PIP, Partners in Protection with the Canada Border Services Agency;
•ACI (Advanced Commercial Information), a Canadian border effort to facilitate quicker movement of low-risk shipments.
"For cross-border work, our customers like the fact that for us it's seamless," President Steve Breault says.
Drive Logistics operates facilities directly on both sides of the border so if there is a problem, loads can be quickly dropped off and transferred to other vehicles to turn around. It is a partner to major Tier I auto suppliers, with about 60 percent of its business in that sector. In addition, it hauls home goods, general merchandise, electronics and paper.
Drive Logistics is not limited to cross-border work, either. It also conducts domestic trucking. "The majority of our business is open board, one-way freight so we book our own backhauls which makes us valuable to customers," Breault explains.
The company thrives because it offers customers flexibility, Bialkowski says. Its specialty markets include auto, non-automotive and dry van.
Drastic Improvements
Drive Logistics' business is solid. "In the last six to eight months, the industry has improved drastically," Breault explains. "Freight volume and freight rates are improving from a carrier's perspective. One of the challenges over the last two to three years has been rising costs of equipment and drivers without a corresponding increase in rates to pass along to the drivers."
The driver shortage in trucking has affected Drive Logistics similarly to others in the industry. However, Drive Logistics employs some unique recruitment and retention tactics.
For example, the company conducts an annual contest among its owner/operators and drivers with a grand prize winner receiving a new Ford F-150 at the company Christmas party. Drive Logistics also offers a $10,000 referral bonus to drivers.
Additionally, Drive Logistics increased its standard pay package 8 percent this year.
"We did this to be more competitive in the marketplace and have seen a steady stream of drivers and owner/operators since," Breault says.
"We have a very family oriented culture," Breault says. "That is unusual sometimes in the trucking business but it is something that has really helped us attract drivers and customers. We have values to run our business by and values to create good teamwork and a good work environment."