East Coast Warehouse & Distribution Corp.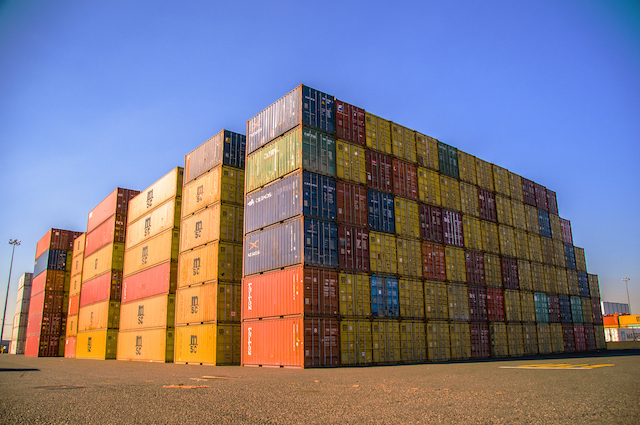 East Coast Warehouse & Distribution is one of the leading logistics companies for the food and beverage industry because of its commitment to excellence and continuous improvement.
By Janice Hoppe-Spiers
East Coast Warehouse & Distribution Corp. has become a leader in temperature-controlled logistics over the past 60 years because of its ability to offer end-to-end solutions. "More than 90 percent of the products that flow through us are imported or exported from countries in Europe, South America and Asia," CEO Jamie Overley says. "We have the capacity to take delivery of our customers' containers from whatever country, offload it from the ship, take it to our warehouse, repackage and deliver it anywhere in the United States."
Founded in 1954 as a trucking company, the Elizabeth, N.J.-based company evolved over the years to add warehousing and U.S. Customs and Border Protection Exam services, and expanded its footprint in an overweight zone at the Port of New York/New Jersey. Today, East Coast Warehouse offers 4PL, end-to-end solutions to its food and beverage customers that are sophisticated and seamless, the company says.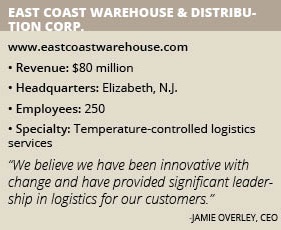 As a 4PL company, East Coast Warehouse specializes in the import/export of goods and direct delivery drayage. It can boast 38 million cubic feet of temperature-controlled warehousing and transportation capabilities. "Once the container is offloaded from a ship, we take it to our temperature-controlled warehouses that can range from 65 to 40 degrees," Overley explains. "We store it, repackage it and, ultimately, we can provide the outbound transportation to the final customer location."
East Coast Warehouse is also the only comprehensive U.S. Customs examination site at the Port of New York/New Jersey, Overley says. "One-third of our business is transportation, one-third is warehousing services and the other third is U.S. Customs," he adds. "We have a solid balance in our revenue portfolio. We are an integral part of our customers' supply chains. We are a one-stop shop for our customers and most utilize at least two of our service offerings."
Critical Link
Changing a supply chain partner that provides critical services is a significant disruption for companies, Overley says. East Coast Warehouse prides itself on delivering exactly what its customers need so they don't have to shop around, as well as maintaining long-term relationships with customers because of its service.
"The service we offer is so critical to our customers. We are successful because of the services that we perform and our commitment to change, excellence and to being best-in-class," Overley says. "We have a high customer retention rate as a result of that. Most of our customers have been with our company in excess of 15 years."
East Coast Warehouse focuses on what its customers need: product visibility, lifecycle optimization, cost reduction and capital allocation. "They need maximum flexibility and we need to exceed those customer expectations," Overley notes. "Those are the end goals of our customers and we attempt to meet and exceed those goals in our lifecycle."
In September, the company received its Safe Quality Food (SQF) certification from the U.S. Food and Drug Administration (FDA). The designation puts East Coast Warehouse at the forefront of the Food Safety Modernization Act (FSMA). The FDA finalized the new food safety rule under the FSMA earlier this year to help prevent both intentional and unintentional contamination of the food supply chain from farm-to-fork.
"At East Coast Warehouse, we take our responsibility to protect our food and beverage customers and their products very seriously," Overley says. "The SQF certification is a prestigious designation that assures both manufacturers and consumers that the storage and transportation of consumable products have been handled according to the highest industry standards."
Technology Enhancements
Overley says supply chain excellence is no longer a differentiator – it is a requirement. Because of that exponential change, East Coast Warehouse over the past few years has enhanced its technology platform and launched a new website designed to enhance market opportunity for customers and employees, and increase user functionality.
"The logistics business must have visibility, flexibility, agility and the ability to interface with multiple different partners, which is why technology has become as important as cost for logistics companies," Overley explains. "We have to have the ability to leverage our technology to accommodate transaction volume at a much greater speed."
One of the most significant changes to East Coast Warehouse's operation came from adding Alameda, Calif.-based PINC's yard management system. "It's RTLS-based yard management and real-time tracking of every container at our facility," Overley says. "What this has allowed us to do is have more productive use of our yard management personnel."
Every parking spot or location on East Coast Warehouse's 65 acres at the Port of New York/New Jersey has a GPS location that has been integrated into the company's warehouse and transportation management systems. "We are now able to direct our yard personnel to go pick up container X at spot AB5 and deliver to door number Z, for example," Overley explains. "Previously, the container was not in an identified parking spot but a general location. We are now more efficient in moving containers and able to reduce cost as a result of the yard management system. It also provides customers with real-time accountability of their product so they can understand the status of their container."
East Coast Warehouse updated its transportation management system by implementing a mobile app for its drivers in the drayage segment. The company can eliminate paperwork and enhance operational efficiencies. It also upgraded its warehouse management system for greater visibility into the productivity of its workforce. "We expanded our KPI management reporting capacity to meet the agility, visibility and accountability requirements of our supply chain partners," Overley says.
The company also makes a significant commitment to sustainability. "We have solar panels that produce more than 800,000 kilowatts of energy each year," Overley says. "We save over 1.3 million kilowatt hours. Our solar panels allow us to not only reduce our carbon footprint and enhance the environment, but it also allows us to reduce cost. We generate our own power and sell it back to the power grid, which allows us to reduce our cost."
Being the Best
Overley says he is most proud of East Coast Warehouse's customer base, which includes the most recognized companies in the world. He adds that the company also has excellent employees with all 250 showcasing a commitment to excellence. Finally, he is proud of the company's commitment to being best-in-class.
"We want to be the best at what we do," he adds. "We have a commitment to constantly evaluate our service performance and offerings. We believe we have been innovative with change and have provided significant leadership in logistics for our customers."
Moving forward, East Coast Warehouse plans to continue growing and hopes to triple its size over the next five years. "We think there is still room for significant growth in our existing market and we believe that our service offering is unique and compelling, and we feel that it differentiates us from our competition," Overley says.