Hackbarth Delivery Service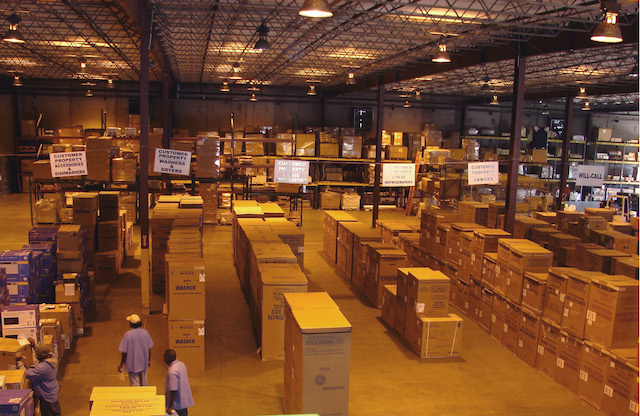 Hackbarth Delivery Service enhances customers and consumers' lives through it services.
By Jim Harris, Senior Editor at Knighthouse Media
For its customers, Hackbarth Delivery Service is much more than what its name suggests. "What we're really doing is enhancing peoples' lives through our service, whether it's by delivering a new appliance to a homeowner or delivering lifesaving medical supplies," says Kelly Picard, president and CEO of the Mobile, Ala.-based company. "We are making a difference through logistics."
Hackbarth specializes in last-mile delivery services of consumer and home goods as well as office supplies, medical supplies, appliances, retail shipments and computer parts. Founded in 1975 in Mobile, the company today operates 37 warehouses in 10 states including Florida, Georgia, Alabama, Mississippi, Missouri, West Virginia, Texas, Arkansas, Tennessee and Louisiana. Hackbarth's fleet includes both owner/operator truck drivers as well as its own staff.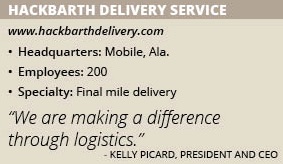 The company works closely with less-than-truckload carriers, from which it consolidates shipments onto smaller trucks for residential or store deliveries. Deliveries are carried out in different ways based on the type of product. Hackbarth picks up e-commerce packages that are sorted by zip code from an LTL carrier's consolidation center or has those packages delivered directly to one of its warehouses. The packages are then delivered to local post offices, which carries them to consumers.
Hackbarth delivers office supplies, appliances and furniture directly to consumers and corporate customers. Medical supplies are also delivered directly to stores, doctors and clinics. The company also provides critical parts warehousing and retail pool distribution and store replenishment services. Its retail customers include the Vitamin Shop, Victoria's Secret and Bath and Body Works.
Customized Solutions
Hackbarth prides itself on its ability to deliver goods on-time in tight delivery windows. "We offer customized solutions for time-critical shipments," Picard says.
As an example, orders for many of the pharmaceutical products delivered by the company are placed at no later than 7 p.m. Freight typically hits Hackbarth's dock in Atlanta between 3:30 a.m. and 5:30 a.m. the following morning. Packages are then scanned, packaged, sorted, loaded and delivered within a four- to six-hour window to up to 600 different delivery points.
The company uses electronic data interchange (EDI) and advanced shipment notification (systems) to receive information from its shippers, Picard notes.
Hackbarth continues to invest in technology. "Our IT guys have to keep things in flux because technology is changing all the time," she adds. "We are always making changes and improvements, including bringing on a new IT director who developed a reporting tool that will help us make better and faster decisions."
Delivery Heroics
Hackbarth has often been called upon by its customers to deliver during difficult circumstances including hurricanes, ice storms and other natural disasters. "Anyone can do this work – picking up packages and leaving them at the right place and at the right time – but when there's a problem, that's where we've been a hero to our customers," Picard says. "We have been recognized by our customers for our ability to step up when it matters the most."
Last year, the company set up 11 facilities in Texas within a 45-day period after a client stopped doing business with a previous vendor. Hackbarth flew in drivers and trucks to get the facilities – which make roughly 1,600 medical supply deliveries each daily – open before March 1, 2017.
The company's commitment to service reflects two of its core values: integrity and "knock your socks off" service. "We are not a large, publicly traded company, so we can do things a little differently or a little better than our competitors," Picard says. "For us, being a company of integrity means doing the right thing when nobody is looking."
Another of the company's core values is safety. Hackbarth recently invested in Lytx drive cams for its trucks, and had 35 of its managers certified as instructors in the Smith System driver safety program. The company has had most of its employees certified through the program. "[The Smith System] brings awareness to the problem of distracted driving," Picard says. "We hope that all of the employees we've had certified will be safer drivers."
Picard credits the company's ability to safely serve its customers to its drivers and staff. "I am most proud of our people who work day-in and day-out to make a difference and step up and serve our customers," she says. "Without them, what we do doesn't happen."