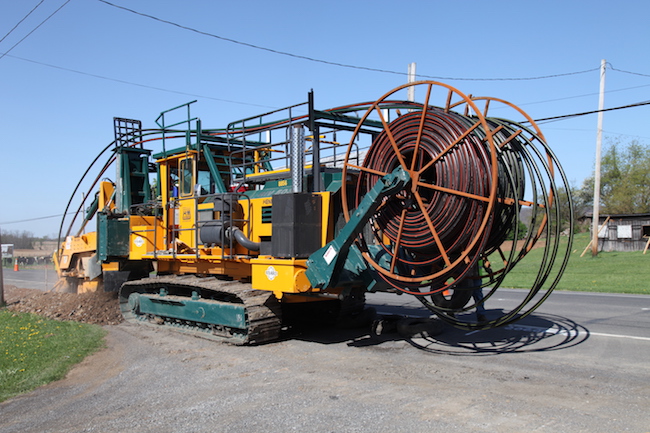 Henkels & McCoy uses technology to cut costs and keep its workers safe.
By Chris Kelsch
In 1923, Jack Henkels opened a tree-trimming company in Philadelphia with one truck and a handful of employees. He also had high hopes early on, as the company secured contracts with key customers like Bell Telephone and Philadelphia Suburban Electric Company.
More than nine decades later, the company has expanded its services and manpower and is one of the largest utility infrastructure companies in the industry. Its 50 offices across the United States serve the oil and gas pipeline, power, gas distribution and communications markets.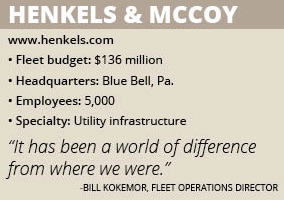 Of course running such a vast operation not only requires a huge fleet of vehicles, but also keeping track of them. This is especially important because many of the jobs that Henkels & McCoy performs are in remote areas where even pickup trucks have difficulty gaining access. Some job sites can even span hundreds of square miles.
To meet these challenges Henkels & McCoy spares no expense in maintaining a modern fleet. "We currently spend 15 percent of our revenue on operating the fleet," Fleet Operations Director Bill Kokemor says. "We invest in not only new equipment, but in technology to keep it lean."
Kokemor oversees a fleet of 3,500 on-road units, half of which are pickup trucks for crew and supervision teams. Additionally, there are more than 3,000 pieces of equipment that include trailers, bulldozers, excavators, backhauls and wire-stringing equipment. To service the fleet, Kokemor oversees a staff of 60, plus 110 mechanics and an annual budget of roughly $136 million.
To keep track of the fleet, Henkels & McCoy has greatly upgraded its technology platforms, an effort that really got underway in 2011 with the purchase of Fleetwave. The program integrates all equipment-related data into one coherent database. "It has been a world of difference from where we were," Kokemor says. "The program we have today is a fleet management tool that does everything for us."
In addition to integrating several databases, the fleet management tool gives Kokemor and his team real-time visibility over maintenance, operational and fleet financial details. Just as important, the fleet management team has total control of a vehicle's lifecycle, from acquisition through disposal. And the fleet management team has access and visibility into how all members of the fleet are maintaining specific vehicles, which was not always the case.
Such tools have helped Kokemor determine the actual usefulness of individual equipment in its diverse fleet. "The tools we use have had a direct impact on our bottom line," Kokemor says. "Once we get into really large projects, if you don't know the fleet in and out, you could end up with a lot of equipment you don't use or need."
The FleetWave tool also helps Kokemor with lifecycle analysis. Once all data is collected from FleetWave, it is assembled and analyzed. "We have this model of how long our equipment will last," Kokemor notes. "We look at age, miles or hours of usage, and look at average maintenance costs. We basically flag the vehicles that are two times the dollar amount of typical maintenance costs."
Every Cent Counts
Other tools have been utilized with equal effectiveness. Zonar has been used to significantly reduce idle time and fuel consumption. John Deere's JDLink helps Henkels & McCoy monitor individual pieces of equipment, including engine hours and maintenance milestones. "We run our fleet in much the same way as an over-the-road trucking company," Kokemor notes. "We want to know everything, even if it only saves us a few cents. Over time, it really adds up."
Saving a few cents means a lot to Kokemor, who started his career as a fleet mechanic and eventually worked his way up to director. That background has served him well in identifying key long-term partnerships, such as with John Deere. "They really partner with you and support you and ask, 'How can we work with you to save you more money? '" Kokemor notes. "They bring the whole suite of customer service. To me, they are the standard."
As for other key equipment providers, Henkels & McCoy just completed its 94th year of using Ford pickup trucks, a working relationship that dates to the founding of the company. Roughly 22 percent of the truck fleet is the light-duty F-150 series. The rest is comprised of the entire range of Ford trucks, from the F-250 all the way up to F-550 Super Duty pickups and chassis cabs with utility upfitted equipment, and continuing up through to the F-650 and F-750 medium-duty vocational trucks.
'Pretty Awesome'
Henkels & McCoy has seen significant cost savings thanks to its technological tools, and Kokemor says the improvements fall in line with many of the company's philosophies. "The fleet management model is understood here, and fleet is supported," Kokemor notes. "We have a say in what should be done to improve results, and they listen to us. It's pretty awesome."
Safety is another high priority. In 2008, Henkels & McCoy partnered up with DuPont Sustainable Solutions to begin their safety transformation journey. In 2013, the company was awarded the E.I. DuPont Safety Excellence Award in recognition for its outstanding achievements in safety during the three-year partnership. Over the past four years, Henkels & McCoy has seen OSAA recordable injury rate reductions of nearly 40 percent.
Henkels & McCoy credits a rigorous program of using qualified safety observers to monitor project sites, as well as the mandatory use of "spotters" any time heavy equipment is moved to prevent the striking of equipment or people.
Kokemor says the fleet management team is in sync with Henkels & McCoy's values. "For this company it has always been about the having the right people within the business," Kokemor says. "Things may not always go right, but in the end, it is an equipment culture, whereas with other companies it may only be about the dollars." And so the improvement in fleet performance is a logical extension. "We always have an outlook of continuous improvement," he notes.