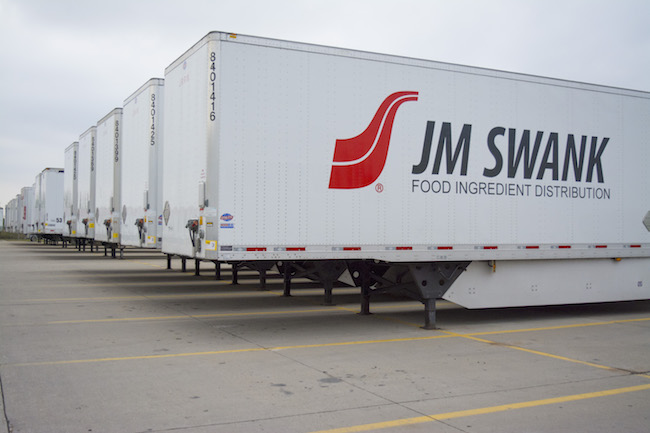 JM Swank strives to become the leading national food ingredient distributor by investing in historically undernourished areas of the company.
By Janice Hoppe-Spiers
JM Swank is focusing on optimizing its supply chain network and transforming areas of the company that had been underinvested, after being acquired this summer by Platinum Equity, from ConAgra Foods. The new ownership is making investments in the company with the goal of becoming the leading national, full-line food ingredient distributor.
"We have been in business since 1954, so we have been in the market for a long time. Over the past 25 years we've had the really nice opportunity to develop and grow the business as part of ConAgra Food – now ConAgra Brands," CEO Shawn Meaney says. "We will take all those attributes we've developed and maintained over the past six decades and really line up with a new ownership structure that truly wants to take the business to the next level."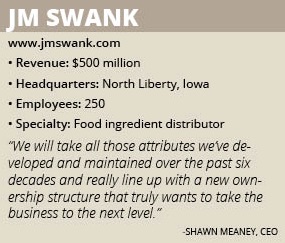 The North Liberty, Iowa-based company considers itself the No. 2 player today in the food ingredients distribution space. JM Swank says its scale, national presence and partnerships with domestic food ingredient manufacturers greatly contribute to that ranking, but its emphasis on service is really what distinguishes it from the competition. "The thing that's critically important is the tremendous amount of emphasis on the service side of our business; an attribute we believe to be best-in-class," Meaney says.
Value Proposition
JM Swank transports 800 million pounds of product annually and specializes in sourcing, distribution and logistics to its customers nationwide. "The perfect customer is less about scale than the type of business they participate in with us," Meaney explains. "We supply soup-to-nuts in terms of materials used as a direct ingredient input to food manufacturing. The perfect customer is a customer who has core competency in a narrow band of ingredient inputs that represent a majority of their spend.
"The value proposition for us is that we can give our food manufacturer customers the ability to focus their attention on that spectrum of their input where they have skills and competency, and alleviate the distraction associated with smaller volume SKUs," he continues. "They can pick up the phone and call one company to manage the whole of their supply chain. It really is a resource allocation benefit for the manufacturer."
JM Swank views its value proposition as extending in two directions – to both its customers and supply partners. The company delivers on that promise every day to its customers, but also offers its supply partners the ability to lean on one entity in the distribution space to increase their market reach, maintain credibility and touch many customers that are in the difficult to serve LTL environment.
JM Swank operates warehouses and distribution centers strategically located throughout the country to provide logistics expertise and support to customers in 49 states. Its in-house subsidiary carrier, JRRW Transport, allows the company to remain flexible to quickly and efficiently deliver to its customers. "We are in the midst of a comprehensive supply chain network optimization, and part of that analysis is ensuring we right-size our fleet," Meaney says. "How do we ensure we have our fleet deployed as heavily as possible to the resource-intensive LTL and pool delivery environment, while minimizing dead-head miles in our backhaul and replenishment activity?"
The company leans more heavily on external transportation partners for full truckload point-to-point moves. JM Swank utilizes JRRW Transport for resource-intensive moves and that will continue to be its focus, Meaney says.
Transforming the Future
JM Swank will remain best-in-class when it comes to its focus on food safety and supply chain integrity. "Our DNA was inoculated with that mindset as part of our relationship with a quality and safety driven business in ConAgra Brands," Meaney notes. "That's a critically important part of the business and will continue to be front-of-mind as we evolve under our new ownership."
JM Swank identified areas of underinvestment and is undergoing a significant transformation. For example, the company has been operating with a dated ERP platform that Meaney describes as "being held together with duct tape.
"It is functional, but more suited for a manufacturer than distributor," he adds. "We are evolving quickly to a Microsoft Dynamics AX platform that really will be the platform of the future for our business."
The AX platform will improve its access to information, enabling JM Swank to utilize more actionable, real-time data that will create efficiencies across the company. Customer service will continue to improve and become more data-driven, providing more value to the customer. "The intent is to ensure we have the right network to be absolutely disciplined and make sure we are dialed in to provide the best combination of cost and service to our customers," Meaney says.
JM Swank's technology investment will allow the company to change and evolve quickly in terms of the business today and model what it anticipates business will look like tomorrow. "That modeling work will be a critically important part as we evolve into the new fiscal year," Meaney notes. "The work that we are doing around network optimization will dovetail, I think, pretty nicely with our intent to be a much more data-driven business."
The other area of investment for JM Swank is adding more field sales staff to grow business. For years, the company has been focused on internal service, which will continue to be important, but will begin supplementing that competency with more talent in the field. "It's designed to give us more reach and face time in front of customers, but it will also allow us to create more value by listening to what they have to say," Meaney explains. "We are evolving from less than 10 field sales staff to a number that's closer to double that."
Moving forward, JM Swank will remain focused on new investments as it aspires to become the market leader. "We recognize that we have strong competitors out there who have the same aspiration," Meaney says. "We believe that through a combination of organic growth supplemented by some merger and acquisition activity, over the course of the next three to five years, we can become the clear leader in the market."