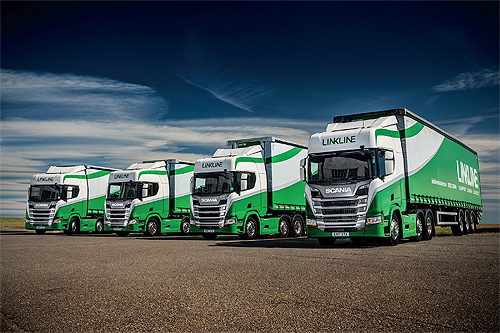 Driven by dedication
Thanks to strong partnerships and strategic investments, Linkline Transport reinforced its position as Northamptonshire's fastest growing privately owned logistics company in 2020
Operating from Northamptonshire for more than 25 years, Linkline Transport offers a comprehensive range of logistics services across the UK and Europe. Boasting a fleet of more than 50 vehicles, from small vans to articulated lorries, and five warehouses across the county, the company has become renowned for finding solutions for the most complex and challenging client needs.
"At Linkline, we cover everything from local runs to long-hauls, retail to containers, unexpected urgent deliveries to scheduled contracts," explains Managing Director James Bowes. "We are also a complete third-party logistics solution provider, dealing only with the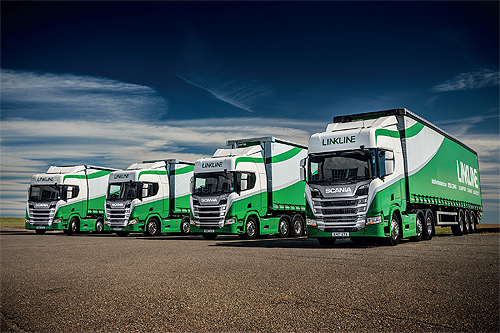 best Tier One IT partners.
"The fact that we offer complete turnkey solutions is probably our biggest selling point," James adds. "We can take a shipment from import through the booking process on the vessel, to the dock, to the warehouse, and finally to the consumer. We are one of the only logistics firms in Northamptonshire who can offer that service with complete IT traceability."
Linkline's year on year growth across the transport sector has been driven by significant investment in the company's infrastructure, and 2020 was no exception. Towards the end of the year, Linkline announced the opening of a new purpose built warehouse facility in Wellingborough to help support and strengthen the company's UK pallet operations. A £15 million investment, the 137,000-square foot warehouse and distribution space is Linkline's third UK location and brings the company's overall capacity to 237,000 square feet.
"The new site at Prologis Park is on a ten-year lease and will be opening up as our ecommerce fulfilment center," says James. "It's a brand-new, state of the art, 24-hour facility in a central location with a Tier One warehouse management system, and we filled the site in six weeks."
One of Linkline's biggest suppliers and long-standing partners, Trailer Resources Limited (TRL), has supplied two new SDC Freespan Curtainsiders for the new Wellingborough facility, and is due to provide an additional 30 trailers in 2021, increasing daily operations across the UK and Europe. Specially built to celebrate the opening of the new depot, the Freespan trailers contain ease of loading features, 5-star easy-roll technology and floor space for 26 pallets.
The strong relationships Linkline has forged with companies like TRL and SDC have proven invaluable to the business over the years and James suggests that through cohesive partnerships, the business can look forward to even more growth in the future .
"Trailer Resources Limited is our preferred supplier and I would like to thank them for their excellent and cooperative collaboration," he declares. "They are a 24-hour, like-minded family business that shares similar values of trust and reliable customer service to us. They have an excellent understanding of our trailer requirements, and their comprehensive fleet maintenance services have provided unwavering support for our operations over the last seven years.
"We feel the same way about SDC Trailers," James continues. "Only by using the best equipment can we deliver the best service to our customers. Our trailer fleet is now almost solely SDC, and the quality on those trailers is evident. They have unmatched attention to detail and a long-lasting strength and durability that ensures excellent performance for our haulage needs."
Completion and launch of Linkline's Wellingborough warehouse capped off a tough but productive year for the business that was dominated by the firm's response to the Covid-19 pandemic. In June 2020, following a surge in online purchases caused by the outbreak of the virus and subsequent UK lockdown, Linkline expanded into the home delivery sector.
Supported by Mandata's cloud transport management system to help customer visibility and control, real-time vehicle monitoring and electronic proof of delivery, Linkline's shift into the new market saw the company combine general loads with individual parcels. Having recently fitted all its HGVs with remote tachograph downloading, the company was also able to manage drivers' hours, improving return loads, route efficiency and vehicle utilization.
Linkline's adaptability and willingness to enter new markets led to the company doubling its turnover in 2020. The firm's customer base has grown significantly over the last twelve months, and though it hasn't been easy, James believes the company can be very proud of its efforts.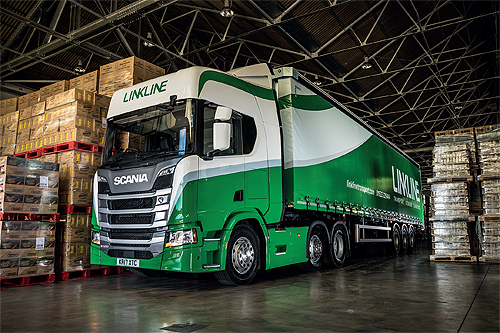 "It was a real challenge, but our hard work over the last year has been worth it," James states. "We are lucky in that the impact of Covid-19 on our business has been very positive. We work well with major supermarkets, so when panic buying kicked in, we were at the forefront of the supply chain with Morrisons and Sainsbury's, delivering all their products. Soon people diverted to online shopping and that is when we came in again. Our business experienced a great surge over the summer."
Led by one of the youngest management teams in the UK, Linkline's success in 2020 can also be attributed to the strength and dedication of its people. A family business at heart, the company's roots are reflected in its values-based culture – in October for example, Linkline offered free lunch bags for children in the local community over the half-term break.
"People are incredibly important to us – our colleagues, our customers and those in the communities in which we work," James remarks. "We might be a young team, but I think it makes us ones to watch in the industry.
"Everybody at Linkline has put in a lot of time and effort to get the company to the point it is at now, and our past success means we are still growing and actively searching for new people to add to the team. We owe our staff a debt of gratitude, especially after the last 12 months."
Alongside plans to increase the size of its workforce, Linkline will also be launching new depots in Manchester and Felixstowe within the next two years – the latter of which is set to open its doors by the spring of 2021.
"We just want to keep expanding," James asserts. "Over the course of the next three to five years, I would like us to continue building relationships, increase our transport and warehouse offering across the UK, and become the country's leading logistics company."
Linkline Transport
www.linklinetransport.com
Services: Logistics and supply chain services