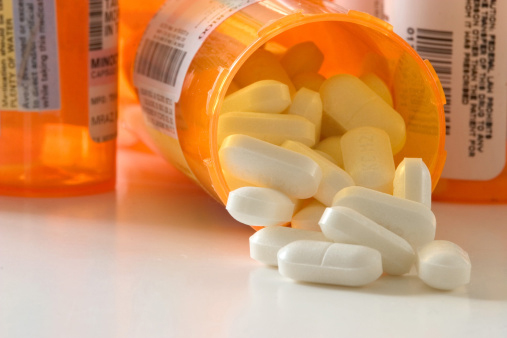 Merck's sales fleet keeps costs low while boosting its safety rate.
By Alan Dorich
Merck never stops looking for ways to make patients' lives better, North American Fleet Administrator Scott Lauer says. He explains the pharmaceutical company takes significant portions of its profits and invests it in research to find cures for diseases. "There are many unmet needs," Lauer says, noting that the company persists, even when the research does not result in a cure. "We're committed to do that, because it saves lives around the world."
Based in Kenilworth, N.J., Merck develops medicines, vaccines and animal health products to save and improve the lives of patients worldwide. The company, which was established in 1891, has achieved accomplishments such as the discovery of vitamin B1, the first measles vaccine and the first statins to treat high cholesterol. Today, the biopharmaceutical company's products include Keytruda, which has been approved for use with multiple different cancers, including melanoma. "It's a very broad portfolio that helps human as well as animal health around the world," Lauer says.
Driving Excellence
Lauer joined Merck in July 1988. After serving in the U.S. Army as the commander of the Fort Bragg Bomb Disposal Detachment, he joined Merck in July 1988, gaining experience in engineering operations and facilities management. Since 2007, he has overseen the company's fleet of 6,000 vehicles in the United States, Canada and Puerto Rico.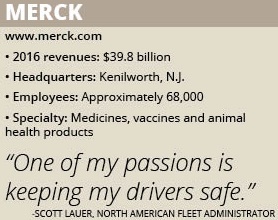 Primarily, the fleet consists of sales vehicles, but site vehicles comprise 15 percent, including electric carts and tractor-trailers. Merck's sales team members, he notes, use their vehicles to educate physicians on the company's medications.
Merck regularly updates its sales fleet, which is used far more often than its site-based vehicles. "We replace the sales vehicles every three years or for every 75,000 miles," Lauer says.
This gives the drivers the benefit of improved safety equipment, as well as a better fuel economy and less down time. "Once vehicles get up to 80,000 to 100,000 miles, their need for maintenance grows," he says. "Our drivers would have to take time off of territory to maintain their vehicles."
Merck also maintains strong relationships with the automotive OEMs. "It's important for us to understand what products are coming along and what differentiates each of the manufacturers," he says.
The company has agreements with the manufacturers to get the best pricing, but also looks at the total cost of ownership, weighing factors such as depreciation, fuel economy and maintenance, as well as resale value. "If a car has lower quality and doesn't sell in the market, that's going to be a disadvantage compared to other cars that have a better resale value," he states.
Helping Out
Merck keeps its fleet efficient by employing fleet management companies to oversee its day-to-day operations. With 6,000 vehicles in its fleet, "I can't handle 6,000 calls," Lauer admits, noting that Merck delegates other actions to the fleet management companies, including deciding when to sell or scrap a vehicle.
"They help us do a lot of analysis and reports," he says, noting that the firms help Merck establish a vehicle's total cost of ownership. "They know how much it costs to maintain a Chevy Malibu versus a Subaru Legacy."
The management firms also help Merck keep a close eye on its drivers and their purchases. "We have fraud detection," he says, noting that the firms can tell if the drivers use premium fuel or put more fuel in the vehicle than the tanks can hold.
Merck also has the firms keep a close eye on car rentals when the work vehicles of drivers are in the shop, Lauer adds. "Once their cars get fixed, they get out of the rentals as soon as possible," he says.
"We've been with our current fleet management firms since 2008," he says, noting some have added services that previously did not exist at Merck, including collecting money from employees for unpaid parking tickets, toll management and inventory management.
Fleet Pride
Lauer is proud of how Merck's fleet has cut costs under his tenure. "It's not just about keeping costs low for the sake of keeping costs low," he asserts, noting the savings have been put toward the company's vital research.
The fleet also is an early adopter of safety equipment, including advanced braking technology. "One of my passions is keeping my drivers safe," he says, stressing that Merck has lowered its driver crash rate.
Lauer believes the implementation of safety equipment, such as automatic braking, lane departure systems and blind spot indicators, has had a proven impact. "We're putting all of those as mandatory equipment on all of our new vehicles," he says.
Merck also recently revamped its safe driving policy to make it more stringent. This was not done to discipline its drivers, however. "It's for identifying the highest risk drivers and giving them the tools they need for safe driving," Lauer asserts.
"They'll go home safely to their families," he says, noting that Merck enjoys lower costs in terms of insurance, crash repairs and lost-time incidents. "In the end, it makes everybody happy."
Top Tech
Lauer predicts that technology will continue having an impact on Merck's fleet. "There's a lot of technology out there that can help fleets be much more effective than they are," he says, naming telematics as an example.
Merck is close to implementing telematics measures for its higher-risk drivers, which will help the company monitor such aspects as speed, harsh acceleration and seat-belt use. "It's going to have a huge effect," he predicts.
If drivers know they will be monitored for excessive speeding, they will not do it, Lauer says. "You're also going to get a better fuel economy," he adds. "If drivers aren't driving 85 miles an hour, you're going to save a couple miles per gallon."
Merck's fleet size has stabilized over the last two years, and has even started to grow slightly, due to some of the new cancer medicines, vaccines and animal health products. That face-to-face education of healthcare providers remains an important piece of the competitive pharmaceutical business.