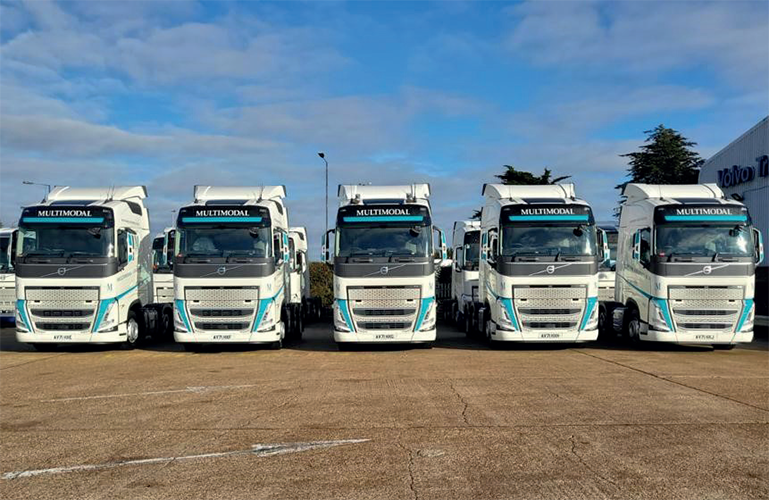 Beyond expectations
Regardless of industry disruptions, Multimodal Logistics Ltd continues to provide excellent transport services to its customers
Whether by land, sea or rail, Multimodal Logistics Ltd (Multimodal Logistics) is determined to become one of the leading container transport businesses in the industry. Since we last spoke with it, the company has been working very hard to get ahead of the festive season. We catch up with the company's General Manager, Tim Wray, in December 2021, when he discusses Multimodal Logistics' strategy to overcome industry challenges that have resulted from the pandemic. "There's been a huge turnaround in terms of our business and work structure. We have managed to develop ourselves into a stand-alone company that provides logistical solutions to our tightly-knit customer base, including very large high-street retailers to get through their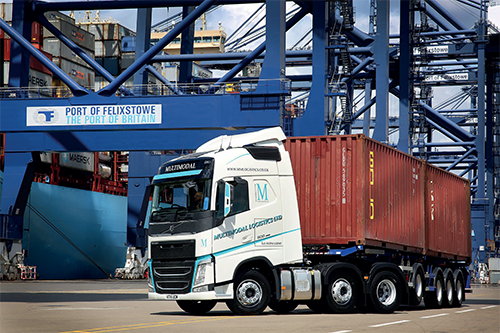 Christmas rush," he says.
Many years of experience in listening and adapting to customer needs has allowed Multimodal Logistics to evolve into quite the expert in the transport industry. This is why it is able to help its customers manage their demands during the build up to Christmas. "Everyone is trying to get their goods delivered before December 25. Unfortunately, with the current climate, it won't be entirely possible, but we will push to do our best to ensure that for the most part, we succeed with all our orders."
Covid-19 has become the toughest challenger for businesses across the world, and Tim shares details of how Multimodal Logistics continues to grow, despite the obstacles that have impacted the transport industry. "We were fortunate, because we didn't have to furlough any of our employees. We used all our resources to keep everything going, with our team ready to work from home. We got through it as best as we could for not only our own vehicles, but also our suppliers who work along us all of the year round.
"Of course, none of this was easy sailing, but nevertheless, in 2020, we fared much better than some, as many companies had to furlough drivers, and get rid of equipment, but thankfully we were able to keep ourselves going," he says. "By the end of 2020, we had started to see dramatic business improvement with rising volume and customer orders starting to increase, which continued right through to early summer when all hell let loose.
"The price of fuel had been steadily rising throughout the year, and we had started to see a significant impact on our operating costs, but this was insignificant compared with what was about to unfold. We started to experience in July a significant strain on resources with a dramatic reduction in available drivers as a result of multiple regulatory events, which also led to a reduction in subcontracted resource as they also fought to find drivers and were tempted away to work for other businesses such as supermarkets, which had become desperate to fill their shelves and had started to pay premium rates." However, Tim is optimistic that his business will continue to push through and overcome these obstacles. "We were forced to take a good look at what we were doing and how we were running the business, and started to make adjustments in our operations to ensure we were able to service our key customer accounts and meet their ever-growing demands.
"We went back to our customers and took a detailed look at the market, and made some improvements in how we were operating to grow our revenue, and also maximize our resources. We started invest in more Multimodal transport movements, with rail and road combinations enabling more vehicle productivity from inland rail terminals, and this was central to heling our customers get through the period."
Now that the business has surpassed the height of the pandemic, Tim believes that the industry will settle a little as people in logistics do what they do – find solutions; but it will be a very long time before a recognized period of normality will be seen. "We are however determined to do what we can to provide for our clients with the best possible service that we can," he expresses.
In discussing ways in which the business is able to overcome its challenges, Tim pays particular attention to the crucial role his team played in pulling the business through the past two years, and he is incredibly proud of those who work the frontlines of the transportation industry on a daily basis. "I think within the UK, we take for granted the grittiness of certain jobs, and I'd like others to understand what a driver experiences as they go about their normal duties. They're out of bed at silly-o-clock in the morning, and head into in an environment where people may not recognize their driving abilities and skills, and don't treat them with the respect they deserve. We regularly get situations where people are abusive, disrespectful and aggressive towards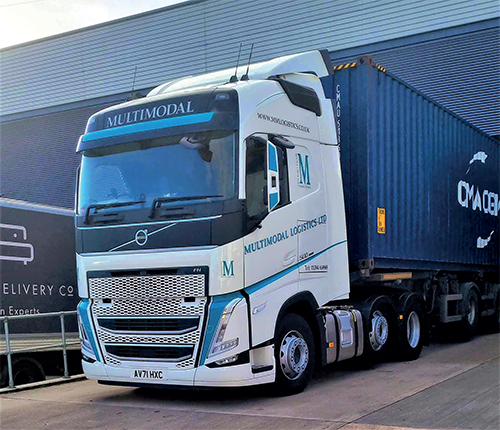 them, and at the end of the day they park in often poor parking facilities, go to sleep, wake up the next day, and step back out in the same environment. So, when the drivers are out on a job, I'm so appreciative of everything they do. I should also highlight and acknowledge the work that the operations team do alongside the drivers to help it all come together," he expresses.
Another key aspect to the company's continued success is its supply chain, and Tim takes time to highlight the longevity of the network he supports within the business. "We have long-term relationships with a number of suppliers around the country that we have maintained for many years. We're glad to have been able to support them through the period's low market volume. Special mention should also be given to our equipment providers Volvo, and Hireco our trailer provider. We are very appreciative of their continued support and are looking forward to continuing these relationships."
Although the pandemic has been difficult to navigate, the company must also contend with the infiltration of electric transport and renewable fuel. Although Tim welcomes this evolution, he is not naïve to the effort required to make the transition possible. "We are making sure we work closely with local businesses, and looking at the most efficient options out there; some of our new trucks are starting to deliver twelve miles to the gallon, which is an exceptional figure. However, the nature of this business will take time to evolve, as the UK network is not strong enough today. Some of the advantages of the new technology that is making its way into the industry are, as I said, exceptional, so we do try and use the latest equipment to make life easier. In the future, we will be looking at renewable options, because we do want to help and make this industry as sustainable as possible."
Throughout Tim's reflections, he notes how the company has been able to increase its fleet of trucks from 40 to 53, and, as he turns his focus to the New Year, Multimodal Logistics will be looking to replace a number of components. "Next year, I want to be able to consolidate a little bit on the drive we've been through. This would include further increasing our fleet again, but in addition to that, many of these changes will continue to require an 'all hands on deck' approach from our staff. There is already pressure in the office to cope with new drivers, new equipment, and different depots, but I have no doubt that they will rise to the challenge and keep the company a fantastic place to work.
"Over the next six months I'd like to see these issues settle down and continue to evolve our driver training programme, and one of my personal objectives is to be more visible for all our drivers as the pandemic prevented me from being able to do that. We have people from Manchester, Yorkshire, the Midlands, and around here in Felixstowe, and it just hasn't been possible to put a face to the name for every single job. Aside from that, the future is bright; the plan is to grow, to be more diverse, and to offer more opportunities to our customers.
"On that note, I'd like to thank our customers as well. They have been incredibly supportive and extraordinarily understanding of the difficulties that we've faced over the last two years, and I feel it's important to mention how appreciative we are of them," Tim says. With higher hopes for the prospects of 2022, we look forward to catching up with Multimodal Logistics to hear how they have continued to challenge themselves and excel in the transportation industry.
Multimodal Logistics Ltd
www.mmlogistics.co.uk
Services: Transport hauliers