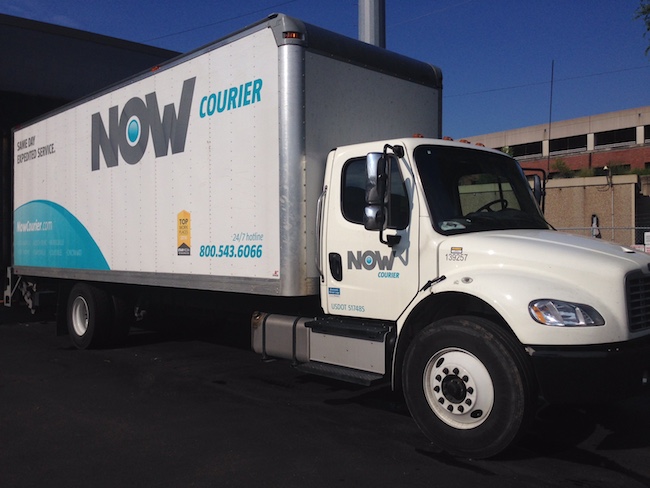 Now Courier started a logistics brokering subsidiary to serve clients across the nation.
By Tim O'Connor
When working with a client, Now Courier first seeks to understand, then to be understood. The Indiana-based local delivery service provider doesn't just look at a client's website and then determine what services match their needs. Instead, Now Courier listens and crafts a customized delivery solution around the customer. "Every single customer is different," CEO Ryan Schwalbach says. "They all have different expectations, they all have different requirements and they're all legit."
Schwalbach's father, Mike Schwalbach, founded Now Courier with a partner in 1986, The two-man company delivered documents for law firms and banks in the days before everything was done by e-mail. As it grew, Now Courier took on medical clients and began handling deliveries to blood centers and labs.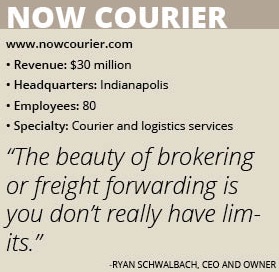 But it was not until Ryan Schwalbach's mother, Sandy, got involved in the business that it truly took off. Sandy became a part-owner in the company following her divorce from Mike but the two decided to work together as business partners. Mike had run Now Courier as a mom-and-pop company, but Sandy brought experience working in supply chain management for Procter & Gamble and Disney. She put the business-minded processes and procedures in place that enabled Now Courier to grow into a $30 million company.
Mike and Sandy both retired in 2015, entrusting Ryan Schwalbach to take over as CEO, a role he has been working toward his entire life. Schwalbach was six years olds when his father started the company. He has been around the business ever since, running routes in high school and working the warehouse between semesters in college. But his father worried that familiarity would breed complacency, so he told Schwalbach that he had to find another job out of college and gain experience working under a boss he wasn't related too.
Schwalbach worked about three years at another service-oriented company, learning different management styles before coming back to Now Courier in the mid-2000s for a role in the routing department. There, he spent late nights, getting routes out at 4 a.m. and occasionally delivering an item himself when no independent drivers were available. "It was a good hands-on learning experience," he says.
From its beginnings serving Indianapolis, Now Courier has grown to an 80-person operation with seven locations in Indiana, Kentucky and Ohio. Roughly 500 independent contract drivers deliver more than 3 million packages each year. Each of Now Courier's seven locations has its own warehousing for cross-dock transfers.
Medical businesses such as hospitals and laboratories make up more than half of the company's customer base. Many other customers come from the financial and automotive industries. Now Courier scales its services to fit the client's need. In some cases, its independent drivers even act as a customer's dedicated fleet.
Becoming a Broker
Being known for great service means that customers frequently ask Now Courier to extend its footprint. A client in Indianapolis might have another office in Kansas City with the same courier requirements. However, it might not be enough work for Now Courier to open its own office. For those cases, the company began acting as a brokerage service, coordinating other couriers on behalf of its clients. Before long, customers even were asking Now Courier to set up less-than-truck-load (LTL) deliveries and the company realized there was potential to spin the brokerage service off into its own business.
In 2016, Now Courier created a subsidiary company, Nowgistics, to handle its LTL deliveries and began hiring staff dedicated strictly to brokering freight. With its entry into logistics, Now Courier can now move any packaging using a vehicle as small as a sedan up to a 53-foot-long tractor-trailer. "It's a good experiment for us, it's a good complement to what we do," Schwalbach says.
Logistics brokering is a relationship-intensive business, Schwalbach explains, and Nowgistics is starting small so it can get its operations right before expanding the concept. Luckily, there is substantial crossover between the trucking and shipping companies Now Courier deals with on the local delivery side and LTL. That familiarity will aid Nowgistics as it courts customers in new markets. "The beauty of brokering or freight forwarding is you don't really have limits," he says. "It's really wherever you can find trucks or carriers."
Reliance on Vendors
Businesses can find success when they stick to their core competencies or find a way to apply their capabilities to a new field. Those that try to take on areas where they don't excel often falter.
Now Courier knows local delivery and logistics, but it relies on outside help to support many of the company's other operations. Vendors such as Peak 10 and Supply Chain Services provide cloud management and technology procurement services, respectfully, while ONI Risk Partners insures Now Courier and KSM Consulting gives advice on technology and data.
Schwalbach says those companies have the time and expertise to fill the gaps in Now Courier's internal expertise. "Working with those vendors – just like any of my drivers or employees – they are an extension of Now Courier or Nowgistics," he explains. "We couldn't do that without the Supply Chain Services and Peak 10s of the world."
Now Courier's vendors help the company keep pace with and prepare for disruptions in the industry. With ride-sharing companies such as Uber and Lyft offering courier services, traditional companies such as Now Courier must find ways to offer customers even more value.
To battle the inroads non-traditional carriers are making in the market, Now Courier is working to get even closer to its clients. By integrating its own systems with those of its customers, Now Courier can create efficiencies and become an indispensable part of their operations. Integration requires a transportation management system that can act as a bridge between Now Courier and its clients, so the company built its own in-house software that would provide all the features it needed. "We wanted to have a unique portal here so we worked with a consultant to help us develop it," Schwalbach says.
Ultimately, Now Courier hopes to provide that portal to the network courier companies it works with for LTL delivery. The software can be branded to each individual carrier but will ensure compatibility across the network while also enabling customers to find LTL providers directly. "It allows them to expand their services," Schwalbach says of the benefit for carriers.
People-Driven
Even as it invests in expanding its capabilities through Nowgistics, Now Courier still understands the value of investing in its people. The company is working with an outside consultant to develop leadership training that its executives can pass down to their employees. "You need a solid team," Schwalbach says. "You can't do it on your own. Not in this industry when so many things are pulling at you."
Training is a critical component of the courier business. Some may see it as a simple job, consisting of picking up a package from one place and dropping it off at another. But the role can call for so much more, depending on the customer. A bag of medical lab samples, for example, can't just be thrown in the back of a pick-up truck. It requires following certain standards to ensure the samples are not contaminated and remain intact. Now Courier has a director of safety compliance whose job is to enforce client delivery requirements and processes. "We want to make sure we're doing everything by the book whether it's ethical or the actual, true standards," Schwalbach says.
Skill and training are what set Now Courier's drivers apart, but it still needs the numbers to meet newfound demand. Schwalbach anticipates hiring another 100 independent drivers in the next year – a difficult proposition with the ongoing shortage of drivers in the logistics market. "It's hard to find people to do this type of delivery service," he says.
Just as Uber and Lyft have begun to compete with Now Courier's service, Now Courier is making a pitch to those drivers unsatisfied with the ride-sharing arrangement. "We do the independent contract model correctly," Schwalbach says, explaining that drivers can work whatever hours they want using any vehicle. Besides, human passengers can be chatty and some drivers find they prefer to travel with a package that doesn't talk.
But the best way to recruit drivers and staff is to have a reputation as a good employer. The IndyStar named Now Courier one of the best top workplaces in Indiana in 2016 and internal annual culture audits show that 95 percent of employees would recommend the company to family and friends looking for a career. "I really want to make this a place people want to work," Schwalbach says.