Cenac Marine Services L.L.C.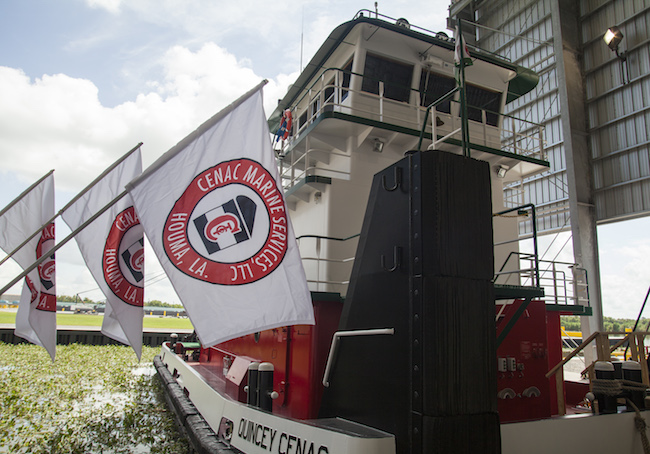 Cenac Marine Services makes sure that its customers avoid downtime.
By Alan Dorich
After 90 years, Cenac Marine Services L.L.C. has a reputation for reliability. "If the customer needs help, we help them," owner Arlen "Benny" Cenac Jr. asserts. "If we say we're going to be there at a certain point in time, we'll be there.
"Our customers know that downtime is our problem, not the customers' problem," he asserts. "That's the model that's helped us through [three] generations, slowdowns and upturns."
Based in Houma, La., Cenac Marine offers towing services through the use of inland and offshore boats, tank and LPG barges. Cenac's grandfather, Jock Cenac, founded the company in 1927.
The elder Cenac gained experience working for Cenac & Co., his father's oyster harvesting firm. Cenac and his brothers each had their own oyster scooter and oyster bed fields to harvest.
When the surveying crew from the Texas company came to the area, they had Cenac take them out to a field where they discovered a well that they decided to drill. "The story goes that they struck oil and he brought the rig and the people back and forth," Benny Cenac says. "He never hauled an oyster again in his life."
Jock Cenac instead moved rigs and pipes, and developed other businesses related to the oilfield, including a drilling company. When Cenac was killed in a plane crash in 1964, Benny Cenac's father, Arlen Cenac Sr., took over the business, which grew into selling diesel fuel and water to inland and offshore derrick barges.
"I took it over in 1981 and bought most of the family out," Benny Cenac says, noting that the firm has continued growing. This included the acquisition of his other grandfather's company, Main Iron Works, which built all of Cenac Marine's tugboats. "We have been self-contained for all of our building and repairs."
Cenac Marine serves a customer base that includes every major oil company. "We move crude oil as well as refined products," Cenac says, noting that the company also is in the pressure barge business, involving the movement of propane.
"We're not a big player, but a good player," he says, noting that the company operates with strong equipment that can be serviced efficiently. For example, Cenac explains, if the company wanted to service and update a vessel, it can complete it in 24 hours.
"We can turn the boat around with totally new engines and give our customer no downtime in service," he says. "There's nobody else that does 100 percent of the work on the barges and boats like Cenac does."
Riding It Out
Cenac Marine is coping with changes in its industry, including utilization being down and volume of products. "Rates are extremely depressed right now," Cenac says. "The majors are leaning on us very hard. In some cases, we're working at rates that we were working for in the 1980s."
The equipment, Cenac notes, can cost three times what it cost back then. "The economics are not good at all," he says, noting that the company survives thanks to its strong financial position.
"We can ride out this slowdown," he says, noting that the youthfulness of its fleet helps. "All of our equipment is less than five years old."
Cenac Marine also copes by monitoring its employees and fulfilling its safety requirements. "We have always been a financially secure company," Cenac says. "We will be able to hold out and pull through this thing.
"The whole method to success is not pinching back the operation, but making sure you adhere to all the safety rules and policies," he says, noting that being reliable to its clients also helps.
"If you do that on a timely basis, you'll get through all this," he states. "It's all about the quality of your people, the quality of your equipment and making sure you don't have any downtime for your customers."
Doing it All
Cenac Marine's financial security allows it to continue updating its facilities. After selling its previous shipyard five years ago, "I've been building a brand new facility for all my main offices," Cenac says, adding that it is constructing a new maintenance center.
The company's acquisition of Main Iron Works also has led to new projects. "We're building a brand-new dry dock facility for the barges," he says, noting that this will allow the company to do above and underwater maintenance.
"We also are converting the Main Iron Works yard to our barge repair yard," Cenac adds. "We will be tearing every building down and constructing all brand new buildings."
Barges will be repaired and painted within the structures. "Our facilities are the only ones that are completely encompassed to do everything in house," he says.
A Growing Focus
Safety is an ever-growing part of Cenac Marine's business. "We have staffs to run that part of the business, whereas 20 years ago, that was the smallest part of your business," Cenac recalls.
This makes it critical for the company to keep up with regulations and provide oil companies with safety statistics. But this can be challenging, Cenac admits.
"It's gotten to the point where a captain can't run his vessel anymore," he states. "We burden that guy with so many manuals and so many requirements that he has to worry about [instead of] running his vessel.
"The oil companies demand more and more from us on safety, but they want to keep paying us less and less," he says, noting that Cenac Marine will adjust and still maintain a strong record. "We haven't had a lost time accident in years."
Family Pride
Cenac is proud of his family's company. "Our work environment is one of a very friendly, family atmosphere," he says, noting that the company maintains an "open door" policy. "Our employees are welcome to talk to anybody in the management division."
He also praises its staff, which includes many longtime workers. "They start with us as deckhands and usually end up as captains," Cenac says, noting that the company has an annual turnover rate of only 1 percent.
"We have employees that have been working for Cenac for over 50 years," he says. "Usually, when people come to Cenac, they stay for the rest of their careers. Sometimes, you can't run them away with a stick."
Cenac Marine keeps them loyal through its work environment. "We do a lot of company parties and things with our employees," he says, noting that the company also offers them a strong benefits package that includes profit sharing and 401k plans.
Cenac also is proud of how his family has stayed involved in the company. "I'm the third generation and the fourth generation is coming along," he says. "I have been able to hold on and maintain my grandfather's business.
He also sees a strong future for Main Iron Works. Like Cenac Marine, "It has an outstanding reputation," he says. "You'll see many tugs built by Main Ironworks."
Both firms, he notes, operate under the umbrella of Cenac Towing. "I'm really glad to be able to put all of that together," he says. "My sons will be able to own and run that operation."
A Constant Market
Cenac Marine's market will stay at its current rate for a while, Cenac predicts. "We're not going to see any tremendous ups or downs," he predicts. "If we can maintain the status quo, we'll see a gradual pick up."
However, "This year is stuck where it is, in both rates and utilization," he asserts. "What we do boils down to the price of crude oil. If crude oil starts going back up, and people start doing more things, the industry will gradually move up.
"We're in for a long haul until the new administration figures things out," he says. "A lot of the things that our new president is trying to get done will increase the business climate to where it makes it more successful and financially plausible to drill."
Locally Focused
Arlen "Benny" Cenac Jr. owns several other businesses in addition to Cenac Marine Services L.L.C. These reach industries such as retail, manufacturing, wholesale and agriculture. "As an entrepreneur at heart, [he] enjoys seeking out new business opportunities across the region, in an effort to help cultivate a strong local economy," the company says.
Cenac also has donated time and money to multiple regional, national and international causes. These include the American Heart Association, American Cancer Society, Coalition to Restore Coastal Louisiana, Louisiana Wildlife and Fisheries Foundation, the Make-A-Wish Foundation, the Nicholls University Foundation, Bayou Foundation, and many local church and school organizations.
Cenac even built a new church for the Sunlight Baptist Church, which is a minority house of prayer. He also has been a charter member of the New Orleans Saints football team, and contributed to the LSU Athletic Foundation, the United States Coast Guard (USCG) Foundation, and served on the first USCG T-Sac committee on double hull requirements and safety issues for the U.S. Government.