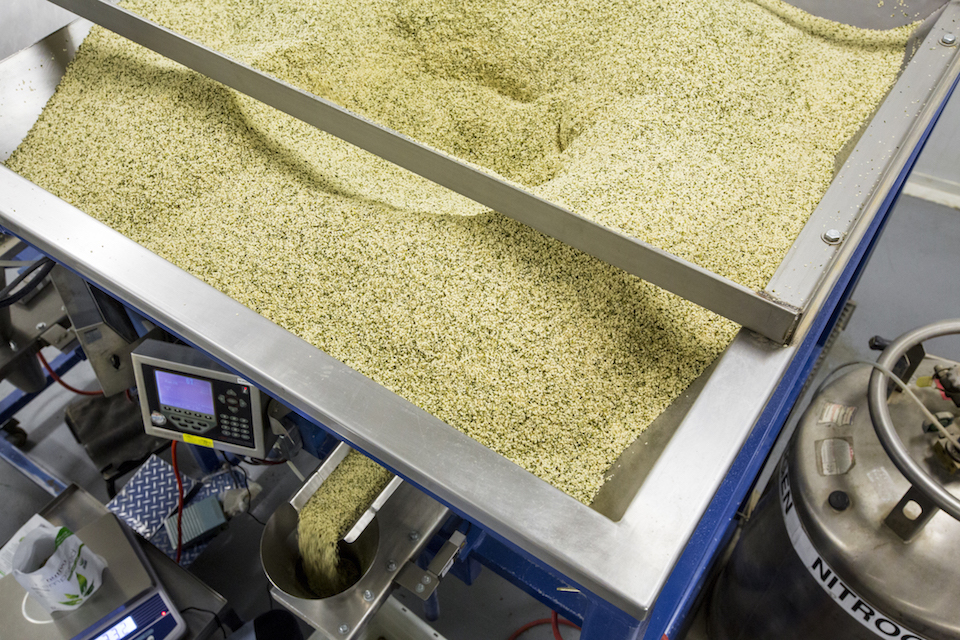 Nutiva's efforts to bring superfoods to market and change the way food is grown have helped the company become a leading force for positive change.
By Eric Slack
Founded in 1999, Nutiva has become one of the fastest-growing superfoods company on the planet. The firm has been an Inc. magazine fastest growing company for eight years in a row. Its products are offered in 20,000 outlets across the world. Now known as the world's leading organic superfoods brand for hemp, coconut, chia and red palm superfoods, Nutiva is helping people everywhere have access to wholesome, organic foods.
"The majority of our products we package ourselves onsite in our own facilities," founder and CEO John Roulac says. "We are a values-driven brand that is dedicated to nourishing people and planet."
Super Foods
At its core, Nutiva is focused on revolutionizing the way the world eats and bringing nourishment, balance, health, well being, sustainability and community to the world. The company has therefore sought to make superfoods such as hemp, coconut, chia and red palm more accessible to the masses. These nutrient-dense powerhouses are organic, full of vital nutrition, easy to use and delicious, and they can be grown and processed in a sustainable way.
"Essentially, we take undiscovered nutrient-dense foods that have been used for thousands of years but have been forgotten by Western civilization," Roulac says. "We then help to educate the marketplace and make products available for people."
Today, the company's organic product portfolio includes hazelnut spreads, plant protein Superfood30, buttery coconut oil, superseed blend, organic virgin coconut oil, refined coconut oil, coconut manna, cold-pressed hemp oil and shelled hempseed. It also includes chia seeds, hemp protein, high-fiber plant protein, hemp protein shakes, vegan superfood shortening, coconut flour, O'Coconut lightly sweetened coconut treats, coconut sugar and red palm oil.
The company's virgin organic coconut oil is cold-pressed and great for sautéing and baking, enhancing recipes and body care. Coconut manna is a puréed coconut butter that contains fiber, protein and nourishing fats. Its dry coconut products include coconut flour, certified gluten-free with a lower glycemic index than most traditional flours, and unrefined and unprocessed coconut sugar that is similar to brown sugar with a hint of caramel.
Its organic hemp oil is cold-pressed and unrefined, containing an ideal 3:1 omega-6 to omega-3 ratio. Nutiva's organic hemp protein contains high-quality plant protein with the branched-chain amino acids that are vital for good health and easy to digest. Additionally, it offers high-fiber hemp protein and chocolate and vanilla hempshakes, while its gluten-free chia seeds are packed with omega-3, protein, rare antioxidants and fiber, good for inclusion in yogurt, oatmeal, baked goods or smoothies.
Nutiva's red palm oil is certified organic, non-GMO and Fair Trade, grown on small organic family farms in Ecuador. The company also has a sunflower and red palm oil blend that is good medium heat cooking.
"We have single-ingredient items like coconut oil or hemp seeds, which people use in making smoothies, sauces and baked goods," Roulac says. "We also have multi-ingredient items such as our vegan hazelnut spread and our plant protein Superfood30."
Roulac wants to expand what he calls more of a rainbow diet, as he says most people get the majority of their calories from a small amount of food sources – many of which are not highly nutritious or sustainable. He feels Nutiva has done a good job of helping to popularize items such as coconut oil and chia, which were mostly unheard of a decade ago and have now become mainstream.
Fostering Change
Social and environmental responsibility are critical elements of Nutiva's culture and business, as the company is committed to nourishing people by providing the purest quality product and reducing negative impacts on the planet. From sourcing organic products and obtaining fair trade certification to greening its facilities and operations and funding tree planting at schools in its local community, Nutiva is constantly seeking ways to better protect the environment and ensure a better quality of life for employees, customers and the communities it serve.
"We are about more than just selling a jar of coconut oil," Roulac says. "We want to change the food system to benefit the world. That is a positive thing, and people are excited about our new products, from our hazelnut spread and plant protein to our new vegan buttery coconut oil, which makes the best tasting popcorn while still being organic and vegan."
Part of this effort also includes changing the way food is grown. The way food is grown now impacts the quality of soil and water, contributing to climate change. Nutiva is focused on regenerative agriculture so it can sequester carbon from the atmosphere and oceans, putting it into the soil so the soil can hold more water, use less fertilizer and enhance nutritional elements in foods. Since 1999, Nutiva has donated $3.6 million dollars by contributing one percent of sales to sustainable-agriculture groups for programs that enrich the soil and support a healthy world.
Nutiva's mission to contribute to changing the way the world eats remains an ongoing journey. Part of this involves investing in marketing to ensure that it can best illustrate the power and potential of its products to the market.
"We've worked with i4Color, which is based in Oakland and has done some photography and other projects for us for about a year," Roulac says. "They have such great customer service and did a challenging photo shoot with us, and they really nailed it."
The company is also always working on continued innovation of its product lines. Roulac says some of its newer items – such as its hazelnut spread, which is dairy free, gluten free and has 40 percent less sugar than the leading brand– are seeing a lot of interest in the market.
"In the end, we want change the way the world eats and develop new products and organic foods to help nurture vitality," Roulac says. "We've been fortunate to be ahead of some of these nutritional trends, and we've worked very hard and built a great team of dedicated people who believe in our mission."
www.nutiva.com
Headquarters: Richmond, Calif.
Employees: 120
Specialty: Organic plant-based foods