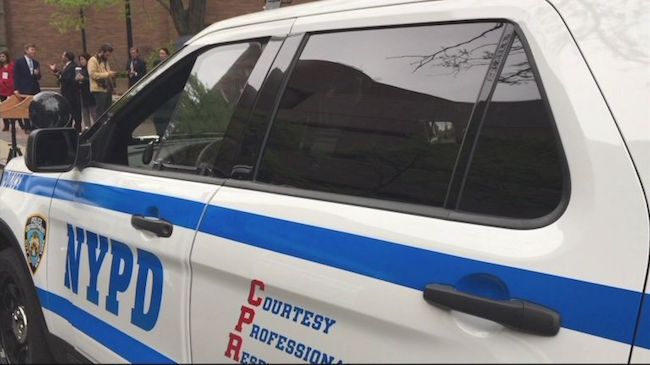 The New York Police Department has upgraded its fleet to keep officers safe and added green technology to protect the environment.
By Chris Kelsch
When Robert Martinez talks to vehicle manufacturers, they generally listen. As deputy commissioner of Support Services Bureau and formerly the director of the New York City Police (NYPD) fleet services division, he and members of his staff serve on advisory boards for Ford, GM and Harley Davidson,  offering user feedback and suggestions. "We give advice on how to tweak the vehicles," Martinez says. "Ultimately, we listen to the end-user and offer advice based on that."
Not only does Martinez offer a vehicle driver's perspective, but also that of a mechanic. He started as an auto service worker with NYPD in 1986, and worked his way up to deputy commissioner of NYPD's Support Services Bureau, which oversees 800 employees and three other divisions: central records, printing and property clerk.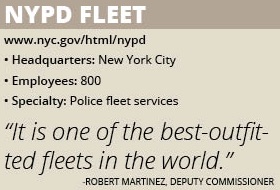 Martinez won a lifetime achievement award in 2015 for his work in developing an internship program, as well as teaching at conferences and sharing best practices, and for his work to transform police light bar technology.
Large and Visible
Martinez oversees one of the largest and most visible municipal fleets in the country, with 10,000 vehicles and 13 service centers throughout New York's five boroughs. If there is one driving principle in servicing that fleet, it is safety. "Our mission statement is 'supporting the department in making tomorrow safer than today,'" Martinez says.
To that end, several safety initiatives are underway. The first is bullet-resistant windows for all patrol cars. The second has been gradually transforming the fleet from standard patrol cars to utility vehicles. "Patrol officers feel the larger vehicles are safer because they are heavier," Martinez says. "In particular, the Ford Explorer is well-liked, and has more room for equipment such as tablets and license plate readers. Ford has really stepped up to the plate."
Moreover, the vehicle is actually more fuel-efficient than the once-popular Ford Crown Victoria, which was discontinued in 2012, and the Chevy Impala. Given the fact the Explorer costs only $1,000 more than a typical NGPI sedan, it is becoming the vehicle of choice not just for NYPD, but for fleets across the country.
New York City has long held the reputation of being one of America's greenest cities, with initiatives dating back to the administration of Michael Bloomberg. Those initiatives include buildings as well as vehicles. Currently, the NYPD fleet has 1,700 hybrid vehicles, including the Ford Fusion.
More recently, the NYPD received its first shipment of 150 Smart cars, with another 75 ordered. These cars have been deployed to precincts across the city, as well as the parking enforcement division. Martinez says they will replace the three-wheel scooter, and are safer because they come equipped with airbags. And because they have air-conditioning, they will be more comfortable than the scooters in the summer months. Their price tag is also $6000 less than the three-wheel scooter.
Sources of Input
To maintain rigorous vehicle specifications, Martinez relies on two different focus groups: one on the fleet side and one on the mechanical side. "We do a lot of things to get accurate feedback," Martinez says. "We write the specs of every contract, and each contract we have written gets tighter and better." Martinez personally oversees the specifications of every vehicle, and holds meetings twice a year, in May and November, to take directions and suggestions from the police officers and mechanics.
As many fleet directors will tell you, finding and keeping a stable force of mechanics can be challenging work. To mitigate this, Martinez has launched an internship program in which high school students paid by the board of education learn vehicle maintenance for the NYPD's fleet. Upwards of thirty-five students are enrolled in the program each year, which contributes to the pool of future mechanics and technicians.
For Martinez, the combination of dedicated funding and support from New York City's municipal government adds up to a strong, modern and green fleet. "I look at today's fleet," Martinez marvels, "and it is one of the best-outfitted fleets in the world."