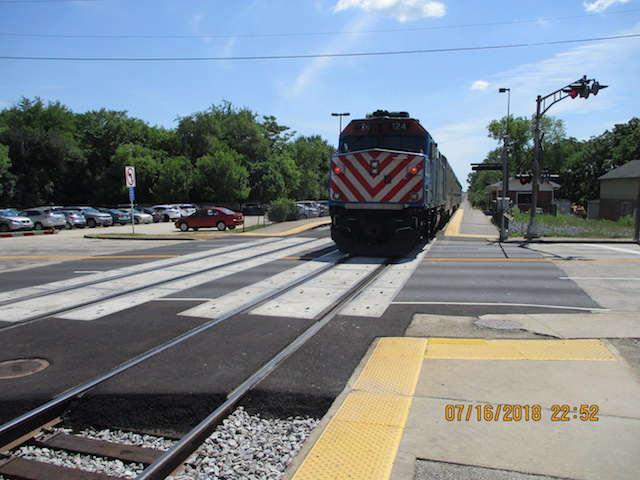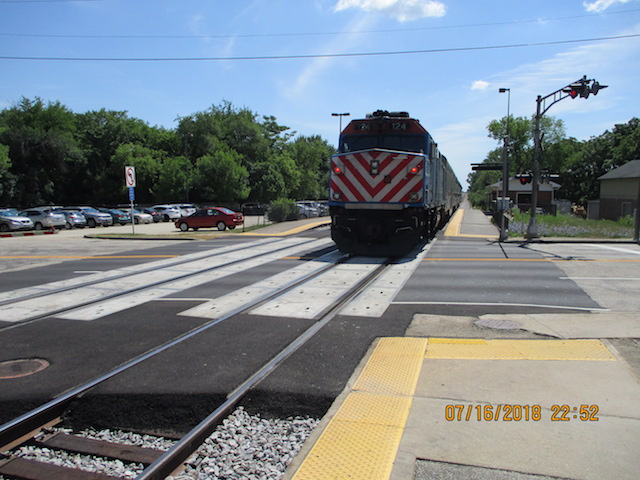 OMNI Products is providing grade crossing surfaces for major railroad projects throughout the United States and Canada.
By Kat Zeman, Senior Editor at Knighthouse Media
As the only manufacturer that offers a full line of premium grade crossing surfaces, OMNI Products is in full swing – having entered its busiest season.
The McHenry, Ill.-based company produces railroad crossing systems for major railroads, transit systems, cities, ports, manufacturing facilities and intermodal yards.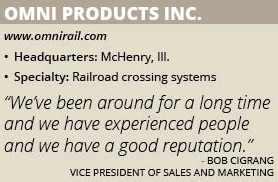 "We have many projects going on all across the United States," says Bob Cigrang, OMNI's vice president of sales and marketing. "The biggest problem for us is that everybody wants to do their work at this time of the year. But we build up inventory during the winter months."
From the beginning of June to end of September, the company's three manufacturing facilities operate three shifts, 24 hours per day. OMNI now has plants in McHenry, Lincolnton, N.C., and Portland, Ore., and makes concrete crossings, rubber crossings and combination rubber and concrete crossings.
On an average year, OMNI manufactures roughly 40,000 feet of concrete crossings and 10,000 of rubber crossings.
Major Projects
With its three facilities, OMNI supplies railroad crossing systems to customers throughout the United States and Canada. From its McHenry plant, for example, one of the company's local customers is Metra Rail, the northeastern Illinois commuter rail system.
"Metra is one of our biggest customers," Cigrang says, adding that Metra has been a customer since 2014. "Railroads generally renew their crossings every 10 years."
Metra is the fourth-busiest U.S. commuter rail system in terms of ridership. Most of the Metra lines use concrete railroad crossings, but the system's Rock Island line is electrified, so that line's crossings are strictly rubber.
This summer, Metra is fixing the grade crossing on its Rock Island line at 105th Street. OMNI is supplying roughly 90 feet of material for the project.
Cigrang says customers like Metra that prefer concrete crossings tend to also use rubber next to the rail to protect signalized crossings. Cigrang says that roughly 80 percent of the company's business is concrete products and the other 20 percent is virgin rubber products.
"Concrete is more popular because it's cheaper and easier to install," Cigrang says. "And for our rubber products, we do 100 percent virgin rubber products because it makes a better product and lasts longer. Quality is very important to us."
Since a railroad crossing is part of a highway, that crossing can affect the public's impression of railroad. "Railroads want good reputations and the crossings help with that," Cigrang adds.
Construction Season
OMNI also supplied railroad crossing systems for the Canadian Pacific Railway, which owns roughly 12,500 miles of track across Canada and into the United States – stretching from Montreal to Vancouver, and as far north as Edmonton.
In addition, the company is currently supplying about 3,000 feet of rubber crossing material for the Massachusetts Bay Transportation Authority.
"They are renewing their green line and replacing all the crossings on that line," Cigrang says. "We are working 24 hours a day to build them the material for the summer construction season."
One of OMNI's largest projects to date was for Virgin Trains USA, which is building a passenger railroad that will connect Orlando to Miami — with service set to begin by 2022.
OMNI manufactured roughly 15,000 feet of concrete railroad crossings material for phase one of the project, which stretches from Miami to Palm Beach. Demanding roughly $3 million worth of product, the project took about three years to complete. Virgin Trains USA is now preparing to launch phase two.
Aside from major railroads and transit systems, OMNI does a lot of work for cities, ports, manufacturing facilities and intermodal yards.
"We do a lot of work for industry clients," Cigrang says. "Steel mills and plant facilities run train cars throughout their facilities and need crossings."
Cigrang notes the company's workforce – about 45 employees total – is key to its dedication to delivering a quality product. Most of its employees are part of OMNI's manufacturing operation, which includes its own rubber factory. The company also has certified welders to create the frames for its concrete crossings.
OMNI uses a 24-point standard of compliance for ensuring quality, and it has achieved the M-1003 Quality Assurance Certification from the Association of American Railroads (AAR). This certification shows its operations were rigorously examined for the quality and effectiveness of the standards' implementation. The AAR audits OMNI's operations once a year to maintain its certification and remain in compliance with its railroad customers.
"We've been around for a long time and we have experienced people and we have a good reputation," Cigrang says.
The company has been in operation since the early 1980s, starting with the production of recycled rubber crossing surfaces – i.e. grinding up old tires – and eventually evolving with the industry to concrete crossings. Over the years, OMNI acquired other market players like Red Hawk Rubber Co. and Goodyear's rubber crossing business.