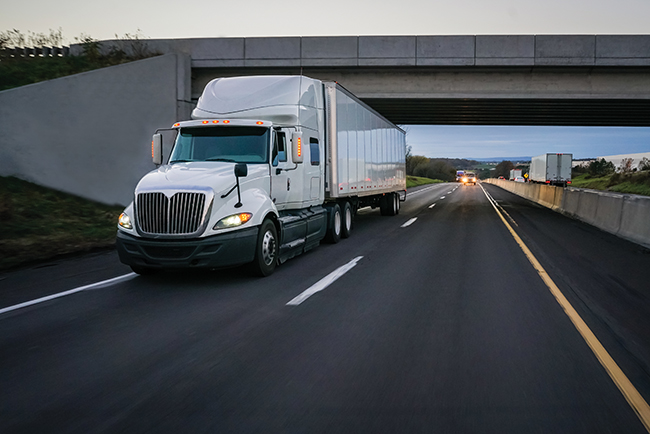 Fully autonomous commercial vehicles raise questions of being a danger or a solution.
By Susan Beardslee
Long-haul trucking remains challenged by the ability to hire and retain enough skilled drivers. As e-commerce continues to increase exponentially, drivers are aging out and the driver shortage will grow from 50,000 today, in the United States alone, to more than 174,000 over the next eight years, according to the American Trucking Associations, with turnover at larger fleets at 88 percent, despite increasing wages and incentives. Trucking companies, focusing on sufficient profitability, while battling price competition may need to seek new solutions.
Numerous companies, including new entrants like Tesla, Nikola, Uber, and TuSimple, along with established original equipment manufacturers (OEMs) and suppliers, are racing to enable highly to fully automated driving modes for commercial vehicles. Safety and security issues regarding autonomous vehicles have been questioned as Uber suspended autonomous testing of its automotive fleet after a recent pedestrian fatality and a Waymo vehicle was hit in a head-on collision. Autonomy also raises questions concerning job security for the estimated 3.5 million U.S. professional drivers and the changing roles and skill sets required.
Challenges Ahead
The U.S. Congress introduced the American Vision for Safer Transportation through Advancement of Revolutionary Technologies Act, also known as the SELF DRIVE Act, which would be the inaugural U.S. regulatory platform to support highly automated Society of Automotive Engineers' (SAE) Levels 3 to 5 vehicles. The regulation would provide exemptions for companies to operate test vehicles nationally without safety standards required by consumer automotive industries. The Senate proposed its own AV START Act, which has been blocked by five senators for further consideration due to opposition and objections that include the potential for risks due to cybersecurity, hardware or software defects, and privacy concerns. As of May, there had been no notable movement on either proposal.
Additionally, the commercial vehicle industry, including unions, proposed legislation facilitating the removal of heavy-duty trucking from the proposed bills. Their rationale focused on the fears of job losses, safety concerns and an unequal comparison to consumer automobiles. Heavy-duty trucking considerations that set commercial trucks apart include the hours of service, geographical differences in areas, and the hours of operation and weight limits in certain areas.
Both fleets and retailers are faced with the continued needs to reduce the time to delivery (TTD) and to remain cost competitive for both brick and mortar and e-commerce deliveries. Electrification, which is a precursor to autonomy, can address fuel and maintenance costs. Autonomy can impact TTD by prolonging travel time for the vehicles, perhaps only for recharging, or in earlier cases, to make a transfer to other drivers for off-highway/in-town deliveries or to change the back-up "drivers."
Additive technologies, including platooning, will further reduce both drag and human intervention. It is likely that the fleets will maintain a driver on board who can has the ability to take over operations in the leading truck of a platoon, with no drivers in the following trucks. This is expected to provide greater acceptance and faster adoption from regulators, drivers and the public, based on a lower risk profile than fully driverless platooning.
Still, a true end-to-end autonomous journey is expected to remain a long-term vision, with dense and complicated urban and suburban environments, and added risks of pedestrians and multi-modal transit. Initial Level 4 autonomy lends itself to braking, lane control and speed. Machine learning will need to grow exponentially for multiple use cases, including both weather and "trolley dilemma," or how a vehicle is programmed to make moral decisions in case of emergency. ABI Research does not foresee global SAE Level 4 autonomous commercial vehicle penetration even reaching 1 percent of new vehicle sales until 2026.
Concerns from drivers and unions center around such factors that include job losses, a change in scope/hours/privacy, and income loss. Additional risk comes from the determination of fault in the case of accidents. According to ABI Research, global autonomous commercial vehicle shipments for highly automated/SAE Level 4 (human intervention may still be required) are expected to be fewer than 7,000 vehicles produced by 2023, with Level 5 fully autonomous vehicles still expected to produce fewer than 5,000 per year by 2029, so the impact to drivers will remain muted in the foreseeable future.
Even in a highly automated environment, there is concern about issues occurring on the road. Recent accidents involving Level 4 automotive pilots, as mentioned above, include video, sensor and camera data, often made public to assess any contributing errors from the driver, which is also "trialed" in social media and press. Drivers do not want to take the blame for faulty technologies and want to control the data collected and shared about themselves.
Safety benefits have the potential to be a game changer, not only for the individual "driver" and fleet, but over time through the network effect of exponentially safer vehicles, both commercial and consumer, through advanced driver assist functionality. There is growing adoption in newer commercial vehicles for the following primary Advanced Driver Assistance Systems (ADAS) solutions: forward collision warning/mitigation, lane departure warning/lane keeping assist, adaptive cruise control (extension of the previous solution), blind spot detection, and turning assistant, along with a variety of OEM and aftermarket driver monitoring systems to detect fatigue and inattentiveness. These are expected to impact the rate of accidents and fatalities over the next five to 10 years as older trucks are replaced and new drivers are trained.
Benefits of a Human-Machine Pairing
The benefits of labor and asset productivity, fuel and time efficiencies, and, clearly, safety have significant implications on the adoption of highly automated and autonomous commercial vehicles. However, like with the airline industry, although automation is available, the risk of catastrophic events demands the presence of a human with the ability to assume control, with exceptions for vehicles on closed and low-speed roads. Regulation, as with many emerging technologies, tends to lag based on unproven scenarios, fear and potential impacts to jobs and safety. It is expected that a wealth of ADAS features will continue to become the norm, with decreasing Average Selling Prices (ASPs) and broader adoption. However, a highly automated future is not expected to become noticeable for years to come, with even Level 4 autonomy still minimally penetrating the market at less than 5 percent over the next decade.
Susan Beardslee, senior analyst at ABI Research, provides global intelligent transportation and e-freight research coverage, including commercial vehicle telematics, heavy duty and agriculture equipment technologies and multi-modal service models. She leads research on emerging areas such as analytics, prognostics, and over-the-air updates, Freight as a Service, gateways and electrification. ABI Research provides strategic guidance for visionaries needing market foresight on the most compelling transformative technologies, which reshape workforces, identify holes in a market, create new business models and drive new revenue streams. For more information about ABI Research's forecasting, consulting and teardown services, visionaries can contact them at 516-624-2500 in the Americas, +44.203.326.0140 in Europe, +65.6592.0290 in Asia-Pacific or visit www.abiresearch.com.