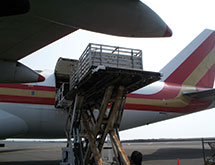 If you think working in the air cargo business wouldn't be much fun, you need to meet Beti Ward, CEO of Pacific Air Cargo. "Do you know what a small herd of Alpaca, a helicopter, a Boeing 777 engine, and a whale have in common?" she asks.
The answer: "All of these have recently been transported to their destinations by Pacific Air Cargo."
This fast-growing company is based at Los Angeles International Airport (LAX) and flies 747s to Honolulu most days and American Samoa weekly. "As an experienced express air cargo operation, Pacific Air Cargo's drop off time extends to midnight with assurances of a 6 a.m. arrival. Not many offer that kind of service," Ward says.
She continues, "Many of our clients are large freight-forwarders that tend to ship in bulk. Since our goal is to provide the best rates possible, we tend to mix dense and fluffy cargo whenever possible."
Handled With Care
Pacific Air Cargo has an outstanding reputation for the caring way in which it transports live animals. With drought conditions currently vexing Hawaii's big island, many of its cows are being sent to more hospitable environments. Sending animals via air transport rather than ships where they are caged for three weeks is certainly preferable, the company notes.
Pacific Air Cargo works closely with skilled veterinarians to ensure optimal success. "We take very seriously our responsibility in shipping all live animals, including pet ponies and race horses, as well as various pets of many of Hollywood's celebrities," Ward says. Pets travel in climate-controlled areas.
Pacific Air Cargo ships many animals such as cows and horses. One of its clients is the Parker Ranch, the largest cattle ranch in the nation.
This year the first ever 787-200 aircraft engine change in an "out line" station occurred and Pacific Air Cargo played a major role.
Japan Airlines reached out to Pacific Air Cargo to assist with the shipment of its 787-200 from Honolulu to Los Angeles. The move was a first in its partnership and was so successful JAL awarded Pacific Air Cargo with a plaque commemorating the services.
Challenges Overcome
Ever-increasing government regulations which require substantial paperwork, the cost of fuel and industry competition are all challenges that need to be met on a daily basis. As Ward says, "Pacific Air Cargo meets these challenges head on with diligence and hard work."
The LAX to HNL route is a competitive one. PAC works with major international passenger airlines to transport additional cargo and this is proving to be very successful. "They are flying the passengers and we can help with the cargo," Ward says.
Pacific Air Cargo's weekly flight into Pago Pago in the American Samoa has also been successful. Island inhabitants have limited access to transport so this market is solid, the company says. Aviation shipments are much preferred by many businesses for obvious reasons. Boats take much longer.
For certain cargo, such as fresh fruit and vegetables air transport is the only practical choice, Ward explains.
Founded in 2000, business is going well for Pacific Air Cargo. Increased demand has resulted in increased flights. The company is always exploring new opportunities and ways to expand in the Pacific market, the company says.
In the past several years Pacific Air Cargo explored ground handling opportunities and is growing its ground handling division ten fold.
Currently, Pacific Air Cargo handles five major domestic and international airlines in its Honolulu facility. The comany supports all aspects of aviation including the military.
"Pacific Air Cargo's staff is dedicated to improving your operations and service to your customer," the company says. "Ground handling service include, but are not limited to, mail and cargo build up, fueling, all ground support services, and service equipment for any cargo aircraft."
It is also notable Pacific Air Cargo is a woman-owned business. "I am proud to be a woman in the transportation management industry," Ward says. "In the past 15 years, more and more women have found their way into this business. Whether it's the softer touch, attention to detail or concern for employees and customers, many women have found success in this once male-dominated industry. I take an active role in the organizations that promote women in our business and support their personal growth." Company projects include support of the Pacific Aviation Museum and the Fisher House Foundation.