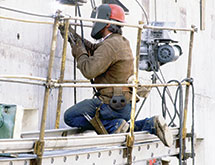 It's a rule of thumb on land and it's equally important on water – one of the most important aspects to the success of any business is location, location, location. LEEVAC Shipyards LLC is an operator of full-service shipyards in the United States. With its own in-house design team, the shipbuilder draws on its state-of-the-art facilities, the latest technology, steel fabrication capabilities and highly skilled craftsmen to design, fabricate and repair clients' vessels.
But with all of its skills and resources, Vice President of Business Development and Engineering Dan Gaiennie explains that without the right location, none of those things really matter. "A lot of our success comes down to having the right place at the right time, and having the right size of dry-docks," Gaiennie says.
LEEVAC's facilities are strategically located in Lake Charles, Jennings and Houma, La., all along the Gulf Cost Intracoastal Waterway. They are close to the Gulf of Mexico, which contains the largest U.S. concentration of offshore oil platforms and drilling rigs and the offshore service vessels that support them – LEEVAC's largest customer base.
The Jennings facility is the oldest of the three, covering more than 180 acres on the west bank of the Mermentau River, which intersects the Intracoastal Canal – the main artery of marine transportation on the Gulf Coast and a direct passageway to the Gulf of Mexico. It also houses more than 100,000 square feet of covered fabrication area. Its many equipment features include a new plasma cutter that was installed in 2013. The shipbuilding team at Jennings can launch vessels up to 700 feet long. For all of its capabilities, however, the Jennings location does have its limitations, which is where its sister facilities come into play.
New Neighborhoods
"Most of the work at Jennings is new construction," Gaiennie says. "Five years ago, some customers asked if we would ever get into repairs. It took us a year or so to find the best place to locate. We needed one that could handle deepwater vessels with no bridge or water-depth restrictions."
LEEVAC found a 10-acre Lake Charles location on the Calcasieu River, just one mile from the main ship channel and Gulf Intracoastal Waterway. The facility is located 17 miles from the Gulf of Mexico and has no air-draft restrictions. It's also deeper than the Jennings location.
"Certain boats, like a tug boat, even though they are light, use a lot of horsepower for its size and can draw 15-plus feet of water," Gaeinnie says. "We have 12 feet of water at Jennings, but Lake Charles has 45 feet of water. So we can transfer those boats to the other facility and launch from there. It gives opportunities to build out our portfolio."
Likewise, its Houma facility also provides capabilities not found at its other two locations. The Houma yard, located 26 miles from the Gulf of Mexico, includes 10 buildings and 110,000 square feet of covered construction area, including a full-service machine and fabrication shop with blasting and coating capabilities. It was previously owned by Tidewater and purchased by LEEVAC last year.
"At Houma, we are able to do some assembly work and support the shipyard in Jennings," Gaiennie says. "Many of the vessels go to Houma to finish up construction because whenever you build a new vessel, you have to do testing and commissioning before the boat is delivered to the owner. Many of the vendors we work with have a presence in Houma; for instance, those that test the propulsion system, the electrical plant and support systems."
The Houma shipyard allows LEEVAC to get those services done quickly and efficiently without paying associated per diem and travel costs.
But as important as having the right location is to LEEVAC, Gaiennie stresses that having the right people is just as crucial to the health of its business.
"We can do design/build," he says. "Whereas many others have to use third-party firms, we can be more nimble and flexible. On the repair side, it's about trying to get the best people out there, having the right size of dry-docks and being responsive to customer needs."