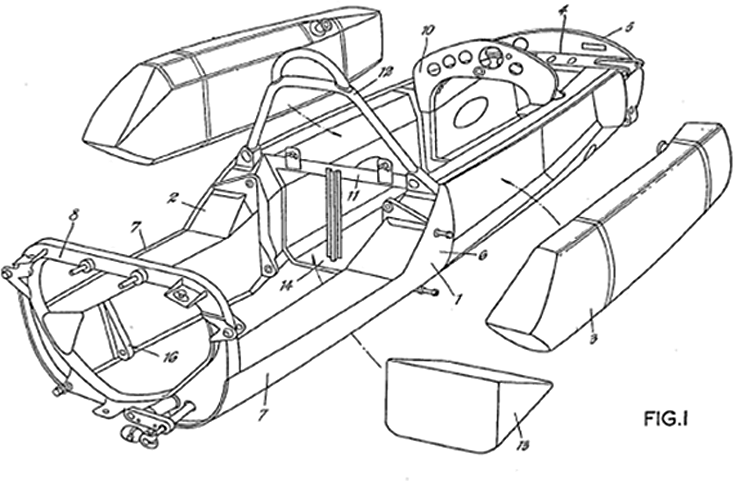 With the 2021 Formula 1 season underway, this patent of the month takes a closer look at a motor racing invention dating from the 1960s.
Although Lotus Motor Racing had enjoyed reasonable levels of success, it was Colin Chapman's patented monocoque invention that came to dominate the sport throughout the 60s and 70s, and is still utilized in Formula 1 today.
Throughout the early years of motor racing, the conventional technique for constructing a motor vehicle was to provide a space-frame chassis formed as a truss of tubing, with an outer covering forming the vehicle body. However, Chapman overhauled this convention with his 'body-cum-chassis' monocoque technology, as described in GB Patent 1021561.
The patent describes two D-shaped tubular members extending substantially along the length of the vehicle body, cross-braced by the engine. In this way, the tubular members have a dual function – providing the body for the vehicle, enclosing and protecting the driver, and the structure of the chassis, supporting the engine and connecting to the suspension struts.
The combination of the body and chassis provided a far stiffer and lighter construction for the Lotus 25. Chapman went on to secure his first World Constructor's Championship win with the car in 1963, and setting the basis for the domination of Lotus well into the 70s.
Alongside the core invention of the monocoque, the patent also included a reclined driver's seat, which reduced the frontal area of the car, reducing drag and providing the characteristic 'bathtub' pose that drivers have maintained to the present day.
However, one element that has not persisted is the position of the fuel tanks. Located within the monocoque tubes on either side of the driver, this integration of the fuel tank may have led to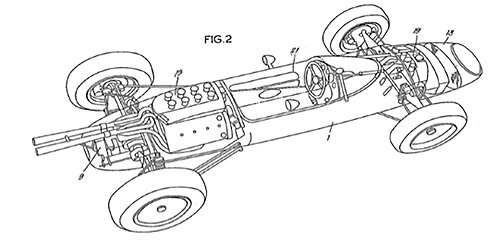 the poor safety record in Formula 1 throughout the 70s and 80s. Nevertheless, the more robust arrangement of the fuel tank in modern cars, coupled with the general monocoque concept shows how a patent may be taken and developed, leading to further improvements in the design.
This important patent, filed in mid-1962, and the associated success of the Lotus motor racing team, shows how a single inventive concept may be sufficient to give a clear head start over the rest of the field. The adoption of the monocoque, which is now omnipresent on the Formula 1 grid, is evidence that this invention truly altered the direction of motor sport and formed the basis for the modern Formula 1 car.
Diego Black is a partner and patent attorney at European intellectual property firm, Withers & Rogers. Withers & Rogers LLP provides expert advice on the protection and enforcement of IP rights particularly for inventions, designs and trade marks.
www.withersrogers.com