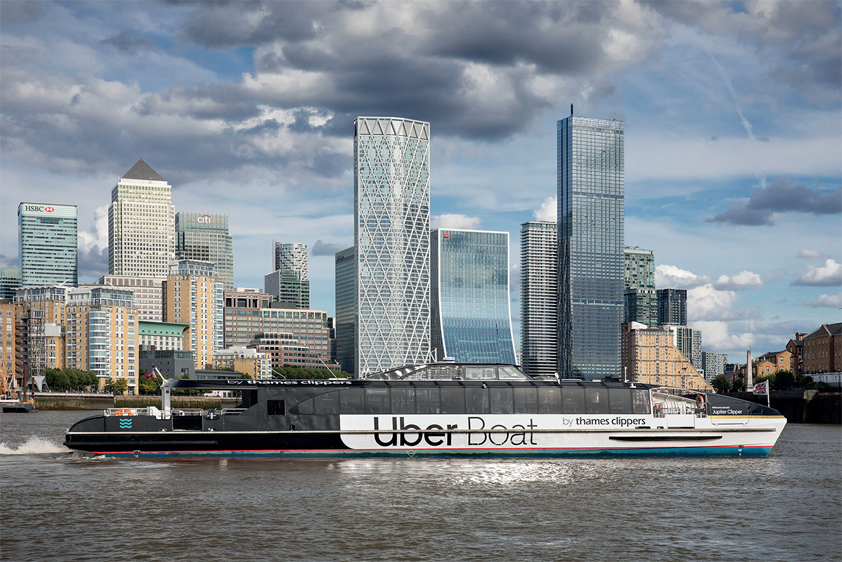 Uber Boat by Thames Clippers
Tube of the Thames
One of the most active passenger boat operators – Uber Boat by Thames Clippers – is keeping Londoners connected to the rest of the city through innovative and safe river travel
The River Thames, one of London's lifelines, flows for 215 miles from Gloucestershire through London and out into the North Sea. Woven amongst the English megalopolis, the Thames serves as a drainage basin for the city, as well as a conduit to experience England's capital: by boat. Each year, there are approximately ten million passengers carried on the river, whether through river tour experiences, dinner cruise functions or corporate hospitality.
Since 1999, Thames Clippers has been riding the waters of the River Thames to provide residents and tourists alike with river bus services to explore London. We speak with the co-founder and CEO of the business, Sean Collins, about how the business is making its mark in London's many means of transport services. "I was chatting with somebody the other day who was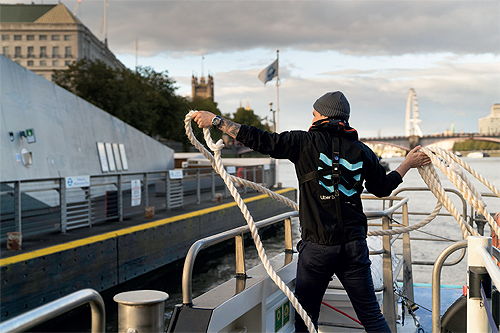 boarding one of our boats for the first time just after lockdown, and her husband said that they were so pleased to be getting out and were able to walk elsewhere other than just around their local neighbourhood," he says. According to Sean, the couple were heading from Surrey Quays to Embankment, to walk around Hyde Park and then meandered their way back to the pier to head home. "I think this form of travel just broadens people's perspective as to what is on their doorstep without having to travel too far," Sean adds.
During its one-vessel fleet beginnings, the business ferried passengers between the Surrey Quays Pier and Woods Quay (formally known as Savoy Pier). Thames Clippers grew quickly to serve wharfs between the city's east side right through to Embankment. In 2000, Sean purchased the company's first 220-seater Hurricane Clipper, which would go on to be one of the most exciting developments for the business, bringing its fleet up to four vessels. "Our fleet back then was often used by morning commuters and because the route connected the two Tate Galleries, we saw many tourists join us for a day out as well," he tells us.
In 2005, following the tragedy of the London bombings, Thames Clippers' patronage grew by 80 per cent almost overnight owing to the fact that Londoners found it far safer and more comfortable to commute by river. Then, in 2006 AEG owners and operators of The O2 acquired a majority stake in Thames Clippers and invested substantially in its fleet, enabling the business to expand its operating routes and carrying capacity. Recently, Thames Clippers teamed up with Uber in a joint partnership, Uber Boat by Thames Clippers, to encourage more people to travel by boat around the city and support the ongoing expansion of the river network across London, at no change in ownership for Thames Clippers or AEG.
Thanks to these impressive developments, the river bus service now ferries around 4.5 million passengers a year between 23 piers with a 20-minute frequency, and it plans to keep growing. Although Uber Boat by Thames Clippers currently operates between Putney Pier in the west and Woolwich in the east, this year it is moving to extend that route to Barking's riverside.
With new housing developments happening in Barking, Sean notes that the decision to extend was a logical one. "There is a mayor-backed housing scheme that is being developed on the site of the old Barking power station and it's set to facilitate 10,000 homes with over 30,000 occupancies by 2030, which means there are going to be significant transport demands placed on it," he states. This expansion is one that Sean is particularly excited about and is looking forward to opening up access to another part of London.
The ability to extend its operations is a reflection of how willing the business is to invest into its own fleet and infrastructure. "In the last six years, we've built our lightest class vessel called The Hunt Class, which consists of five new vessels. Two of them were built in Hobart, Tasmania, and the subsequent three vessels were built on the Isle of Wight by Wight Shipyard. Of those three, one was delivered in February 2019, called the Venus Clipper and is our biggest vessel in the fleet, with a carrying capacity of 224 passengers," Sean elaborates. This new fleet is designed to meet the class requirements of the high-speed craft that Uber Boat by Thames Clippers is proud to operate, as well as being able to navigate the extreme tidal constraints experienced on the route between Putney and Westminster.
Another challenge is the height restrictions of London bridges. "Once you get beyond Westminster, the bridges are a lot lower, which means less water in the river and obviously causes a constraint in the design of the vessels. However, with the help of our naval architects, we have been able to introduce the best and most economical vessels that operate with the same capacity, same speed at two-thirds of the power," Sean highlights.
On the people side of the business, Uber Boat by Thames Clippers is proud of the company culture it has curated over the years; a culture that encourages anyone with aspirations for a career on the water to train through Uber Boat by Thames Clippers and achieve the level they feel comfortable with. Three years ago, Uber Boat by Thames Clippers appointed its first all-female crew, with three of the four women achieving their Boatmaster's License through Uber Boat by Thames Clippers. For Sean, this is one of the attributes of the business that sets it apart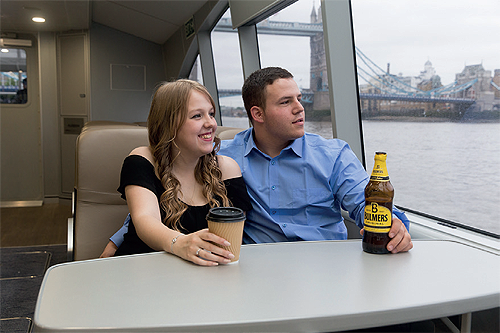 from other passenger boat operators. "We very much create a growth and career opportunity, culture, within our business and currently 73 per cent of our masters are trained in house," he highlights. The traineeship programs helped the business expand its crew to an impressive workforce of 400 members.
Over the past 12 months, however, it goes without saying that the Covid-19 pandemic did not make for smooth sailing for the team. "It was a very daunting time. We didn't receive any subsidies because we weren't considered an essential service. We had to judge what point we could continue to operate to support many of our communities who were essential workers. We had to shut down for three months and recommence in June 2020, sadly with 20 per cent less headcount. That meant that we had to rethink the routes we were running to accommodate those setbacks," he shares with us.
Despite these difficulties, Sean is hopeful that his company will bounce back, with new improvements to the changing climate that the pandemic forced on his business. "I'm positive that the business will recover. It's going to be slow, however, if we look at the performance since we commenced at the beginning of March, we have surpassed the average occupancy we thought we would be carrying. People who have never used us before are now becoming frequent riders recognizing we're a safe form of transport, and within a year we will surpass our pre-Covid-19 performance."
Sean's optimistic projections were later confirmed when, after a competitive procurement process, Transport for London (TfL), awarded Uber Boat by Thames Clippers the tender for the Hammersmith Bridge replacement, giving it the responsibility of designing, building, delivering and installing the two piers on the north and south shore. "We're fortunate to have three 62-seater vessels that are capable of delivering the requirements of that route. We have a highly-skilled workforce, and I know we have the ability to train and develop the processes and concepts with our staff to deliver that in a very short period of time." The business is contracted to deliver the replacement service by early October, but given the fact that locals in the area have been without a crossing for over a year, Sean is determined to have this service up and running as soon as possible. "Many school children, workers, communities depended on that path for access to the other side. We've got to get the planning and concurrently refurbish and modify the infrastructure that's going to go in and get new infrastructure built. If we can achieve that, we would really like to see the service commence when children go back in September," he emphasizes.
Subject to approval, fares for the service are expected to mirror buses at £1.55 and would include the 'Hopper' option, which allows people who arrive at the ferry by bus to change to ferry at no further charge as long as commuters change within an hour of their journey's start. The fares will also provide freedom passes and free travel for children.
Sean is proud to say that Uber Boat by Thames Clippers has grown faster than any other form of transport in the capital over the last two decades, and more and 25more people are seeing the benefits of travelling by river. "With the continued phase development of existing destinations like Battersea Power Station and Barking, not to mention the hope of the return of tourism, I think that one thing that is really resonating with our customers is the great outdoor spaces that are alongside the river, and the fact that they are now more excited to experience these than they've ever been," he adds. Uber Boat by Thames Clippers is just as excited to welcome back every Londoner and UK citizen visiting the city, to return to the fantastic riverside attractions embedded in London's culture.
Uber Boat by Thames Clippers
https://www.thamesclippers.com
Services: Passenger boat operators