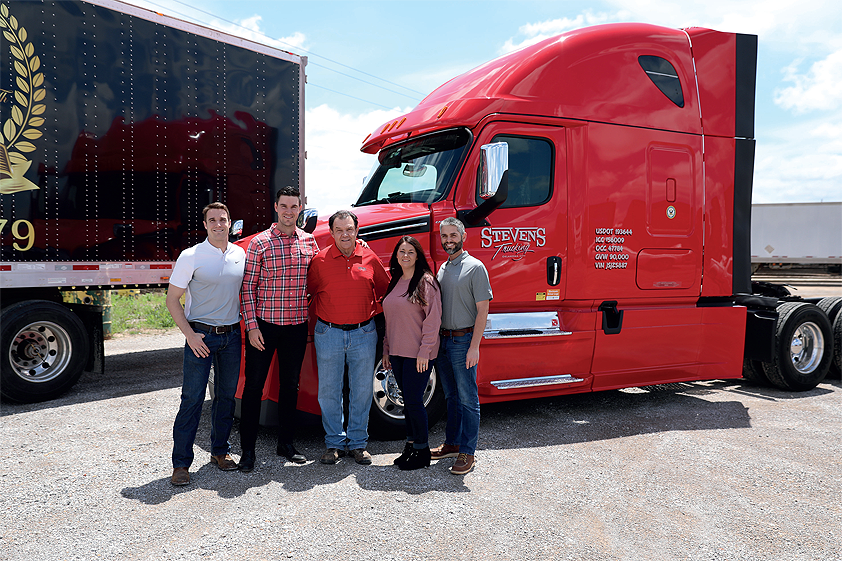 In it for the long haul
Successful expansions are not quick achievements and Stevens Trucking knows this better than most, which is why it is one of the best in the transportation business
At the age of 18, Kenney Stevens bought his first one-ton hotshot truck; it was the truck that would kick start the Stevens Trucking business. Speaking with Kenney, the Founder and President, he tells us about the state of the trucking industry and how his family business rode the highs and lows of the oilfield and dry freight sector for almost 40 years.
Founded in 1979, Stevens Trucking operates in Oklahoma in the US and the surrounding 48 states, with over 1,000 trailers and over 300 tractors between oilfield flatbed and dry freight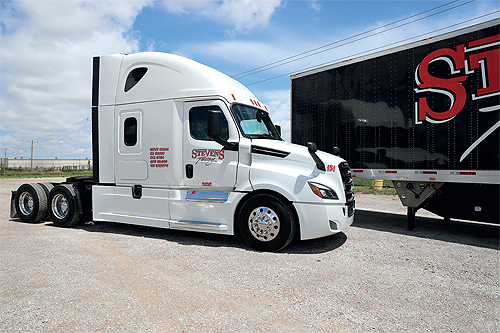 divisions. "When we started out, we were just doing oilfield, but then oil fell to eight dollars a barrel and we were buying diesel for 73 cents a gallon – that's when we looked into dry freight. So, we started pulling containers for Hobby Lobby and then we started moving clutches for Eaton Corp, and now we're up to 275 freight trucks, and about 20 in the oilfield," Kenney tells us.
Despite this impressive journey, Stevens Trucking has not always had an easy ride. "There was a time about three or four years ago when I was ready to throw in the towel because I felt so worn out. Then, my three sons said that they would haul together and push through. Since then, it's been a 24/7 365 business," Kenney shares with us. The support that he received from his family has been a crucial fire to the keeping success of the business burning and has helped Kenney get back on track. "Now, we've actually doubled in size in the last three years, with a blue-chip customer base," he states. Kenney has been able to diversify the company enough to ensure that if one industry struggles, his trucking business will not feel the effects. The company now hauls tires and auto parts, and maintenance parts for four of the top major paper products companies, as well as water and food products. This is also what helps set it apart from the business – this, and service delivery. Kenney is determined to weave into each driver's trucking values that attention to on-time delivery detail is critical to its success. "I say to them: 'You're the first person that people see.' We could take orders from all around the world but if we can't deliver on time, we are going to fail," he emphasizes.
The drivers at Stevens Trucking are the inner workings of the company and, driven by Kenney's leadership, are part and parcel of the business's continued growth. Inspired by his family support and dedication to see the Stevens name succeed, Kenney instilled the same values and care into the company ethos in order for his drivers to feel safe and secure. "We've helped lead by example. We're always around and not out playing golf. My boys are always here, because it's a family business. We want to create a family atmosphere so that every driver feels part of the family and not just part of a corporate deal where they're just another member," he informs. Kenney is determined to ensure that everyone works closely with the middle level of the business to avoid any sense of hierarchy where management is out of reach.
This approach ties in nicely with recent technological improvements that the Stevens family have put in place to prioritize driver safety. "We've installed new camera equipment with the forward and in cab-facing trucks, which is pretty controversial with truck drivers," he highlights. The cameras have served as an insurance for the business and for the driver's peace of mind. "If you're at fault, you're going to pay but half the time, the cameras showed that we weren't at fault and now we can prove that," Kenney states.
The business also installed the TMW Go App, a mobile application that allows users to view critical company data at any time from the convenience of a smartphone. By utilizing the app, Stevens Trucking has been able to improve the way it sends through paperwork from its drivers through to its homebased system. "Added with that, we also just incorporated an app here in the last couple of months called Work Hound, which is a sounding board for drivers to be able to communicate with management about an issue anonymously. This gives us feedback so that we really know what's going on in the company," he shares.
Maintaining open communication, and caring for the employees is what enabled Stevens Trucking to survive the Covid-19 pandemic, doing surprisingly well despite the difficulties. "We were having a record month before the pandemic hit, then we were down about 25 per cent which is not bad for the market. Thankfully, since then we've been up about 110-120 per cent capacity and each month we're setting new record miles. This efficiency is also allowing us to maintain the safety precautions that were put in place to ensure each driver felt comfortable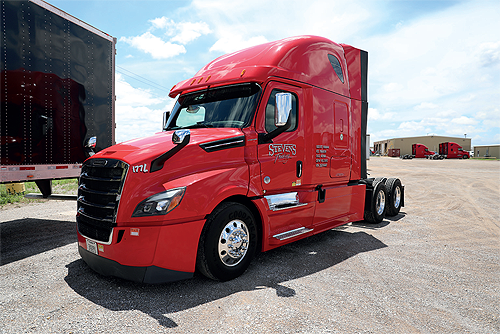 working in an enclosed space," Kenney highlights. According to Kenney, as soon as the pandemic hit Stevens Trucking in April, he was providing everyone with company face masks, hand sanitizers and gloves – all free of charge. "I didn't quit buying because I knew this was long-term and so we brought new cleaning crew in every night to wipe down each door handle, each desk and every knob just to try keep our people safe," he emphasizes.
While Stevens Trucking is determined to leave a legacy of impressive service delivery and a motivated company culture, Kenney believes that the transportation industry needs to make significant improvements in order for senior management to take better care of their drivers. "Insurance is sky high, driver pay is too low and we can't raise it because we pay out what we get paid for the services," Kenney says. He continues to tell us that this is going to have greater consequences on the recruitment process, because the age-range of drivers is skewing towards those who are ready to retire, and there is an urgent need for a younger generation of drivers. "We are becoming fewer and fewer and more are retiring, which means they don't want to mess with a lot of the equipment for electronic logs, so we need to grow in recruiting younger people. That's why I think the shippers need to get prepared to pay more and, you know there just needs to be a little more loyalty between the shippers and the trucking companies. Because there's not at the moment with some specific customers," he elaborates.
"We want to lock in good, fair rates where we can to make the margin pay for our drivers better because they've got families they need to support and being away from them isn't easy," he informs us. This is one of the driving motivations for why Kenney is passionate about long-term growth for Stevens Trucking. "Of course, we are going to keep going, but rather than just chasing that spot market dollar, I'm looking at steady expansions because the people who are after quicker cash will go out of business fast. We're more long-term – like the turtle, slow and steady," he says and chuckles.
Despite the many improvements needed within the transportation industry – added with the business's spectrum of challenges over the last few years – Kenney remains hopeful that his company will continue to experience an upward growth. "We're picking and choosing our customers now so that we work with customers who also care about having a good working relationship. We've got new equipment coming in, we're looking to buy and grow as much as we can," he adds.
Throughout the highs and lows of the Stevens Trucking journey, it is clear that this tightly knit family are going to continue to strive to make the transportation industry safer and more supportive for those who keep it going, and Kenney is determined to keep the lessons he learnt from his sons at the heart of what he does as he continues to adapt to the ever-changing industry. "I couldn't have grown like this by myself. For so long, I had to make every decision and make sure everything ran smoothly then by getting my boys involved it has relieved a lot of pressure off me. And on top of that, they're younger and more familiar with technology and that's helped me let go of this constant change," he ends.
Stevens Trucking
www.stevenstrucking.com
Services: Dry freight and oilfield trucking