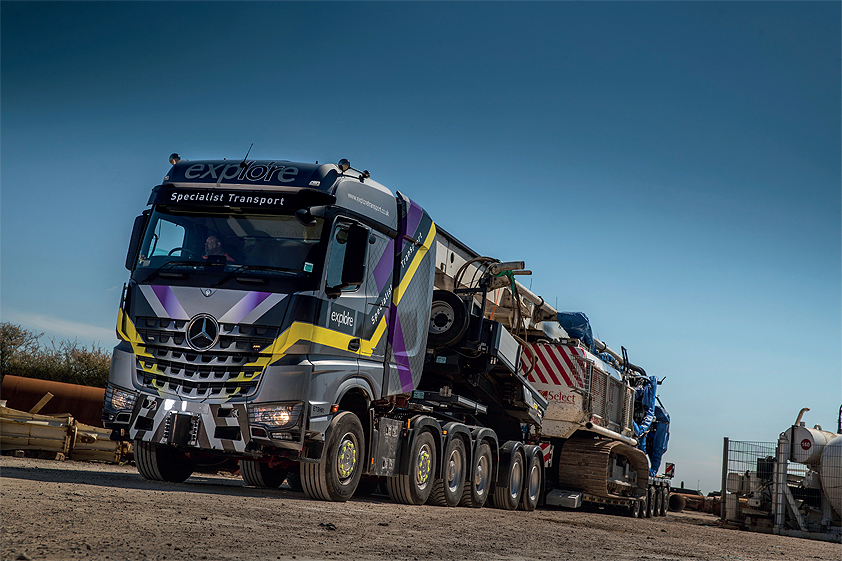 Safety first
As a specialist supplier of transport and plant hire services to a wide range of industries, Explore Transport fuels itself with safety, service and efficiency
With a 50-year combination of construction logistics and haulage expertise, Explore Transport houses one of the most diverse and modern ranges of plant equipment, small tools, formwork and falsework systems. Although the headquarters is based in Worksop, the business facilitates a network of seven depots nationwide, and has grown to encompass 150 trucks, 6,000 plant hire assets and, providing services in both the transport and plant divisions. Despite being a fairly young company, the company's Operations and Commercial Director, Daniel Thompson, shares with us how the business has succeeded in expanding its fleet and services in the space of six years.
"We started in 2015, so we are relatively young, and we were born out of a joint venture with two of our main shareholders. One in the construction sector, the other from transport, and that's how we've come to specialize in those two fields," Daniel tells us.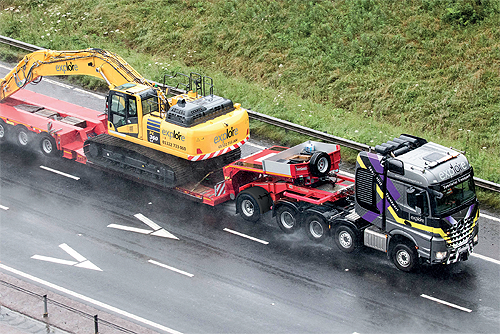 In 2017, the business invested in adding plant assets to support a larger customer base in order to encourage that aspect to grow on a similar trajectory as its transport sibling. "Albeit it's a few years behind, we've got some good quality customers in the plant side, so that's part of the business that we're looking to grow and invest in over the coming years," he shares. While juggling these two divisions, Explore Transport has been able to diversify its portfolio to support a range of customers. "There really are two main specialties to our transport side: the general haulage, and then what we call specialist transport, and we have also started a mixer truck business in the last couple of years. Then on our plant sector, we are very much construction and infrastructure focused, so heavy plant equipment, excavators, and dumpers. And then we do some high-end survey, lasers, total stations, and small tools. We've got a full marking full truck product offering as well," Daniel adds.
Even though the company has been focusing its attention on branching out into other sectors, Explore Transport never fails to prioritize the importance of safety and quality within its team and throughout its operations. "From the recruitment phase and the training of our team, everything we do is focused purely on getting the job done as safely as possible, which means that commercially, we're not the cheapest but that's the route that we choose to go for to save lives," Daniel explains. The company ensures thorough work when it comes to driver training for three reasons: the risks around the transport business are obviously high; vulnerable road users need to be considered and load security has to be at the top of Explore Transport's agenda. Daniel notes that when the company recruits people, potential employees are sourced from a large pool of experienced labor who are already familiar with what the job requires. "We then go further and place a huge emphasis on our training induction. I would consider this
to be an industry-leading induction process in terms of the time that we take between recruiting someone and sending them out onto the road," he remarks. He goes on to note that Explore Transport has also implemented a driver feedback forum that allows the drivers the opportunity to give feedback and driver representatives are based in most of its main depots to provide support networks to drivers.
While looking after its workforce is key to ensuring the company's success, Explore Transport has also invested in additional measures to care for its fleet and facility assets. Recently, the business implemented systems for load securing and manual handling, which provides staff with a visual guide of the main types of loads they need to move as well as how the goods should be correctly loaded and secured. "That way, if anyone is working with something they're not familiar with, then at least they have a visual reference to guide them through that job," Daniel remarks.
Considering the value of the equipment that the company houses, these measures seem essential, and it continues to invest in expanding its assets in order to be a one-stop solution for many customers. "Our fleet ranges from cordless power tools to 36-ton excavators, which gives us a great selling point and I think from a customer point of view, it also gives us that ability to service a lot of requirements and prevents clients from having to go to two or three different suppliers," he elaborates.
Other channels it is exploring involve incorporating the use of data into its operations to understand what the business already possesses and how its machinery can be utilized to the best of its abilities. Given the fact that much of the equipment uses telematics, the team is equipped to analyze each machine's emissions data to better understand how much fuel is being used in its current environmental performance, where it has been and how long it has been in use.
On the note of the environmental factors, which are becoming more and more important to customers, Explore Transport has also been looking into ways in which the plant side of the business can decrease its carbon footprint, and two key changes are starting to take place: firstly, it is investing in transferring to be more fully electric to move away from petrol and diesel, and secondly, the business is exploring HVO fuel, which is an alternative fuel based on the hydrogenated vegetable oil that helps with significant environmental savings when compared to diesel. Daniel emphasizes that Explore Transport has invested very heavily in terms of making sure it has the cleanest, best performing diesel engines that are available at the moment. "Unfortunately, there isn't really the electric technology to support the type of operations that we have, so we have to be a bit more innovative. We work quite closely with Scania as a main manufacturer there. They are developing some technologies coming through that we want to work with. But in terms of sort of distances and ranges, it's just not there yet," he says.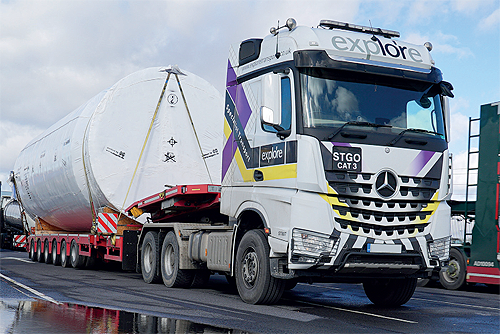 Part of the reason why the business is investing in the latest technology is because of the appeal it wants to provide to recruiting younger people. "A big part for us will be growing our work sustainably and this also means in the sense of people. Finding young people is a huge challenge at the moment, even with the amount of growth that we're seeing this year. Finding, attracting and recruiting the right people, as well as retaining the good people that we've already got is a huge challenge. So, I think growing the business in a way that provides an exciting and fulfilling environment allows us to hopefully tap into attracting more diversity into our business," Daniel highlights for us.
Added to the expansion the business already has under its belt, the pandemic even allowed the business to explore other sectors that it could consider providing for. "We ended up supporting a lot of the work delivering to various supermarkets and supermarket distribution centers. In the early phases, when there were real shortages going on, where construction perhaps dropped off, we were able to pick up that type of work and help out where we were needed," comments Daniel. Despite the setbacks that Covid-19 forced on many businesses, a hefty amount of investment continues to be pumped into the construction and infrastructure sector, allowing Explore Transport opportunities to work on a few major projects such as the Hinkley Point Power Station. This has given it the chance to support different customers and demonstrate how the business focuses on providing value for money, as well as guaranteeing public and environmental safety.
Looking further ahead, Explore Transport is determined to use the challenges the industry is facing as a spring board to adapt and grow from. "I mentioned earlier that we started a mixer truck business a couple years ago. That very much was for us to learn in that business and how to operate in that sector to work on new projects, which seems to be coming to fruition now. We're hoping to secure a couple of big contracts through that. We're working with our customers over two or three-year period across that project, which is a significant win for us. So that's something we've worked hard on. We're already having early conversations to work with Sizewell C and the lower Thames crossing, but those are still in their logistics phases," he lets us know.
By ensuring the highest quality for the smallest details such as how vehicles are presented on site, tracking its machinery, and ensuring drivers are trained to know where the correct routes are when they arrive, Explore Transport is taking thorough work ethics in the transport and plant industry to new heights, and considering how much it has achieved in the last six years, there is no telling how far this company will go. With hopes of being included in opportunities to get involved with the supply chain, the business is excited to grow in its capabilities and share its expertise to support the construction of a safe built environment.
Explore Transport
https://exploretransport.co.uk/
Services: Supplier of transport and plant hire