Porsche Cars North America Inc.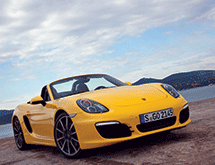 One of the world's most recognizable luxury sports car brands is not content to rest on its decades-long reputation for quality and performance. Instead, Porsche seeks to grow its market share in North America by introducing new vehicle models, building new facilities and making investments in new technology.
"I'm extremely proud of our product and where we rate in quality and appeal," says a spokesman for vehicle logistics and port operations for Porsche Cars North America Inc.(PCNA), the brand's exclusive importer of sports cars and sport utility vehicles to the United States. "We have a strong heritage in our company and a customer base that is extremely passionate about the brand, and I'm very proud of where the company is going."
New to the Market
The company in March 2014 received the first production models of the 918 Spyder, one of the fastest and most fuel-efficient sports cars in the world. These cars should be delivered to the first customers in the end of May.
The 887-horsepower 918 Spyder features two electric motors and a combustion engine, allowing it to run in multiple power modes. One mode allows it to travel roughly 18 miles on electric power alone and a hybrid mode, where both the electric motors and combustion engine work in parallel to power the vehicle. "The Spyder reflects our focus on the environment and desire to be green without compromising Porsche's reputation for performance, Porsche Intelligent Performance," the company says.
State-of-the-art green technology is also used in Porsche's new Panamera S E-Hybrid, a plug-in hybrid four door sports sedan with a total output of 416 horsepower, which began shipping at the end of 2013.
PCNA in May 2014 began importing the Macan compact SUV, which will compete in the B-SUV segment against vehicles such as the Range Rover Evoque, Audi SQ5, BMW X-3, or the Mercedes GLK350. "What we've seen so far is that the Mecan will, without a doubt, be a leader in that segment from a performance perspective," the company says. "Porsche believes this can eventually become a No. 1 volume car for the company."
The company is also importing a number of new variants of its existing sports cars. These include a model of the 911 with a retractable glass roof, called the 911 Targa, as well as GTS variants of the Boxster and Cayman.
The variants and new models reflect the company's dedication to product development. "Our engineering team does a phenomenal job of constantly looking at our products and designs," Porsche says. "Porsche doesn't allow any of our models to get stagnant; every couple of years we either have a refresh or a completely new vehicle being launched, and we do a good job staggering new models so we're refreshing our line during the right time of year. Our manufacturing team in Germany makes sure we always have exciting new products coming to market."
Porsche's manufacturing efforts in Germany were recently bolstered by an investment of 500 million euro to the Leipzig factory in eastern Germany, where the Macan will be produced alongside the Cayenne SUV and Panamera sports sedan. "This commitment by our German parent company shows just how important the U.S. market is to Porsche's overall growth," the company adds.
Making Big Plans
Porsche Cars North America's plans for the remainder of 2014 and the next few years extend beyond introducing new car models to the market. Work continues on the company's roughly $70 million new headquarters building in Atlanta, located on a former Ford Motor Co. assembly plant site near Hartsfield-Jackson Atlanta International Airport.
"With its combination of conference facilities and attractive supporting programs, breathtaking architecture, variable meeting rooms, and modern equipment, the Porsche Experience Center in Atlanta will create a bold and dynamic experience that reflects the authenticity of Porsche products and services as well as the company's character," the company says. The 26-acre campus will include a two-mile test track for its cars, as well as training and delivery centers. The headquarters will house roughly 270 employees, who anticipate moving there in January 2015 or earlier.
The test track – which will include special areas replicating rain, ice and snow conditions – is the centerpiece of what PCNA calls an "Experience Center" located at the headquarters. A similar facility is also under construction in Carson, Calif., near the Los Angeles International Airport. Both facilities are modeled after a facility that opened its doors in November 2008 at Silverstone Circuit, the home of British motorsport, in England.
In addition to the test-driving area and classes offering behind-the-wheel techniques, the centers will also offer personal fitness, wellness and athletic performance programs. A Porsche Human Performance Center on site will feature a sports science laboratory and offer programs that incorporate training techniques used by Porsche racecar drivers.
"Just as competitors in motorsports need to be physically comfortable under the unique stresses that racing places on the mind and the body, the Porsche Human Performance Center will use state-of-the-art laboratory testing equipment to assess your individual sport specific fitness profile," the company says.Porsche's long legacy of racing entered a new chapter in 2014, when it made its return to the 24 Hours of Le Mans endurance race in France in June. The company entered a turbocharged hybrid prototype racecar, called the 919 Hybrid, marking Porsche's first full factory-supported racing effort in the top-tier class at Le Mans in several years.
Quality First
PCNA works hard to ensure the quality of Porsche's vehicles during their journey from their factories in Germany to the moment their new owners take the keys. The company's vehicle logistics and port operations team oversees all ocean freight shipments to the United States and Canada. "We are responsible for the processing and throughput of all new cars inbound to dealers and all port quality actions, and oversee all the preparation for cars that go into company service as well as the refurbishment of those cars as needed," the spokesman says.
The company receives cars into four ports in the United States – located in Providence, R.I.; Brunswick, Ga.; Houston and San Diego – as well as a port in Halifax, Nova Scotia. From these ports, the operation ships cars to a network of 190 U.S.-based dealers and 15 dealers throughout Canada.
Rail is Porsche's largest method of transporting cars in Canada, while trucks are used almost exclusively in the United States. "Porsche is the only automotive OEM in the United States who still uses 100 percent enclosed transportation as opposed to using open trucks," he adds.
Several port and shipping partners help the company get cars to their destinations. These partners include Wallenius Wilhelmsen Logistics (WWL), a Norway-based transportation and logistics company who processes vehicles arriving at the Brunswick port; PASHA, who processes vehicles in San Diego; Turning Basin who processes vehicles arriving in Houston; North Atlantic Distribution, Inc., who processes vehicles arriving in Providence; and Autoport and CN Rail, who process and ship from Halifax.
"Porsche Cars North America focuses very hard on quality and making sure that in our supply chain we use the best processes and work with the best trucking companies and third-party suppliers to make sure we not only keep the quality of the product but deliver a quality product to dealers and ultimately customers," the company says. "We're very staunch when it comes to damage and making sure our vehicles are in the condition that is expected of our brand experience."
Lean Processes
Porsche's logistics and manufacturing processes are distinguished by the company's focus on efficiency. On the manufacturing end, this includes utilizing lean manufacturing processes and manufacturing cars from lighter-weight, more cost-effective materials.
On the port logistics front, Porsche keeps cars moving by communicating with its vendors. "We are extremely close to our suppliers and think we do as good a job forecasting product lead-times as any OEM and communicate with our suppliers so they can maximize their load efficiency and overall capacity plans," the company says.
In addition, Porsche's logistics operations run smoothly because the company does not customize cars before they are loaded onto trucks or while they are in port. Other manufacturers, that build lower-priced vehicles for import to the United States, add customization elements to their cars once the vehicles arrive in North American ports because the labor costs are lower. However, this can result in longer processing times in port while vehicles are being customized.
Porsche now keeps its logistics process as streamlined as possible. Not only does this result in fewer processing delays, but it also allows dealers to offer carbuyers more options and greater control over the buying process.
"We have a very lean process that allows us to put cars through the supply chain faster than most OEMs are able to," the company adds.