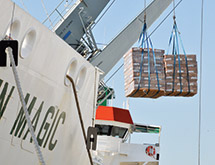 In 2002, when the U.S. government imposed a tariff on imported steel, the Port of New Orleans realized that 37 percent of its shipments were of imported steel. "That helped us to understand that we needed to diversify a little more and put our eggs in more baskets," President and CEO Gary LaGrange relates.
Now the number of baskets the Port of New Orleans has would keep the Easter Bunny busy for a week. "We're a very diversified port," LaGrange emphasizes. "We like to think that we don't have a single specialty – we have six. The cornerstone of the port is break-bulk cargo, the cargo that doesn't go into containers, that's on pallets and wrapped with metal bands. We have heavy-lift and project cargo capabilities. We can bring in large pieces of equipment that go into refineries and plants, put them onto a barge and send them up 14,500 miles of waterways into 22 states and four provinces of Canada without touching land or having to meet a weight restriction on highways."
The port's third specialty is containerized cargo. The Napoleon Avenue Container terminal handles up to 640,000 20-foot equivalent units (TEUs), and when its expansion is completed by early 2016, it should be handling 840,000 TEUs. "We have a footprint for up to 1.7 million TEUs at that location," LaGrange says.
Specialized port trucks called mules move the containers from railroad cars to ships. Forklifts, top-loaders and rubber-tired gantry cranes can stack the containers six high at the port. The trucks are operated by the private terminal operators that lease more than 90 percent of the port's facilities.
Refrigerated Cargo
The Port of New Orleans' fourth specialty is its cold storage facilities. "We are the largest exporter of poultry in the United States," LaGrange declares. "We just finished last year opening the largest blast-freezing facility in the Northern Hemisphere inside the port."
The port's fifth specialty is its cruise ship facilities. "The cruise ship industry has taken off in the last 10 years," LaGrange notes. "Because New Orleans is a destination city, it's two vacations in one – you get to visit New Orleans and you get your cruise on top of that. We're the sixth-largest cruise port in the U.S."
Land Development
The sixth specialty of the port is its development of 1,500 acres of land, some of which is being leased to more than 50 companies. "This one area of the port – which includes about 25 percent of the port's entire size – is bigger than many ports in their entirety," LaGrange says.
Some of the land being developed was used for ship docks before Hurricane Katrina struck the area in 2005. "After Katrina, deep-draft ships cannot go back there any more, so we retrofitted it into an international transportation logistics hub that is now performing value-added types of things," LaGrange explains.
The Port of New Orleans has the capability to ship "super-sacks" holding from 1 to 2 tons of resins and chemicals that are placed in containers. "In the past, trucks would take chemicals to Houston and export them out of Houston," LaGrange relates. "Now they don't have to do that. They can save that $600 drayage fee and bring the chemicals and export them out of our own container terminal we built in the last 10 years."
Proving Its Metal
Another function of the port is storing precious, ferrous and non-ferrous metals such as copper, lead, aluminum, nickel, zinc, tin and steel billets. "When times get good, the metals move back out into commerce," LaGrange says. "It's a very cyclical thing. The same metals may come and go two and three times out of the port. It helps us to keep our tonnage numbers up in a positive vein at 11 percent at the period of time while most other ports were at double-digit inflationary red numbers." The Port of New Orleans has achieved four record years of revenue since 2011.
For the future, the port is following its 2020 master plan that it formulated in 2008 and updates annually. LaGrange expects the widening of the Panama Canal to bring an additional 5 million TEUs of cargo annually to the Gulf of Mexico by 2028 and add a growth rate of cargo traversing the Panama Canal to his port's annual cargo totals in the first and second year from 5 to 7 percent.
Since 1946, the port has been a foreign-trade zone, which allows shippers to import, store, exhibit, assemble or manufacture products without being subject to customs entry procedures and duties. The port also has railheads for six major trunk line railroads. "That is a unique advantage," LaGrange asserts. "We like to think of ourselves as America's most intermodal port."
The Port of New Orleans and Carnival Cruise Lines signed a new agreement that will keep the world's largest cruise line sailing at least two ships year-round from New Orleans through 2019. The new agreement offers options that could guarantee Carnival homeports at least two ships of equal or greater size than the Dream Class and Fantasy Class ships sailing through 2022.
The Board of Commissioners of the Port of New Orleans awarded a $13.3 million construction contract to Metairie, La.-based Hard Rock Construction LLC for the Mississippi River Intermodal Terminal improvement project at its monthly meeting. Hard Rock Construction was the lowest of eight bidders. The 12-acre project will result in a modern and efficient intermodal container transfer terminal.