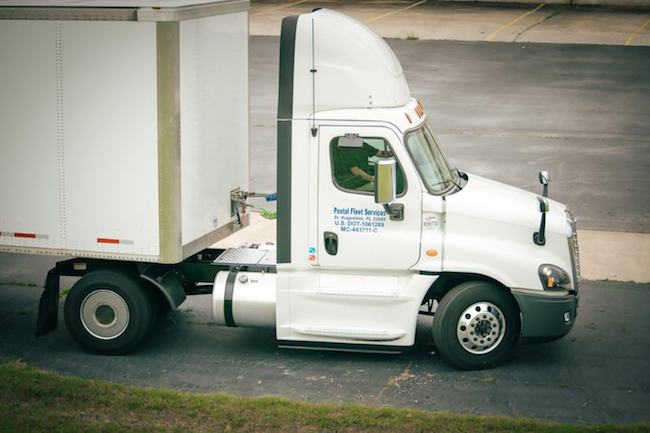 Commitments to service, safety and sustainability have Postal Fleet Services increasing its business with the United States Postal Service.
By Eric Slack
Since 2002, Postal Fleet Services has grown from a fledgling start-up into a $100 million company serving the United States Postal Service (USPS). Providing dedicated surface transportation service for the USPS, Postal Fleet Services operates in 26 states and services 97 processing and distribution centers while also providing transportation service to hundreds of Postal Area Offices.
"Our growth has come about because we are well organized," President Don Dorris says. A retired United States Army Colonel and graduate of the United States Army War College, Dorris sees operational proficiency and excellence as the key to achieving strategic growth for the company.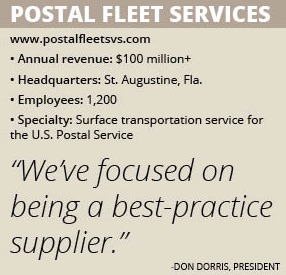 "Over the years, the Postal Service has sought a more professional approach from the suppliers they work with," he says. "We've focused on being a best-practice supplier, and they have responded to that, which has led to us becoming a premium supplier for the Postal Service."
Complete Dedication
As an enterprise, Postal Fleet Services is dedicated to serving the USPS and providing superior-quality transportation and supply chain services. In so doing, it can help the USPS solve problems while ensuring the growth of Postal Fleet Services.
"Our corporate infrastructure addresses everything you would expect from a professional trucking organization, such as safety, accounting, scheduling and every other operational area," Dorris says. "At each location where we are involved, we have put a local manager that is focused on servicing that contract, and we've been awarded contracts because of our ability to perform."
The areas where Postal Fleet Service is constantly focused include customer service, safety, operational proficiency and sustainability. From a service perspective, the company is always working to improve its on-time delivery performance to get as close to 100 percent as possible. Postal Fleet Services provides drivers with the most advanced technology available in the marketplace to help the company get closer to this goal.
As for safety, the company is always working to ensure the safety of its employees and the public. The company's tractors and straight trucks have autonomous mitigation systems, back-up cameras, and forward facing and driver facing event recorders. As more safety technology is introduced, Postal Fleet Services will adopt technology that is proven to enhance safe driving.
"Internally, we have a certified director of safety along with certified driver trainers in the field," Dorris says. "We also have in-house software developers in the company that develop programs geared toward efficiency and contract administration. We look for the most efficient ways to operate our vehicles so we can enhance the benefits we provide to the postal service."
In the sustainability arena, Postal Fleet Services is an environmentally concerned corporate citizen. The company has introduced alternative fuel vehicles into its fleet of 650 power vehicles. In fact, earlier this year Ryder System and Postal Fleet Services signed a Ryder ChoiceLease Full Service agreement for 20 compressed natural gas (CNG) heavy-duty vehicles supporting mail delivery operations in Orlando, Fla.; Lafayette, La.; Jackson, Miss.; and La Vergne, Tenn.
These 20 CNG fueled vehicles will be added to the existing fleet that supports Postal Fleet Services' mail distribution operations. The vehicles will be serviced by Ryder's maintenance network of best-in-class natural gas-trained technicians within Ryder's maintenance facilities that meets the unique compliance requirements for servicing alternative fueled vehicles.
"With Ryder's help, our team is committed to providing our customer with the best overall delivery service while also helping them achieve the best transportation value in the industry," Dorris says. "Postal Fleet Services takes pride in being a mail delivery contractor where we have the ability to respond to our customer's additional needs in minutes. We can now continue to perform above their expectations, while operating more cost-efficiently and environmentally friendly."
As additional alternative fuel vehicles are introduced to the marketplace, Postal Fleet Services will evaluate them to determine their fit within the company's environmental goals. If they are a good economical and efficient fit, Postal Fleet Services will use them in its expanding fleet, as the company wants to increase its environmentally friendly footprint.
Pursuing Opportunity
As the company looks forward, it intends to remain 100 percent committed to working with the USPS. Dorris says the Postal Service is a reliable partner while many companies in the private sector can provide their carrier partners with a lot of uncertainty.
"Working with the Postal Service ensures strong cash flow and allows us to operate our company efficiently," Dorris says. "There is a great deal of cost involved in operating equipment and paying drivers, and transportation companies can't operate if they are having cash flow problems. This is an industry-wide problem, and it is not likely to change because the industry is so fragmented. But if you want a good transportation partner, you have to pay them on time. I think that is why the industry is seeing a rapid growth of dedicated carriage operations because the payment on a contract basis is better for the carriers and provides shippers with peace of mind that their products are going to make it to market on time."
Dorris knows that the success of Postal Fleet Services hinges on its ability to continue providing exceptional service to its customer. As long as the company continues to deliver on its promises, it will be in the running for any supplier consolidation and dynamic routing optimization programs.
"We will continue to bring in new and updated equipment to help give ourselves an edge," Dorris says. "We will pursue dynamic routing optimization opportunities as the Postal Service looks to do more of those in different locations, and we are prepared to take on any consolidation opportunities that arise."