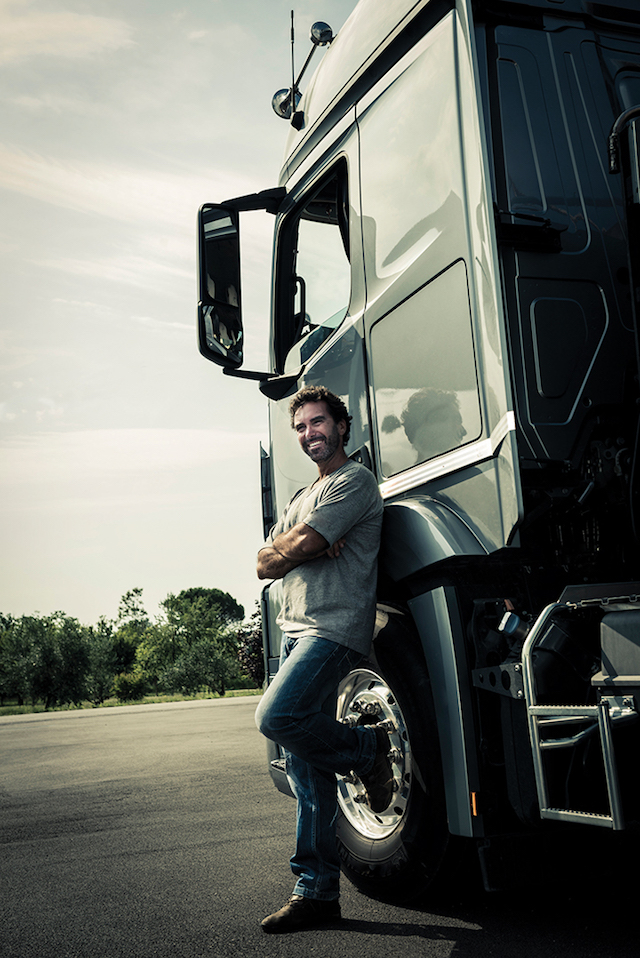 Driver safety can be improved by eliminating distractions.
By David Jaques
Driver safety continues to be a top industry concern, and for good reason. Did you know that truck drivers traverse an average of 125,000 miles a year? After working up to 70 hours over an eight-day period, new laws require drivers to rest for a full 34 hours before getting on the road again. These rules are in place to enhance driver safety, but long days and treacherous terrain aren't the only realities of professional truck drivers' day-to-day lives that should be of concern.
In a recent survey from BlueParrott, drivers were asked to share their top distractions on the road. Not surprising, receiving and taking calls, adjusting the music and using a navigation system topped the list. Given that trucks tow a combined weight of 80,000 pounds, it's crucial that professional drivers are provided with the necessary tools to live a fulfilled, safe-driving lifestyle. By adding a few simple pieces of technology to their toolkit, driver safety can be improved and distractions eliminated.
Ring, Ring
It's no shocker that the No. 1 distraction for 44 percent of professional drivers is their phone. While driving endless miles, truckers spend much of their time connecting with loved ones who are far away by talking on the phone. Without the proper equipment, this can be a major distraction while driving any vehicle – let alone a truck. Therefore, it's important that truckers utilize a device that will enable them to have quality conversations safely.
The logical tool for a truck driver is a headset. Using a headset while driving enables drivers to stay connected while following the rules of the road. Bluetooth and voice control capabilities are the top features to look for in a headset. Bluetooth enables the driver to stay hands free and still have an amazing connection. Purchasing a device with voice control takes the safety level up a notch. Voice control provides hands-free management of headset functionalities, enabling a user to take a call using just their voice.
Beyond these two core features, modern headsets also offer voice-memo capabilities and the ability to manage calls, volume and more from the headset. These added bonuses help drivers save important drop off address and control calls without fidgeting with other devices. Advanced headsets possess even more features such as speed-dial, battery reporting and other functions tailored to the unique needs of the driver. These wireless device factors provide truckers with the tools to talk and interact safely with their connected cell phone day or night. The quality of the product should be just as important as the quality of the call.
The Nonsense of Navigating
"It's about the journey, not the destination." And, yes, while it is true that truckers need to make it to their final stop, it's important that they safely make their way there. Whether their navigation system is embedded in the truck or drivers use an added tool, fidgeting with controls is not safe. Despite this, 41 percent of drivers admit that navigation systems are a distraction while driving.
To stay safe, drivers don't need to memorize their routes. Rather, they can invest in a navigation system that speaks directly to the driver, allowing him or her to maintain the 10 and 2 hand positioning. Another great option is a navigation application for a phone or tablet that similarly transmits directions via voice and can be connected directly to a headset. This concept would also alleviate any distractions when looking for or entering an address. Using a headset allows the driver to connect to their cellular device's voice assistant, tell them where he/she wants to go, and get optimal directions all with voice.
Country Classics
Even in 2017, the radio is crucial to the happiness and entertainment of truck drivers. Let's face it, music is central to any road trip, no matter the distance. When not on a call, it's not uncommon for truckers to tune into the latest radio, podcasts and streaming services. While these are a great source of entertainment – the programming also can be a big distraction. In fact, 44 percent of drivers admitted that their second biggest distraction is adjusting music. That's why it's critical that truckers have a device that caters to their listening needs.
A mono-headset with crisp, quality HD audio helps truckers to feel like they're at the concert rather than in the middle of America, while still keeping an ear on the road. In the case of tandem drivers or vehicles that don't enable Bluetooth, drivers can still utilize the headset by pairing it with their cell phone to stream an audio book, podcast or music. A device with hi-fi audio and buttons to control the station or skip to the next song is key to eliminating distractions on the road.
In the same vein, it's important to find a device that has a long battery life. It would be horrible to have your headset die as your favorite song begins. Look for headsets that can last 18 to 24 hours without a battery recharge.
Truckers spend a lot of time on the road and are in desperate need of technology that can eliminate the daily distractions they face. A Bluetooth headset with special features will enable drivers to stay connected to their family, listen to their favorite media and navigate the highways safely. Eliminating distractions and creating a healthy driving environment is the key to truck driver happiness and well-being.
David Jaques, director of product management for BlueParrott, has worked in the consumer electronics industry for more than 20 years. At GN Audio's BlueParrott, he is responsible for developing the organization's product road map and ensuring BlueParrott products track to technology and consumer consumption trends, while meeting the practical needs of the end-user.