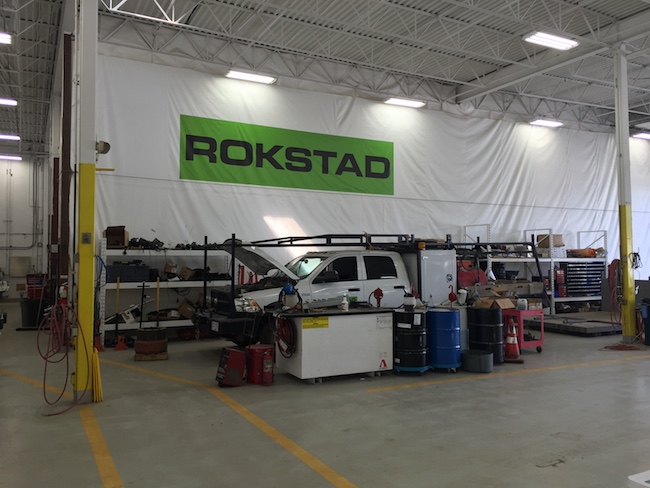 Rokstad Power is expanding its fleet to keep up with the demands of the transmission line market.
By Tim O'Connor
One of the biggest challenges for fleet operations is the idling of diesel engines not designed for extensive idling. Idling is especially problematic for companies who have crews out in the field for upward of eight hours at a time like Rokstad Power, which erects and maintains transmission lines across the United States and Canada. To combat the pollution and wear of continuously running engines, Rokstad Power launched its Clean Air Challenge to encourage employees to turn off the ignition.
Andy Holmes, managing director of fleet operations for Rokstad, is hoping to tap into its crews' competitive natures to see which team can reduce its idling time the most. Ultimately, the company is hoping to cut idle time by 30 percent by restricting engine use during periods of inactivity, such as stops at convenience stores or when machinery is not in use. The company is using GPS technology to track that idling time and every Rokstad office has posters in place to remind employees to kill their engines.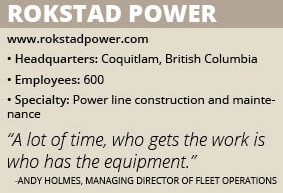 April marks the first full month of the Clean Air Challenge and by June, Rokstad had already seen a nearly 10 percent reduction in idle time. Holmes hoped to reach a 25 percent idling reduction by the end of July as crews get accustomed to the new procedures and requirements. "There's got be three hours a day where we don't have to idle on a 10-hour day," he says.
Creating an Advantage
CEO Aaron Rokstad founded his namesake business in 2008. The company is based in Western Canada but has locations in strategic locations across Canada and the United States. In 2013, Carillion, one of Canada's leading integrated support services companies, agreed to acquire a 60 percent interest in the trade and assets of Rokstad, infusing the company with the capital it needed to grow. "Rokstad Power is positioned to meet the growing demand for electricity and the need to rebuild an electric power infrastructure," Holmes says.
Rokstad's fleet of more than 600 vehicles includes light and medium duty trucks, aerial devices, digger derricks, boom truck cranes, dozers and track machines. In addition to its own equipment, Rokstad has a rental equipment budget of more than $6 million annually. That fleet is only going to get larger going forward. Over the next four to five years, Rockstad anticipates it will need to expand its fleet size by as much as double today's count to meet the growing demand of the transmission market.
That enlarged fleet is critical to maintaining Rokstad's place at the top of its industry. "We're not the only contractor out there working," Holmes explains. "The key is you need to be able to get the equipment." Rokstad relies on manufacturers of utility equipment and rental partners to keep that edge. "A lot of time, who gets the work is who has the equipment," Holmes says.
Holmes' background working for equipment sellers and providers such as Altec Inc. and Utility One Source gave him industry connections and experience he can use to ensure Rokstad is at the front of the line. "Our goal is to set up alliances or strategic partnerships with primary vendors in our industry," Holmes says. Through those partnerships, Rokstad was able to set guaranteed rental rates throughout North America, an approach Holmes says has also benefited vendors. "Every time we got into a new area we want to take our vendors with us," he adds.
Positioned for Growth
Every Rokstad office has the company's list of values posted on the wall. It's the first and last thing workers see every day and a reminder of the principles of customer service and integrity the company wants its staff to embody. "It sounds like pie in the sky, but it really comes down to people," Holmes says. "We're a growing company but we focus every day on creating a family atmosphere – a team atmosphere."
Holmes says everyone in the company understands they have a responsibility to the customer – even when it's bad news. "The team we have assembled has unique industry knowledge and came from the best companies in North America," he explains. "That, along with the empowerment and freedom to make changes in real time that affect the production and bottom line of the company every day, adds up to what we call our 'secret sauce.' Everyone has the same tools – fleet software, fuel program, GPS, etc. – utilizing them is our specialty."
Rokstad is positioning itself to become a billion dollar company. To do so, the company must take advantage of all the work available to rebuild North America's transmission infrastructure. As a union contractor, Rokstad primarily works in union-friendly states on the West Coast and Northeast. The company also targets rapidly growing regions that need new power lines such as the Phoenix/Scottsdale metropolitan area.
A year after joining Rokstad, Holmes is enjoying the impact he's already been able to make at the company. In addition to the Clean Air Challenge, Holmes introduced programs to save money and better manage fuel, tire and rebates while also optimizing Rokstad's fleet operations. Before, there was a prevailing attitude of the field crews versus the fleet team. By focusing on the company's culture, Holmes bridged those divisions and got the groups to work together toward a common goal.
"It comes down to knowing your industry, using the best tools available, keeping up with changing technologies, implementing and executing those tools and technologies and treating people the way you want to be treated," Holmes says.