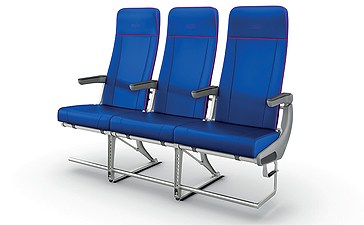 Sitting comfortably
Recaro Aircraft Seating has secured a deal with Wizz Air for 31,767 passenger seats.
---
The SL3710 economy class seat will be installed on 146 Airbus aircraft starting in 2021. This partnership is a part of a larger deal with the Indigo Partners portfolio of airlines for nearly 100,000 passenger seats, which is the largest order of seats in the history of Recaro.
Recaro worked closely with Wizz Air to develop a sustainable seat for the carrier, as the airline already has numerous sustainable initiatives in place. Wizz Air has reduced its carbon footprint by utilizing efficient Airbus aircraft and prioritizing lightweight products for its cabins among all Airbus 320 family operators.
The newest and lightest member of the Recaro economy class seat lineup, the SL3710 economy class seat weighs approximately eight kilograms. Its efficient design is comprised of durable and reliable parts, which makes it a cost-effective choice for