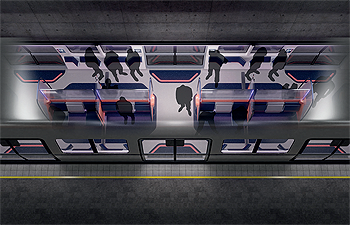 Travel post Covid
International design company, tangerine, has unveiled a design concept – Metamorphosis- for a new type of metro train that offers opportunities to increase capacity in the rail network and grow passenger numbers in a post Covid world, by improving confidence in the provision of hygienic and safe metro travel.
---
With an adaptable carriage interior with slidable screens that can be deployed during pandemics to divide the space into smaller zones or 'travel bubbles', Metamorphosis' flexible seating angles bodies away from one another to increase privacy and minimise the potential for cross-contamination, as passengers choose to either perch or stand. A HEPA filtered localised air filtration system provides a constant change of air, a touchless hand sanitation point in the vestibule aids cleanliness, while a QR code placed at strategic points in the carriage enables an effective Carriage Track and Trace system. A traffic light style illumination around the doors, supported by passenger information on screens and projected onto the platform, aid a safe, distanced boarding and alighting of the train.
The concept balances customer safety and user experience with the commercial imperatives to limit disruption and keep rail services running during pandemics.